A Complete Guide to Spending 1 Day in Brisbane, Australia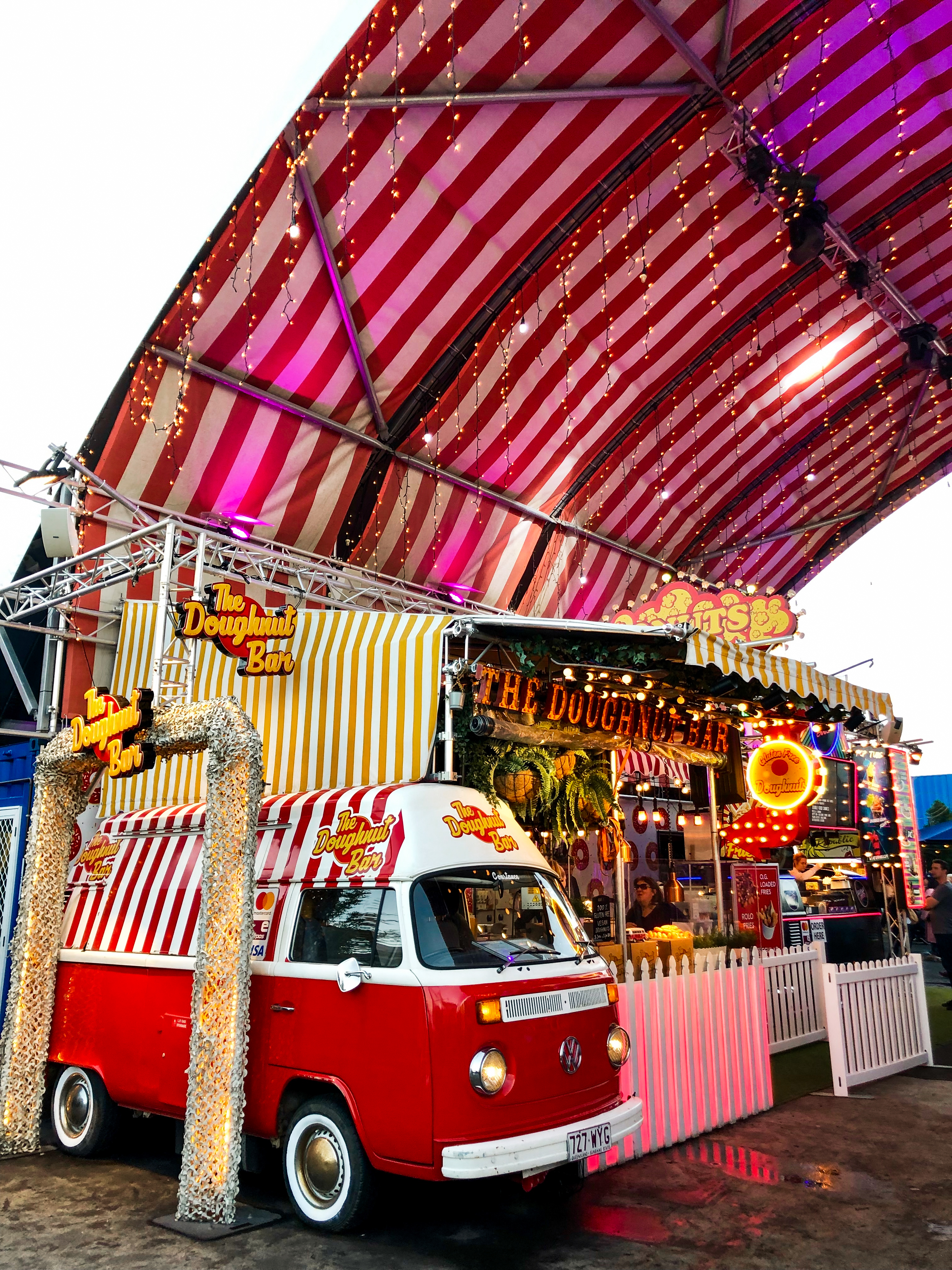 Brisbane, Australia is the capital of Queensland and home to a flourishing restaurant and bar scene, and a year-round warm climate that Sydney and Melbourne would love. There's a reason that Queensland is known as the Sunshine State. Brisbane has grown in popularity over the years and attracts travellers from around the world.
The core of the city itself is not huge, making it easy to see a lot in a day or two before moving on to explore other areas of the coast. In fact, here you could even spend the day sunning on the nation's only man-made city beach. Between a huge city park, lots of local history, and a great art scene, Brisbane has something to offer for everyone!
Where to Eat in Brisbane, Australia
Eat Street North Shore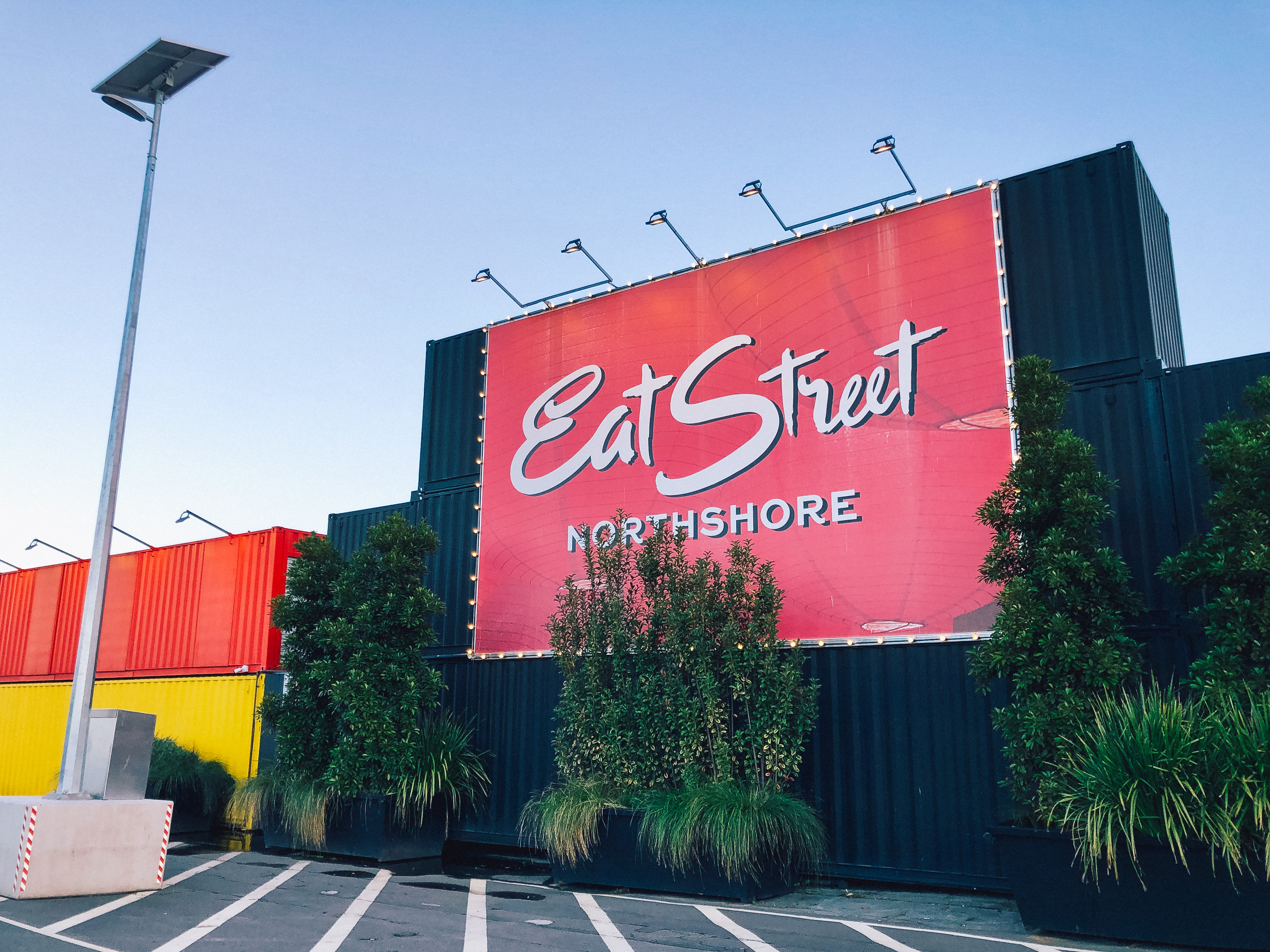 Eat Street is Brisbane's riverside take on a food night market and does not disappoint! The market is built from shipping-containers-turned-kitchens that give it a carnival or festival feel with the colours and lights. It is organized by types of food and offers types of cuisine from all around the world.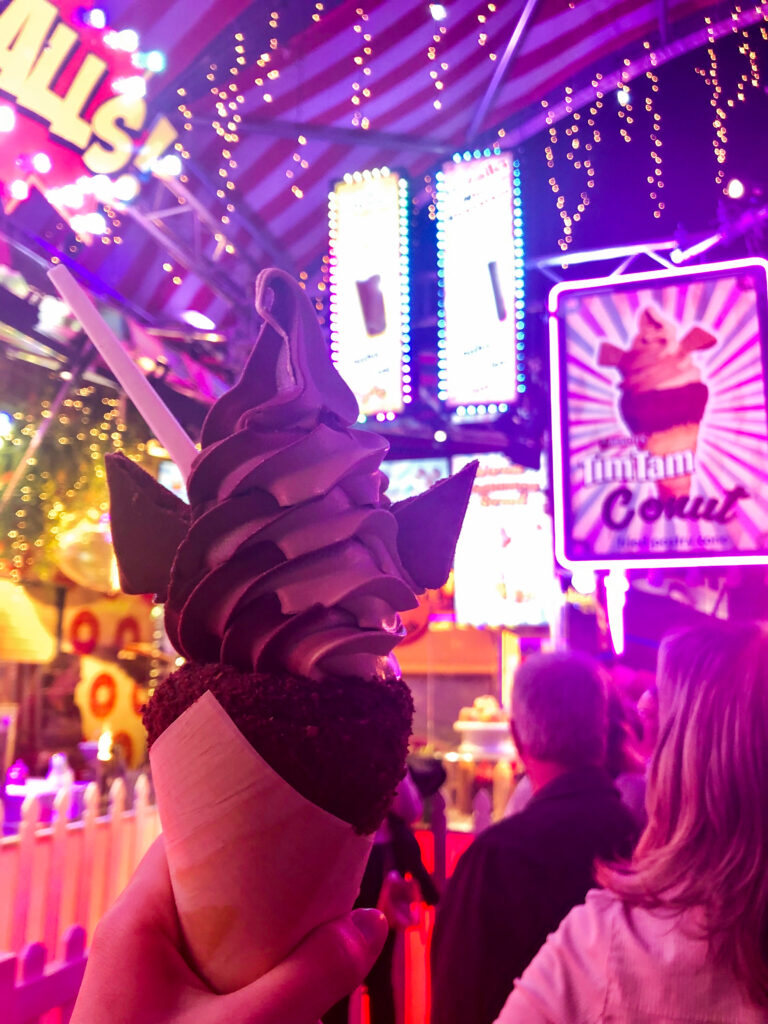 You can even rent out one of the containers for the night for a private party and enjoy the atmosphere from your own area within Eat Street. Between the great food, live music, stunning city views from the river you are guaranteed to have a fantastic night out!
Other Brisbane, Australia Food Recommendations (By a Local)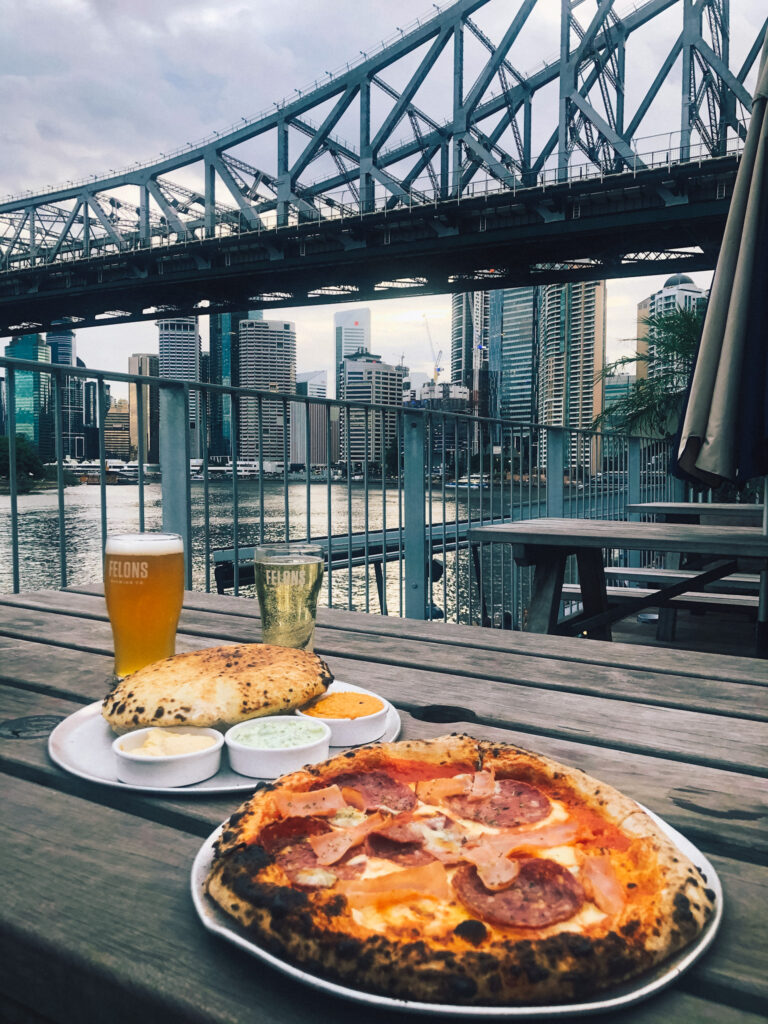 While Melbourne may be known for its coffee, Brisbane is now following close behind with its cafe and restaurant scene. There is so much variety in the city and many international options. Here are a few that come highly recommended by my local Brissie friend!
What to Do in Brisbane, Australia
1. Gallery of Modern Art (GOMA)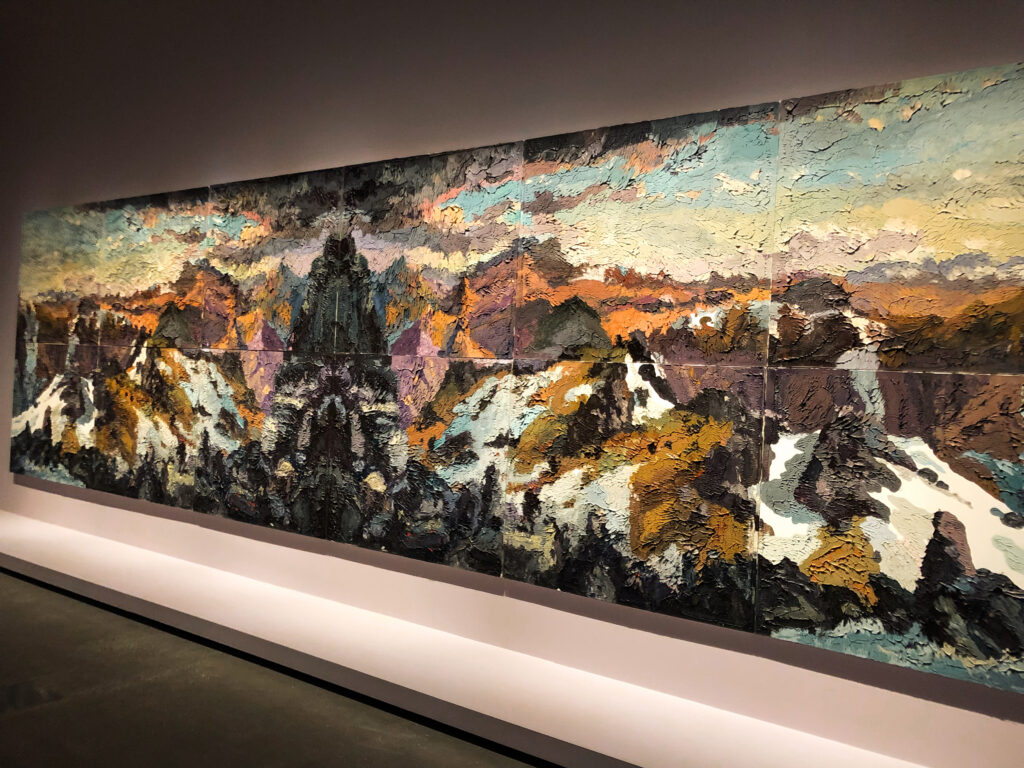 Similar to the Remai Modern in Saskatoon, GOMA is a must-see when you are in Brisbane! The building itself makes it look like it could be part of an exhibition. GOMA spotlights everything from local Australian and APAC artists and other unique exhibitions by renowned international artists.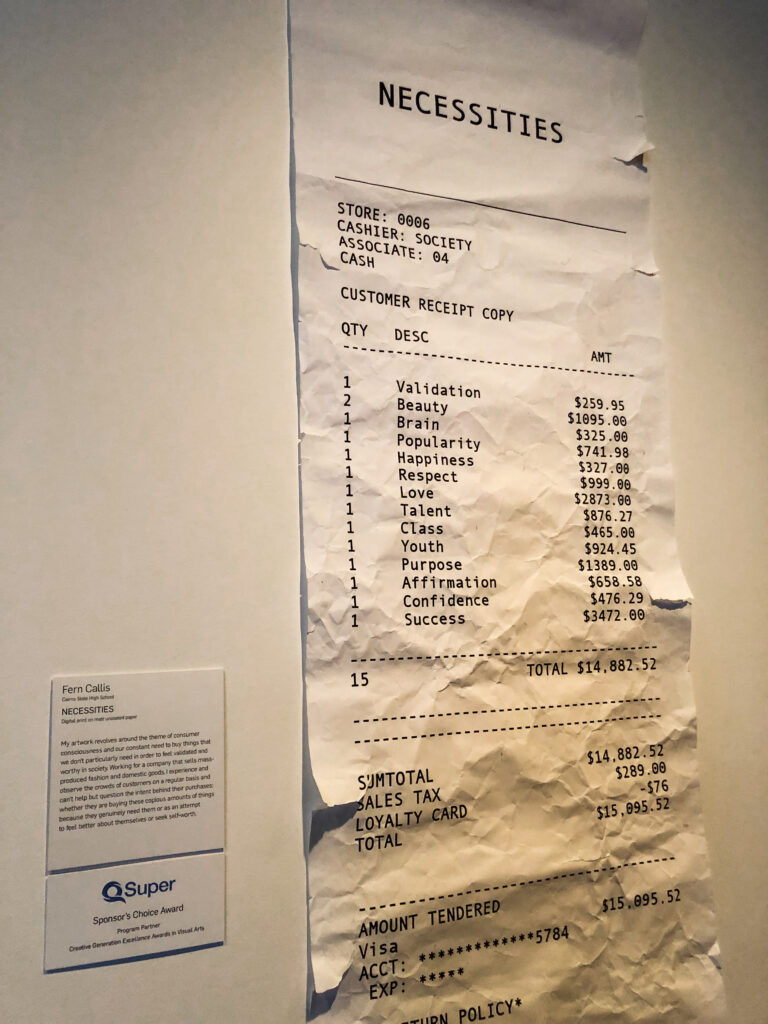 The regularly changing exhibitions mean there is always something to see. Some of the installations are even interactive. The gallery also includes a book-and-design shop, a casual cafe, and smarter Modern-Australian restaurant. For those less interested in modern art, the Queensland Art Gallery is also next door.
2. South Bank Parklands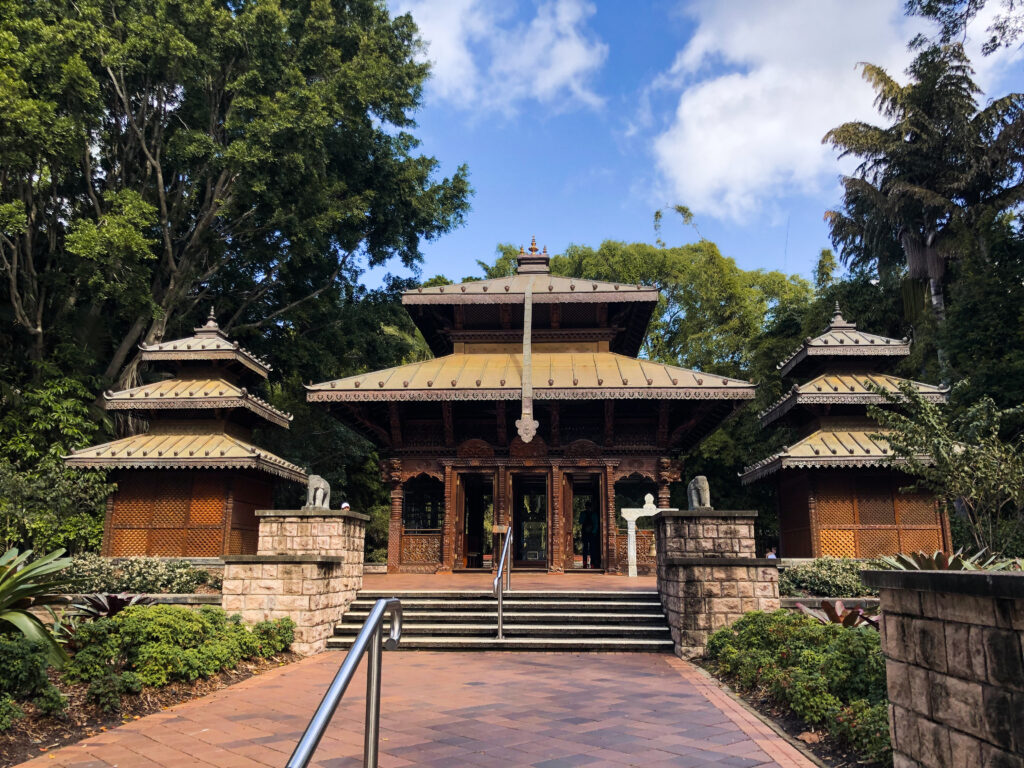 There is no other place I've been that you can sunbathe on a man-made city beach (Streets Beach), wander through a rainforest, or visit a Nepalese peace pagoda at the same time in a city's core. The South Bank Parklands is the place where you can do all of that. This park area along the river is host to weekly markets, children's attractions, bustling restaurants, and tourist shops. Also in the parklands is Stanley Street Plaza, a renovated section of historic Stanley Street that is lined with mainstream cafes, restaurants, a handful of shops and a pub.
This was one of my favourite spots in the city and is such a great area to just wander and explore. I would love to go back and try out some of the other food offerings and see what events are on in the park!
3. Brisbane City Hall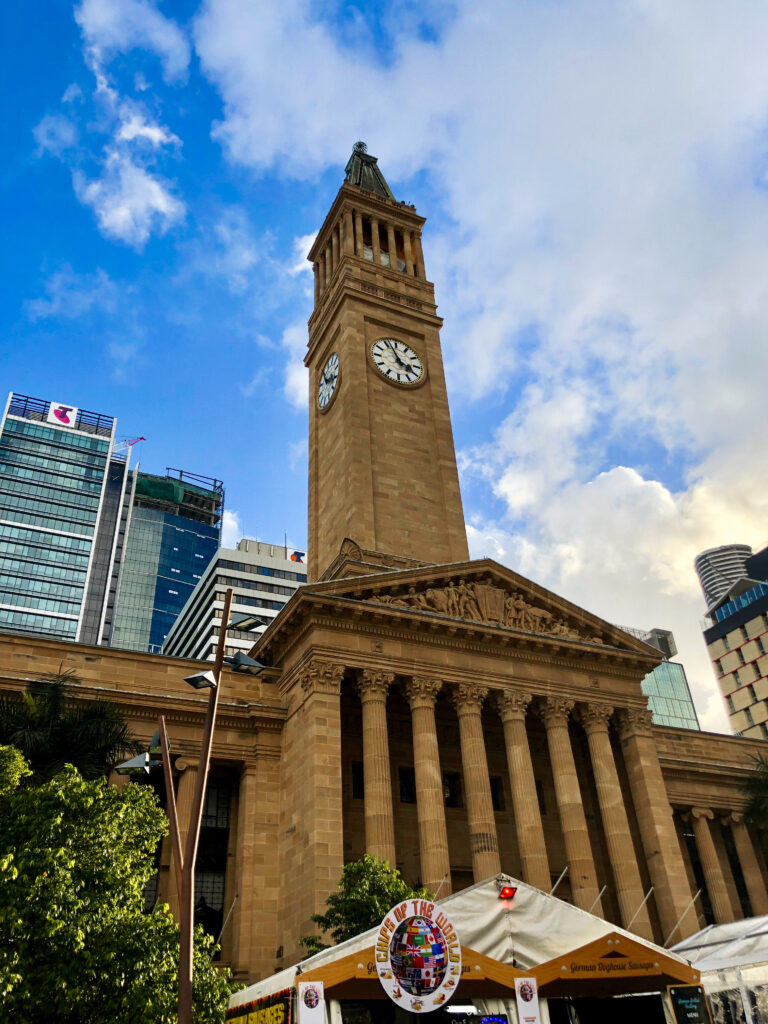 Brisbane City Hall is Australia's largest city hall and was built between 1920 and 1930. For great views of the city, there are free tours of the building's 85m-high clock tower that run every 15 minutes from 10 am to 5 pm. Tickets can be gotten from the museum, but during peak seasons you will need to get them early. Fun Fact, the marble in City Hall's foyer was sourced from the same Tuscan quarry used by Michelangelo to sculpt David!
The Museum of Brisbane is on the 3rd floor of City Hall. The museum explores historic and modern aspects of Brisbane, offering progressive insights into Queensland's capital. The museum gift shop also stocks lots of locally made goods that are a perfect souvenir to bring home with you!
4. Story Bridge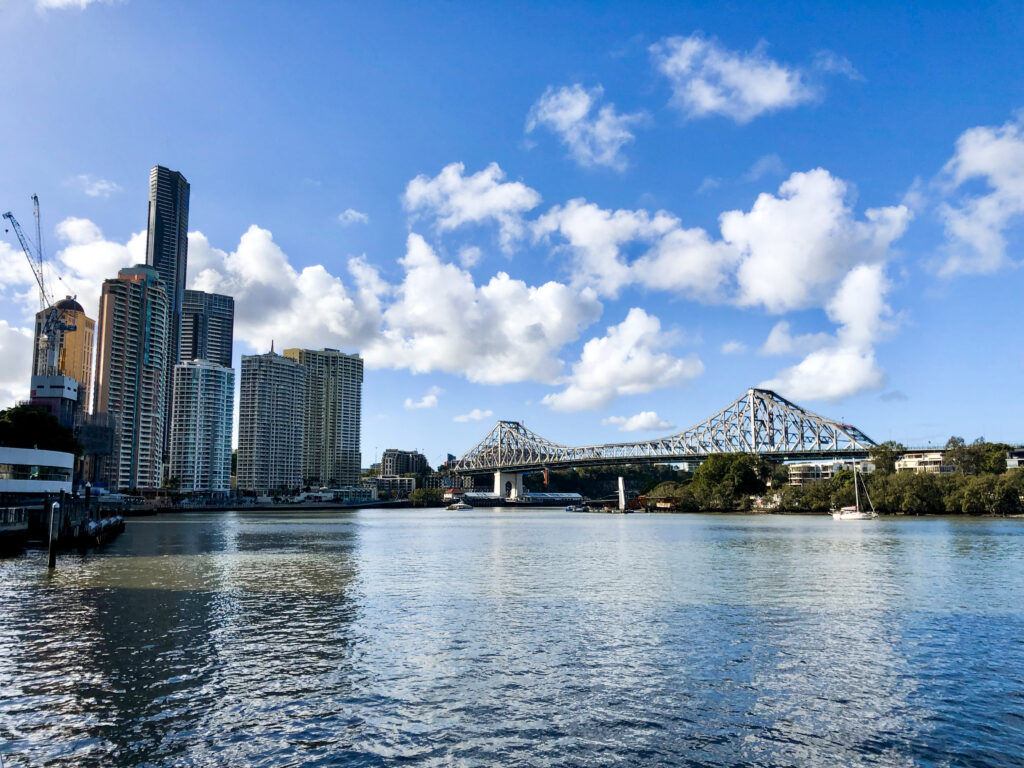 Story Bridge is Brisbane's most iconic structure in its skyline. It is a heritage-listed steel cantilever bridge spanning the Brisbane River that carries traffic between the northern and the southern suburbs of Brisbane.
There are lots of lovely patio spaces along the riverwalk to sit and admire the view of the bridge. However, if you are looking for something more then Story Bridge Adventure Climb allows you to see Brisbane is by climbing it! Experience a unique perspective of the city and its surroundings, from the Glass House Mountains in the north to Moreton Bay in the east. So, if you're looking for a unique Brisbane attraction this might be for you as it's one of only 3 bridge climbs in the world!
5. Mt. Coot-tha Lookout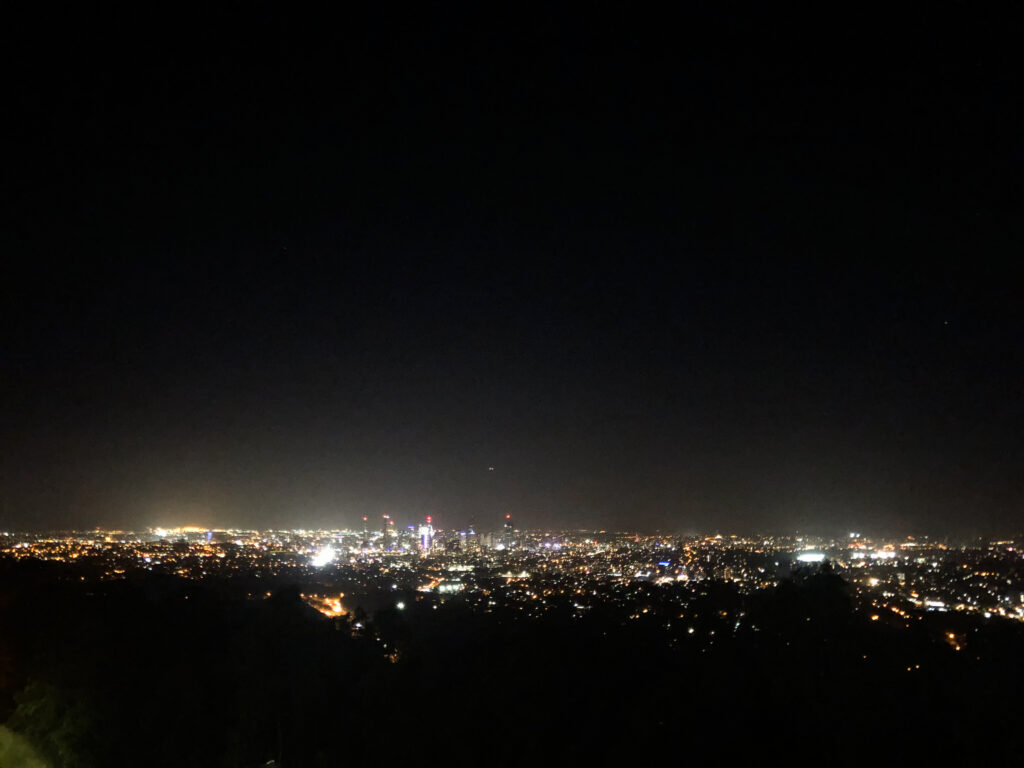 Mt. Coot-tha is Brisbane's highest point and is only a 15-minute drive or bus ride from the city. Atop this huge bush reserve, you'll find the eye-popping Mt Coot-tha Lookout, offering a bird's-eye view of the city skyline and greater metro area. On a clear day, you'll even spot the Moreton Bay islands. For more views, you can go at night as well and see the lights of the skyline!
6. City Botanic Gardens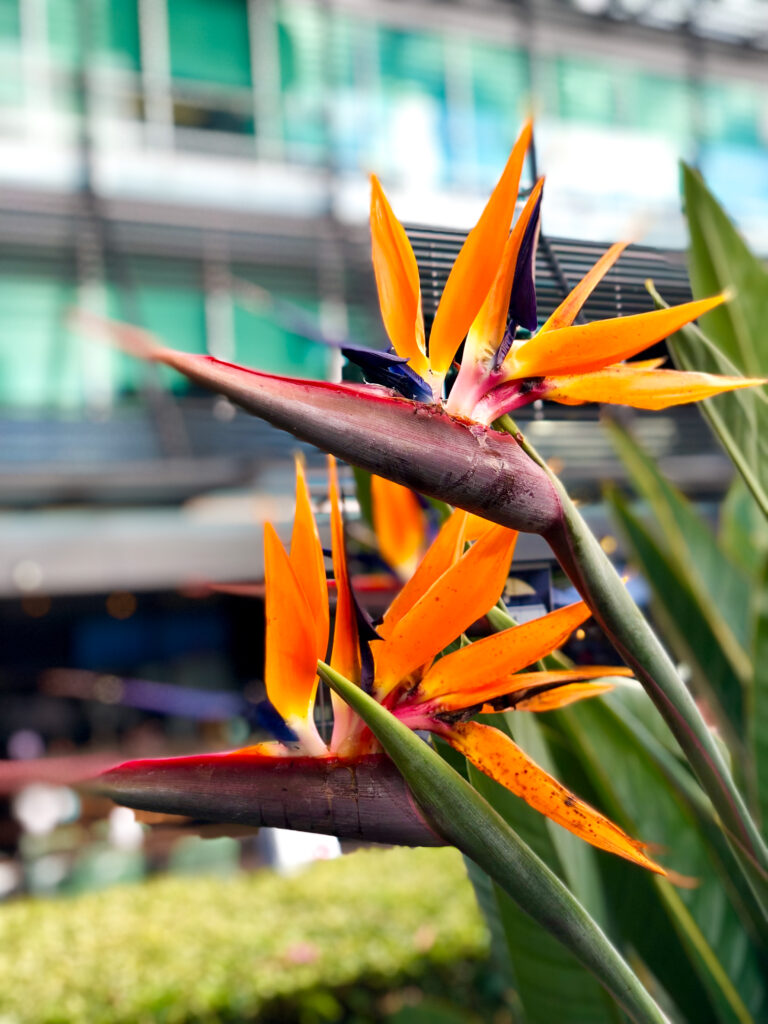 The beautiful City Botanic Gardens started originally a collection of food crops planted by convicts in 1825. Today, this is Brisbane's favourite green space. Descending the QUT campus to the river, its lawns, gardens, and mangroves are a perfect spot for a walk or picnic to enjoy time outside with the Brisbane nature. I loved seeing some plants and birds that are native to Australia!
7. Lone Pine Koala Sanctuary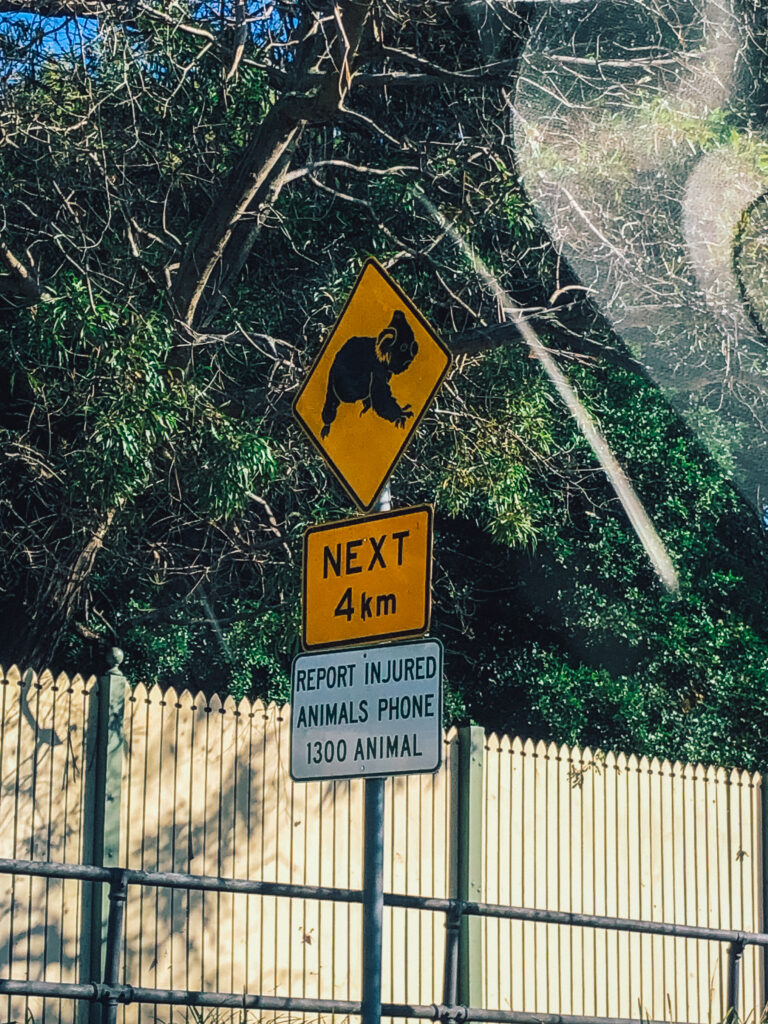 Lone Pine Koala Sanctuary is located just south of Brisbane city centre and is home to over 130 koalas, plus kangaroos, wombats, and other critters. For those that don't have enough time to visit the Australia Zoo, this would be a great alternative so you can still see the animals. Here you can meet a koala or hand-feed kangaroos in Lone Pine's beautiful park setting.
8. ANZAC Square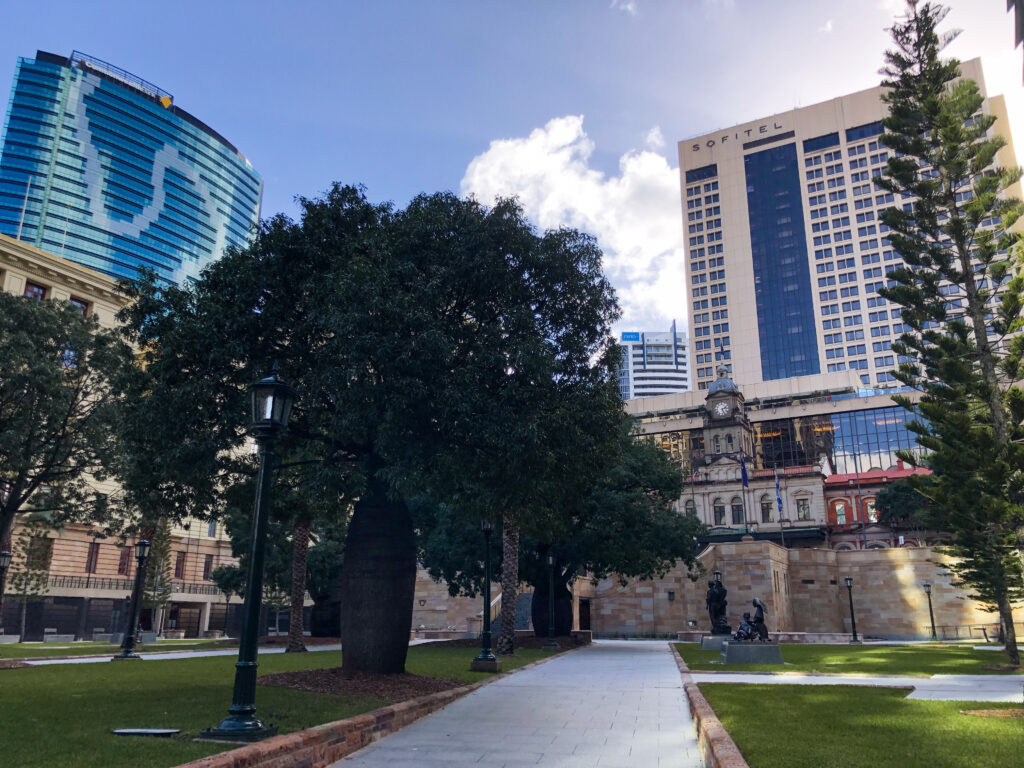 Designed in the Greek Revival style, this sandstone monument honours the Australian people who have served in conflicts around the world. The 18 columns of the ANZAC Square Monument symbolize 1918, the end of WWI. This lovely square is a quiet spot to relax away from the bustle of the city and remember those killed in the war.
9. Queensland Parliament House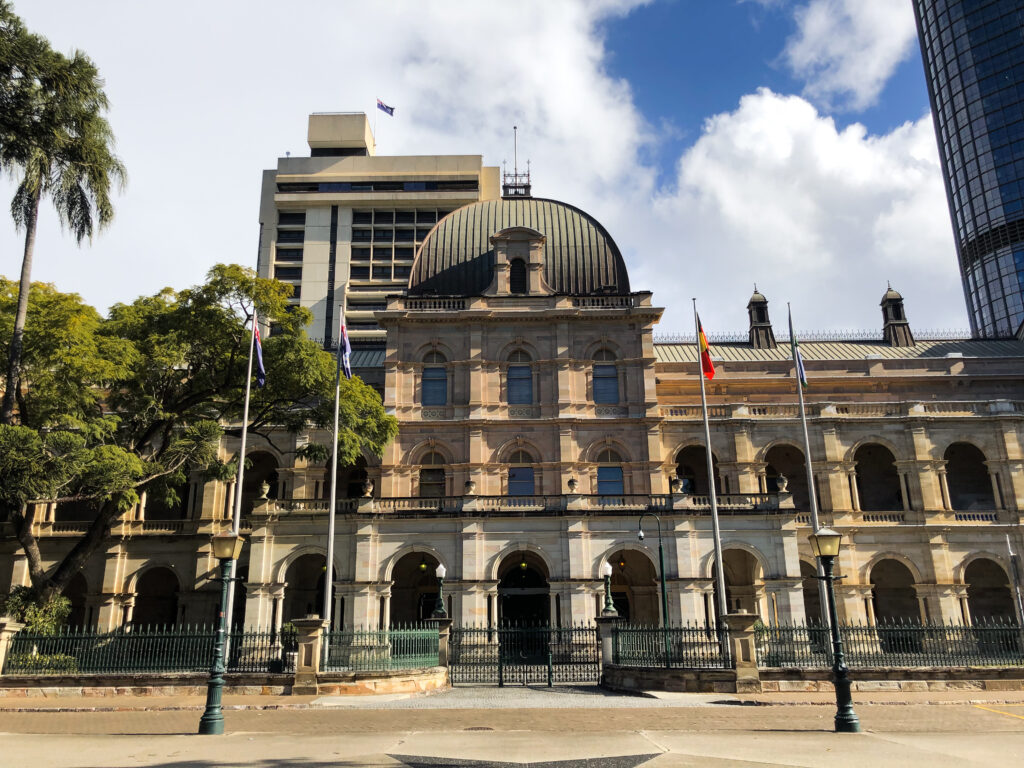 Located on the corner of George and Alice Street in Brisbane, Parliament House is Queensland's premier heritage building and one of Brisbane's best-known landmarks. This French Renaissance-style building dates from 1868 and overlooks the City Botanic Gardens. The only way to peek inside is on one of the free 30-minute tours offered during the week or during various events open to the public.
10. Wheel of Brisbane
Steps from the "Brisbane" sign along South Bank is Brisbane's slightly smaller version of the giant observation Ferris wheels that are popular in cities like London and Las Vegas. The Wheel of Brisbane gondolas rise to nearly 60m, although not as high as others, it still offers a 360-degree view of Brisbane!
Other Things to See in Brisbane, Australia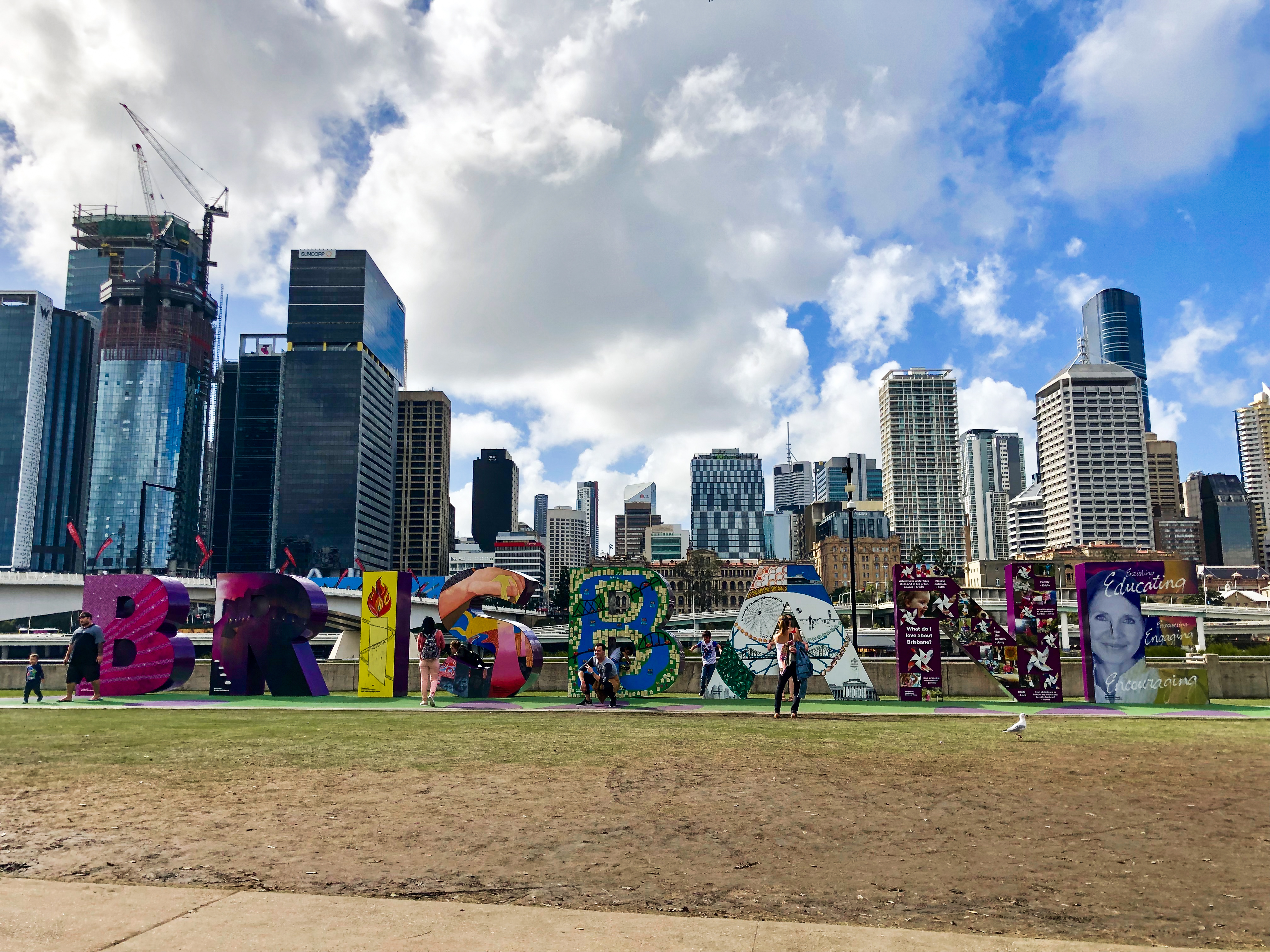 If you have more than a day or are looking for some alternative things to do in Brisbane, checkout these additional ideas!
1. See a game at the Gabba
You can cheer both AFL football and cricket at the Gabba in Woolloongabba, south of Kangaroo Point. Definitely a change from watching hockey games here in Canada!
2. Visit the QUT Campus
The Queensland University of Technology campus is a great spot to wander around. The campus is even home to Queensland's most important heritage building, Old Government House. This 1862 building was designed as a residence for Sir George Bowen, Queensland's first governor.
3. Kangaroo Point Cliffs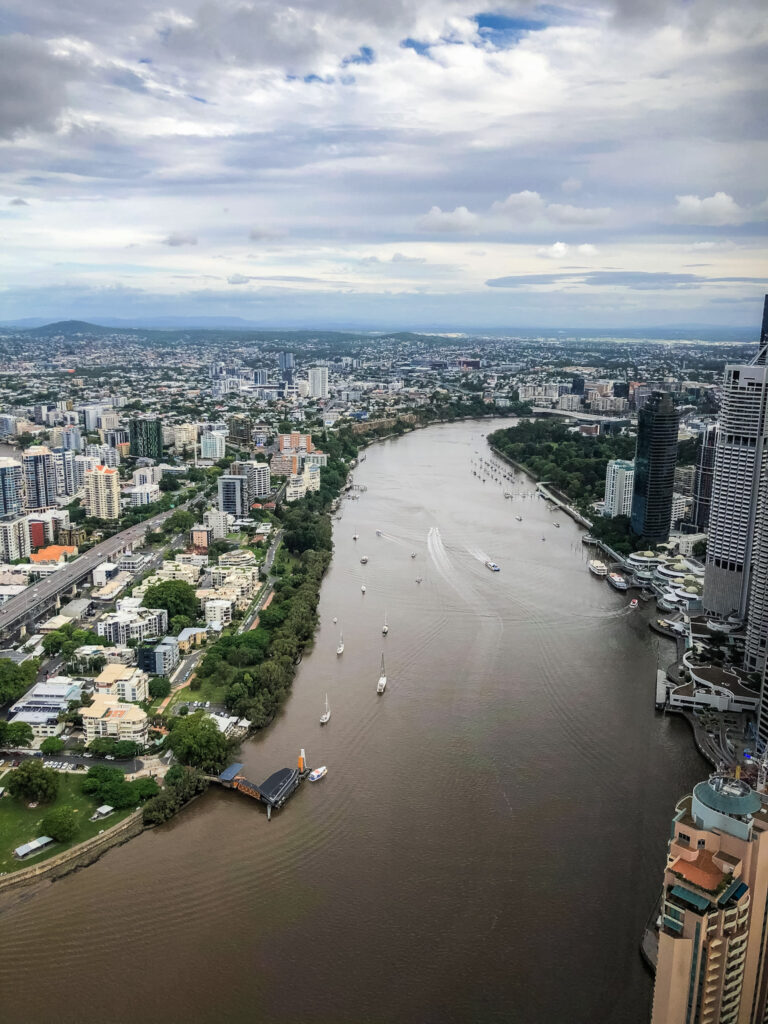 The Kangaroo Point Cliffs are a spectacular sight at night with its floodlit vertical rock face. The 20m cliffs on the south banks of the Brisbane River offer outdoor climbing during the day and a lovely park area for picnics with views of the city.
4. Brisbane Powerhouse
The Brisbane Powerhouse is a repurposed tram power station that has been turned into a local performing arts hub that features plays and concerts. The venue offers an array of free community events.
The New Farm Powerhouse was built in 1927–28 as part of the growing need by the Brisbane Trams. It was decommissioned in 1971 and re-opened as an entertainment hub in 2000.
5. State Library of Queensland
Standing on the South Bank between the Queensland Art Gallery and Gallery of Modern Art (GOMA), the State Library of Queensland hosts free exhibitions exploring the region's history and culture.
6. Go shopping in Brisbane, Australia!
If you have time left in your day, there are loads of great Australian shops and brands that you can visit while wandering through Brisbane! Here is a list of some that are unique to Australia:
Final Thoughts on Brisbane, Australia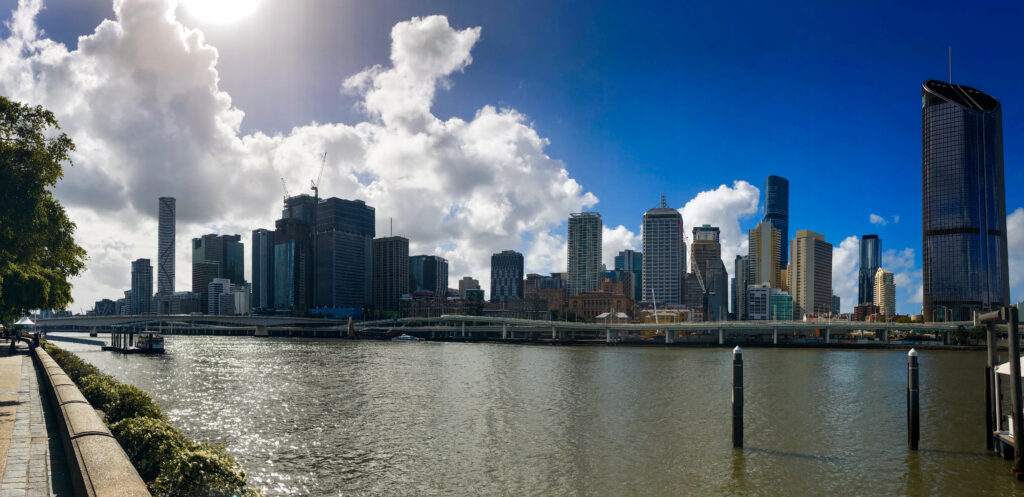 Brisbane may not be Australia's most popular city for tourism, but it really offers so much! As I said last week, it makes a great base for day trips within South East Queensland. 1 day in Brisbane, Australia, is enough time to see the main things within the core, but there is definitely more to see. Whether you have a day, weekend, or a week, there is so much you can do in the city. Having been twice now, I can't wait to go back again and continue exploring Brisbane and other areas of Australia!
Pin it for Later!