The Best Itinerary for Mazatlán, Mexico (Whether for 1 Day or 1 Week)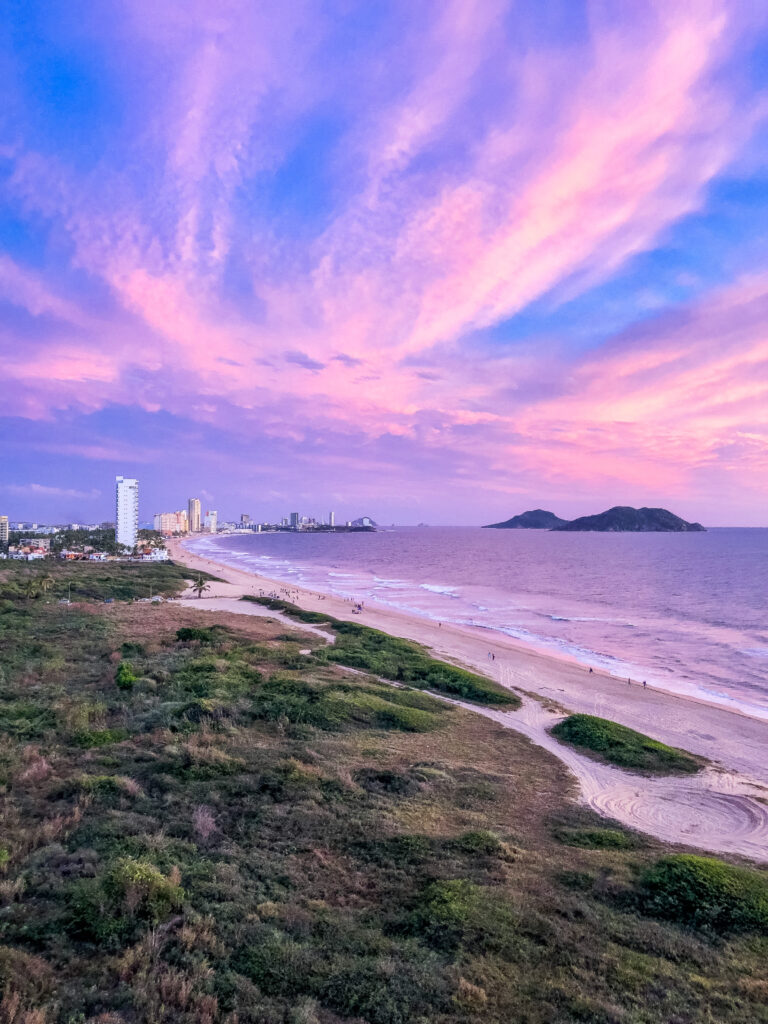 When people hear you're going to Mexico, they immediately think you're visiting one of the popular resort cities. However, I've been fortunate enough to have visited Mazatlán, Mexico three times over the last three years. Going to Mazatlán the first time I had no clue what to expect and didn't realize how many things there are to do in Mazatlán! It's a historic capital, beach resort, and vibrant town, so whatever you're looking for in a Mexican vacation can be found in Mazatlán.
Before Mazatlán became a tourist destination, it was a thriving fishing and agricultural centre. The fertile countryside of the state of Sinaloa produces tomatoes and other fruits destined for the US and Canada. It's also why you'll see a tomato on Sinaloa's licence plates. Trophy fishing originally lured celebrities here back in the mid-1900s, including John Wayne, Ernest Hemingway, and Walt Disney.
Even long before this, Mazatlán has had an intriguing history! It was founded by the Spanish in 1531 but attracted many other immigrants including Germans. The Germans who settled here founded the well-known Pacifico Beer brewery. They also played a role in the creation of Sinaloa's famous banda music (which roots from the German polka music). Much of the French-style architecture in the city's historic center came from the influence of its president during the early 1900s.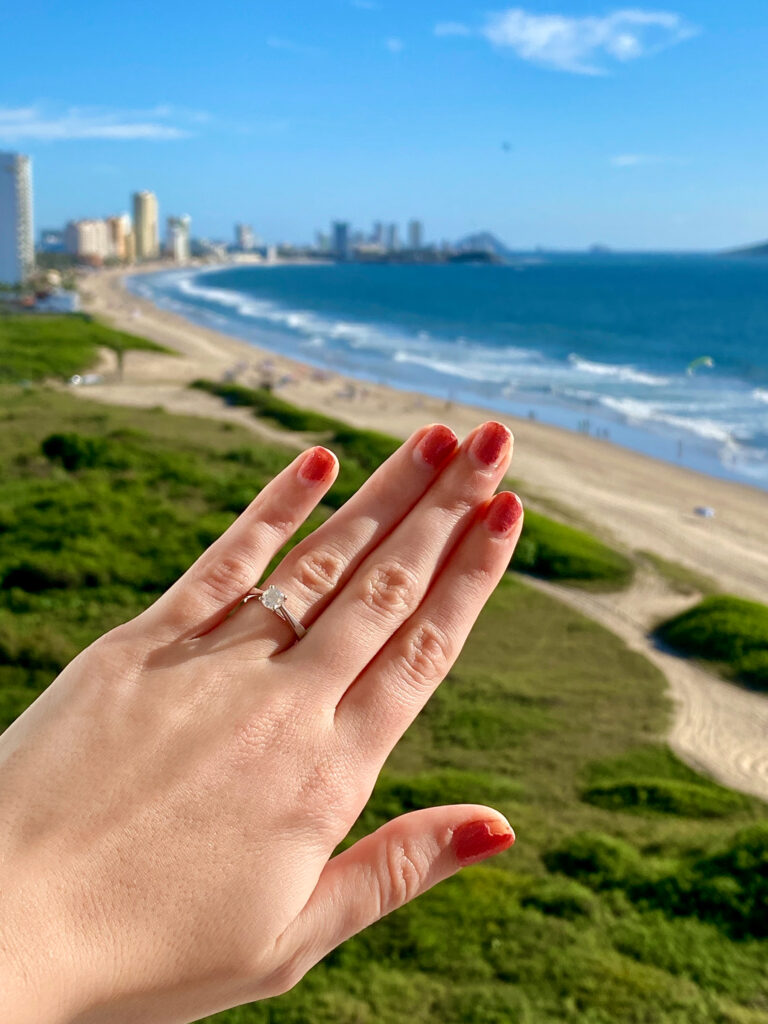 Thanks to 20km of sandy beaches, Mazatlán became one of Mexico's most alluring inviting beach destinations in the mid-20th century. However, as other cities increased in popularity and cruise ship traffic eventually stopped, it lost the charm it once held for snowbirds seeking winter sun. Now with its restored historic centre and more accessible beach, people are returning for the good vibes and memories!
There's something so comforting about the welcoming Mazatlecos (locals) who treat you like old amigos even if you only see them once a year! Between the kind locals and beckoning beach, there are many reasons why Mazatlán, Mexico is known as the "Pearl of the Pacific."
Where to Stay in Mazatlán, Mexico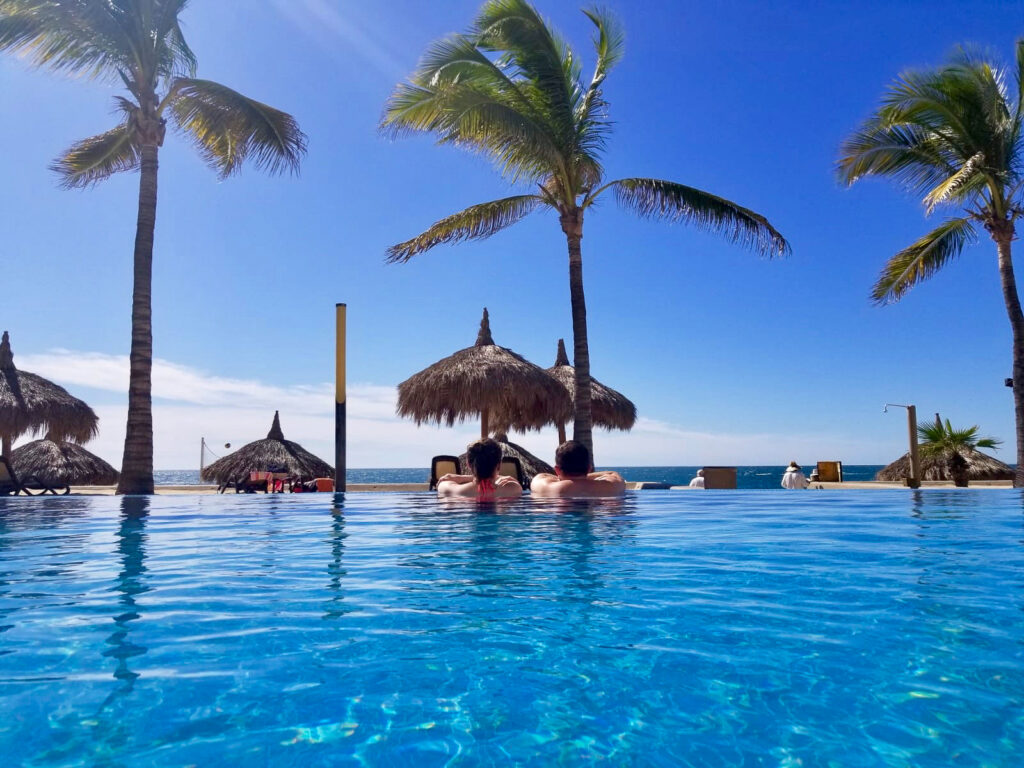 Zona Dorada (Golden Zone of Mazatlán) is full of many resorts and restaurants developed in the 1960s. Nuevo Mazatlán (north of the Golden Zone), is the newest area of development around the Marina. Both of these areas have plenty of options, whether you're looking for an Air BnB style, all-inclusive, or just a simple hotel.
Hotel Belmar is the original beachfront hotel in Mazatlán. It has played host to a number of celebs during Mazatlán's golden era. Nowadays, it looks slightly more run down compared to newer places. However, there's no better spot if you want to be in the Old Town right on the water.
Even further north of the city by Playa Cerritos, there are a couple of great resorts here if you are looking to stay in a quieter area. Torres Mazatlán is perfect for families as it's right on the beach. It has a lovely pool area for kids. There are also a number of activities available, such as a pottery painting place right by the pool. It's run by locals and offers lots of variety of dishes and figures to paint. They'll fire it for you overnight and add special embellishments so it will be a great souvenir to take home, no matter how good an artist you are!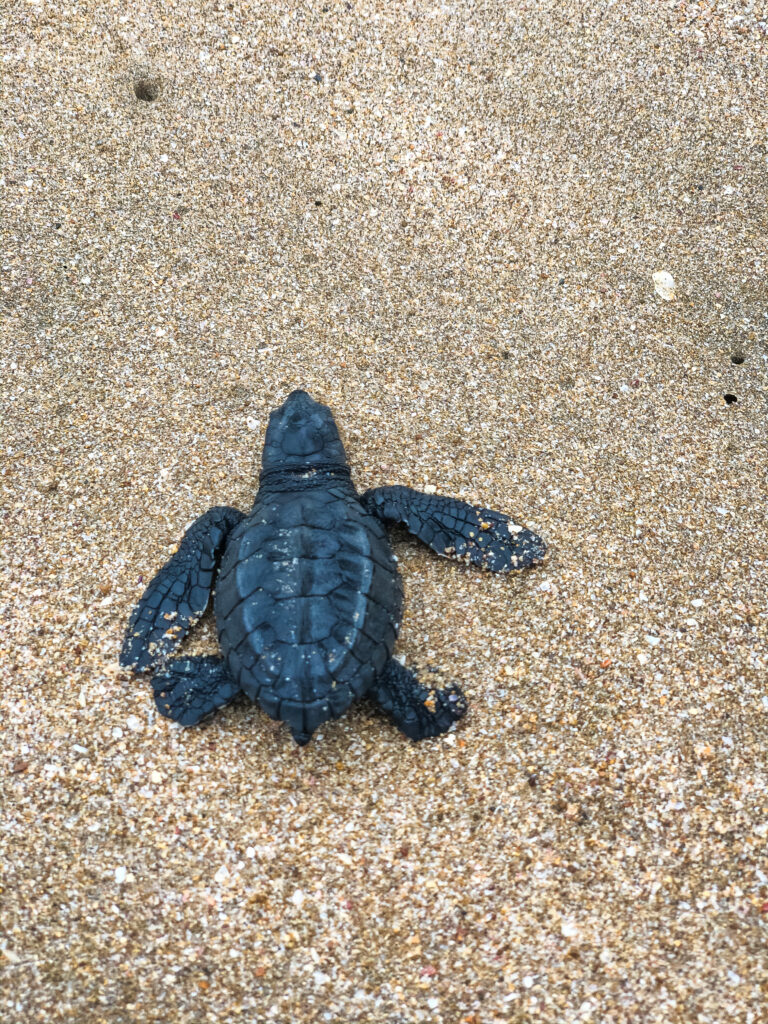 Riu Emerald Bay is another option if you're looking for a resort-style vacation, but away from the busyness of being right in town. The beach here is wide open and great for walking and playing in the waves. There are lots of vendors out on the beach selling fresh fruit (try the strawberries with cream – trust me!) and other foods and accessories. It's also very close to Playa Bruja shops and restaurants if you don't feel like eating at the resort.
Make sure you keep an eye out for turtles hatching in the morning. If you see a crowd of people gathered, it could very well be the baby turtles making their way to the ocean. The Cerritos Sea Turtle Rescue monitors the nests in the area along the beach!
Where to Eat in Mazatlán, Mexico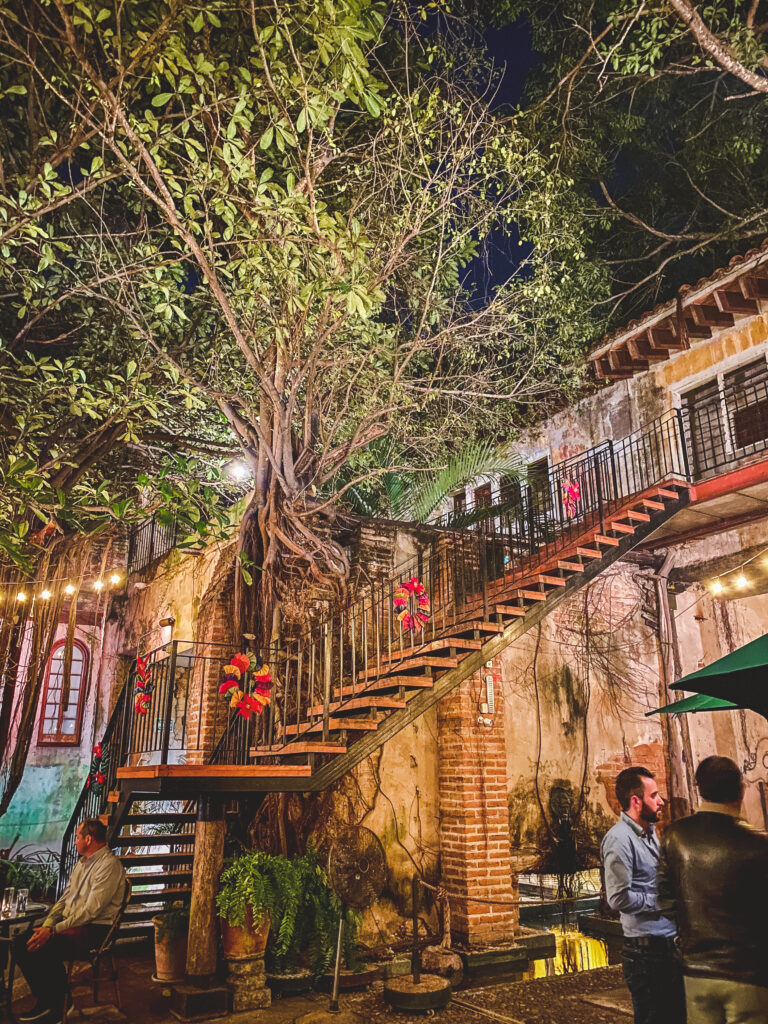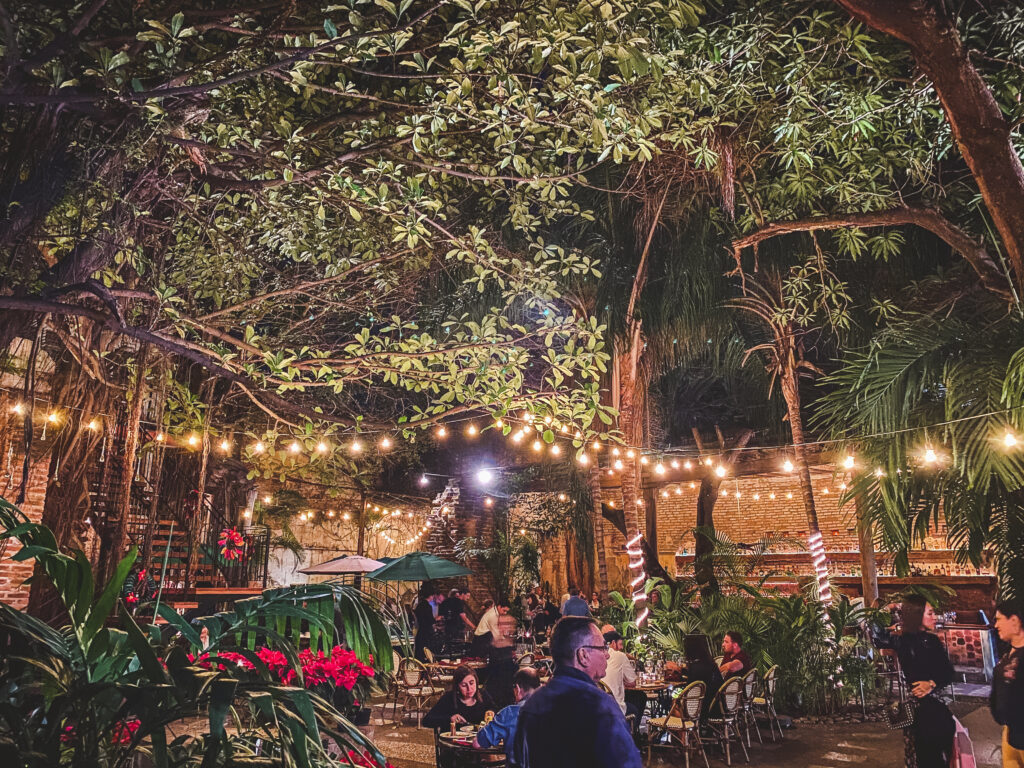 Mazatlán is full of restaurants with delicious and fresh food! You'll be returning home from your trip very full and never looking at store-bought salsa the same way again! Whether you're in the mood for Mexican in a sit-down restaurant, street-side stand, or at a bar on the beach, the city has it all. In fact, writing about this has me craving sangria happy hour and chicken fajitas!
For those who love the style of old haciendas, El Presidio offers the most stunning dinner setting that you can find in the city. The open-air central courtyard is full of old trees with roots climbing down the walls. The food is of high quality, but I'd go just for the atmosphere that it offers! While most food is very reasonable in the city, this is closer to North American pricing for a dinner due to its quality and setting.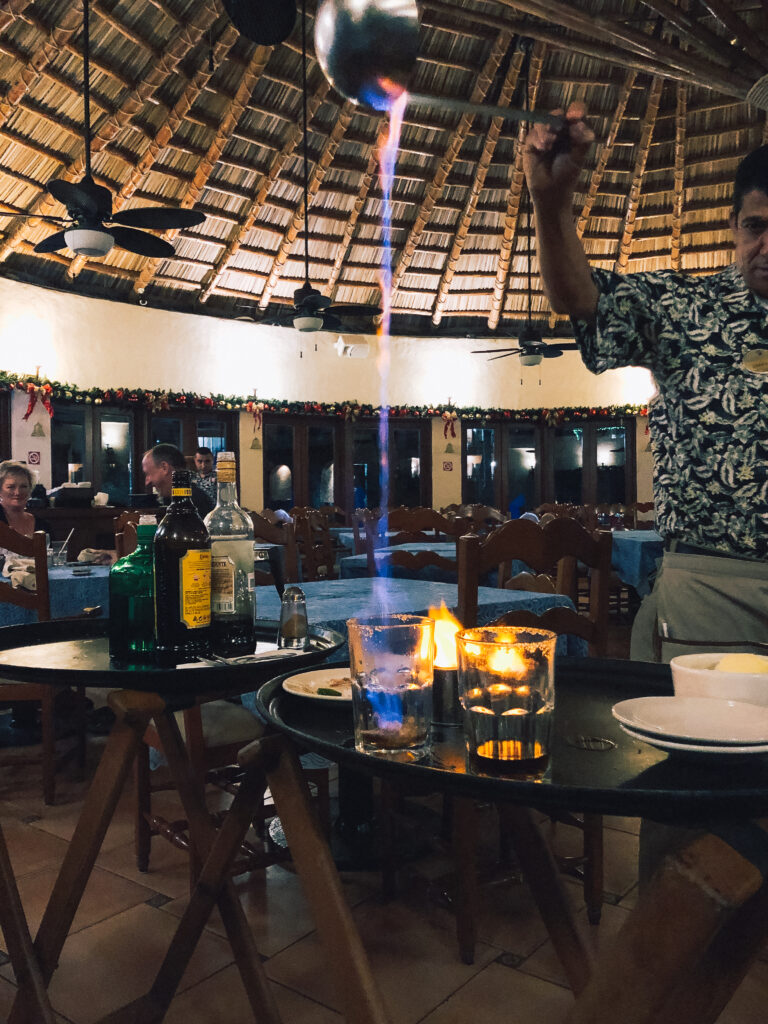 Torres Mazatlán offers great options for those that want more variety on the menu. If you don't feel like Mexican, they also have a variety of sandwiches, pasta, and salads. On certain days they host fun entertainment like karaoke or have local musicians come in. A highlight of Torres (and this is coming from a non-coffee drinker) is ordering the Spanish Coffee. For coffee drinkers, it's a dessert, caffeine boost and a drink all-in-one. Although, for others like me, it's still a great experience to watch the restaurant employees make it!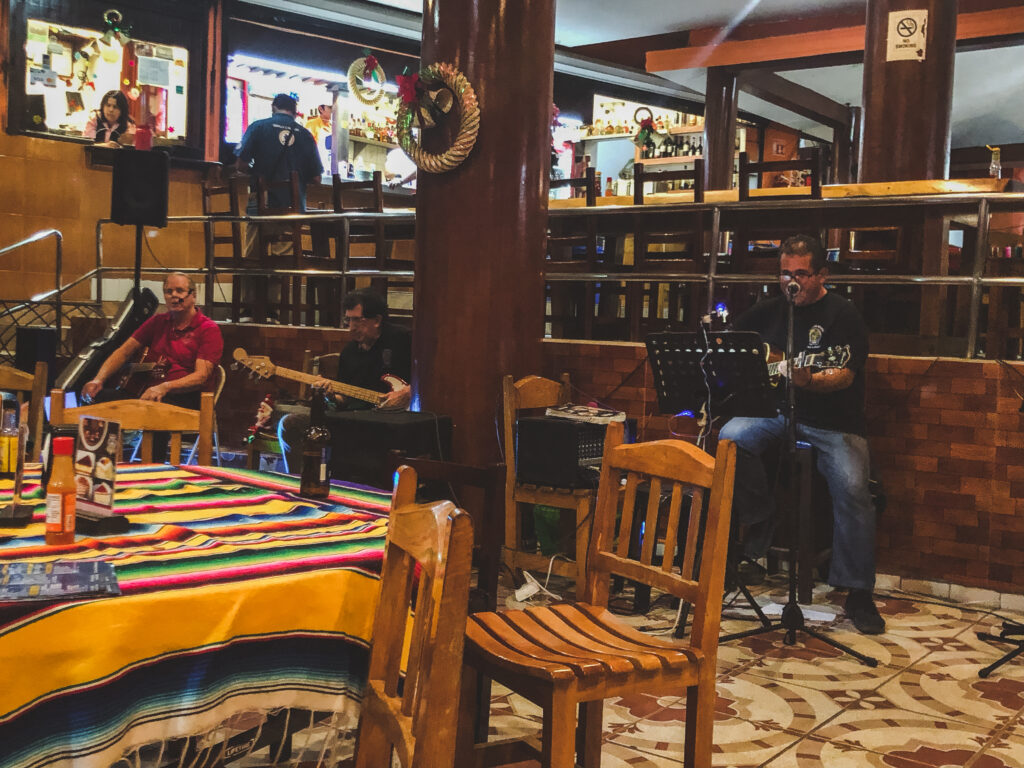 Another yearly stop for us is Mr. Lionso at Playa Bruja (Witch Beach). From this open-air restaurant, you can look all the way down the long stretch of beach to the edge of the city. If you get there at the right time, you can enjoy a lovely sunset and then the view of the city lights at night. If you order after 6:00 all drinks are 2-for-1. The owner also brings around different flavours of his own tequila brand you can sample (the almond is amazing). To top it off they have live music from a local family duo who does a great job! Just be prepared for long wait times and over-the-top selling (balloon animals, flowers, souvenirs – it all comes through there).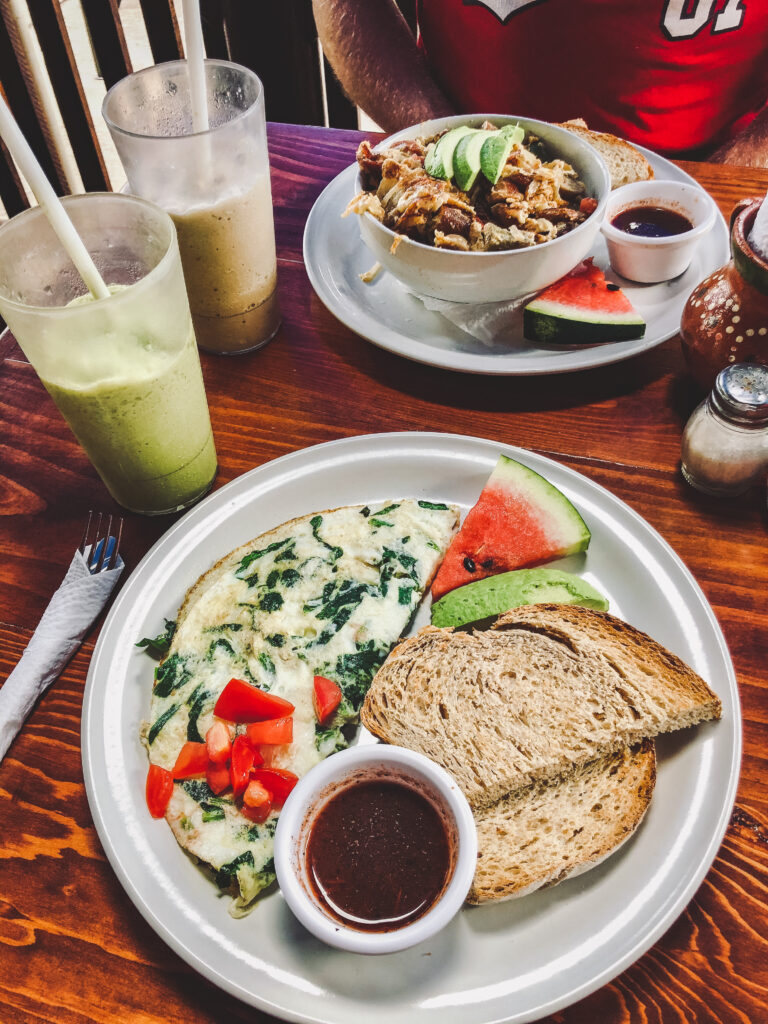 Last but not least, a new discovery from this past year, Looney Bean! A fantastic cafe and breakfast/lunch place. You can get drinks and snacks to go, but if you want to sit down make sure you get there early enough as this place is very popular! Everything I've tried on the menu is delicious and I LOVED the Green Tea Frap. Can't wait to come back here again! If you visit then make sure to bring some treats for the stray cats that live in the area (at the Cerritos location). They also have a second location in the city that may be more convenient for some.
Tips for Getting Around Mazatlán, Mexico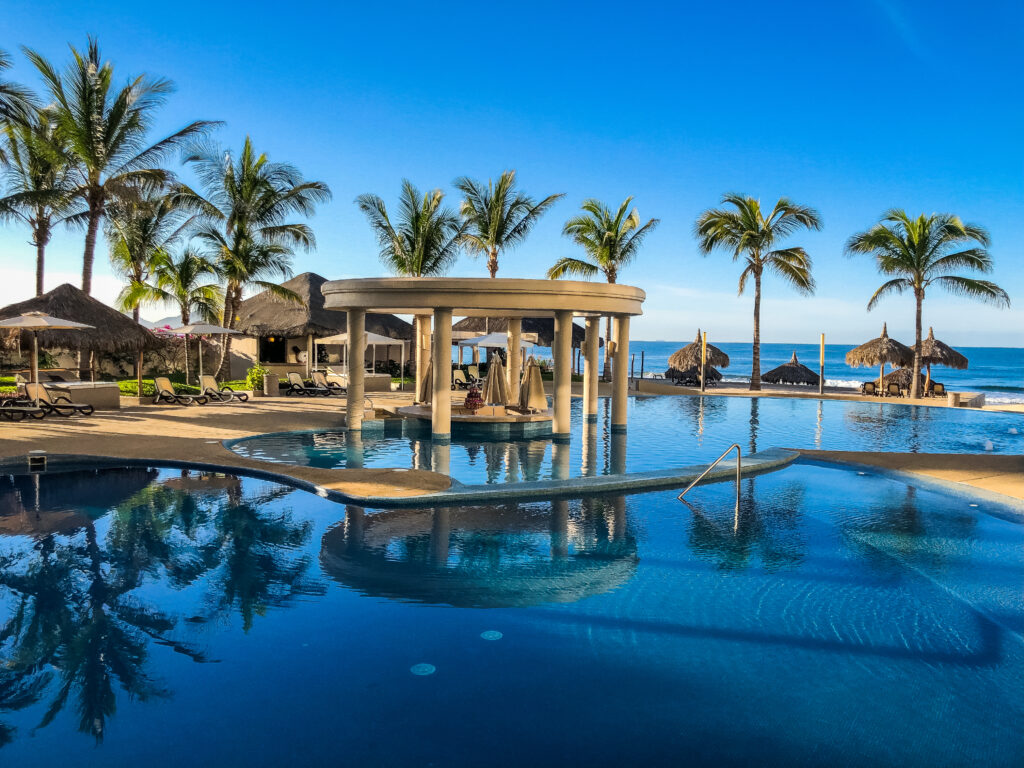 Mazatlán, Mexico is a lot more spread out than most people realize. The airport itself is a 30-45 minute drive outside of the city, depending on where you're staying. Instead of using a taxi or red truck to get into town, I recommend using King David. They offer a shuttle service that picks you up from the airport and takes you straight to your hotel and does the return trip as well. They're great as when you book you give your flight number and they track it to see if you have any delays.
When moving around in the city, your other options are taxis, red trucks, Pulmonias or Uber. Taking a Red Truck is your best option if you have a large group, and riding in the back of an open pick-up is very much an experience in itself!
My other favourite method of transport is taking a Pulmonia (a retro-looking open-air taxi). You truly get to see Mazatlán when you are sitting in the back of these with the music blasting and wind blowing. This VW Bug/golf cart is an essential part of your experience in Maz as they are native to the city! Rumour has it that the name derives from a concerned Mazatlecan who feared catching pneumonia (Pulmonia) if he rode in an open-air car.
Best Things to Do in Mazatlán, Mexico
1. Horseback Riding on Isla de la Piedra (Stone Island)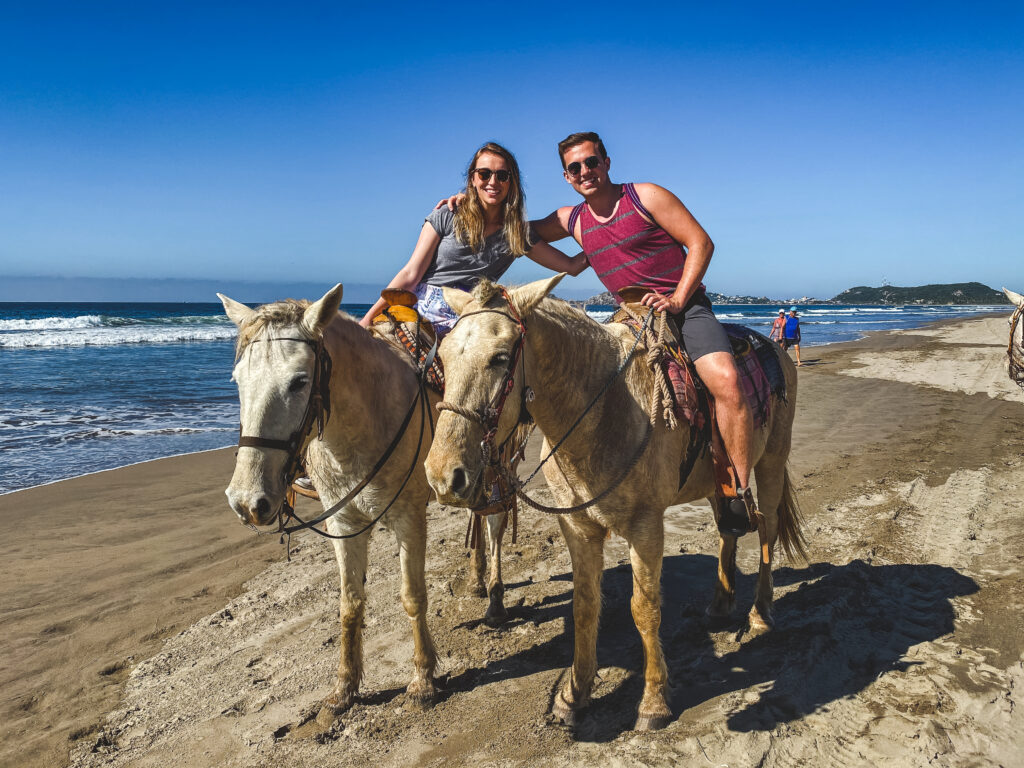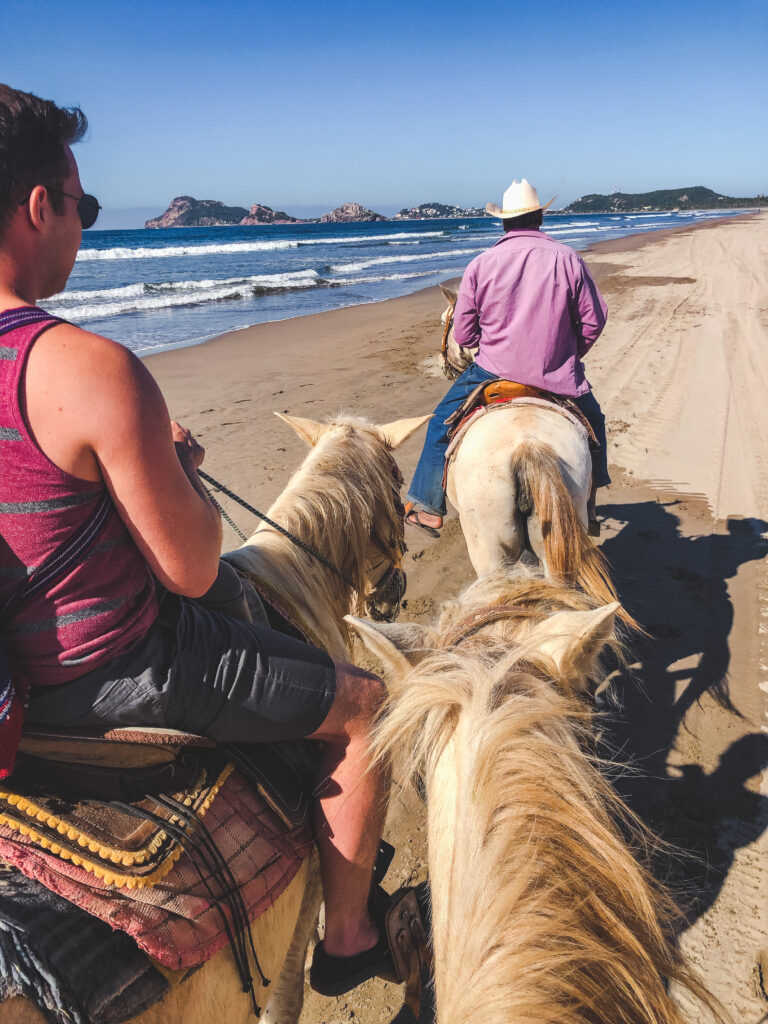 A popular half-day escape from the city, Stone Island is south of the old town and boasts a long sandy beach bordered by coconut groves. The simple palapa restaurants and beautiful beach draw local families to enjoy a day of relaxation here, as it is just a short water taxi ride from the mainland.
Here you can take an incredible ride along the beach. If you're like me and had always dreamed of being able to canter down a wide-open sandy beach, then this is the PERFECT experience for you! Afterwards, you can also lay on the sand and enjoy a drink! We booked our excursion with Mazatlan Tours which is operated by Maria's Happy Horses.
For $40 USD/person, it included transport from your hotel to Stone Island and back (including the water taxi), a 1.5 hour horseback ride, and free drinks at the palapa. Our horses were well looked after and our guide Daniel was great! He spoke no English, but tried hard to communicate and made sure we were looked after while also having a great time!
2. Malecón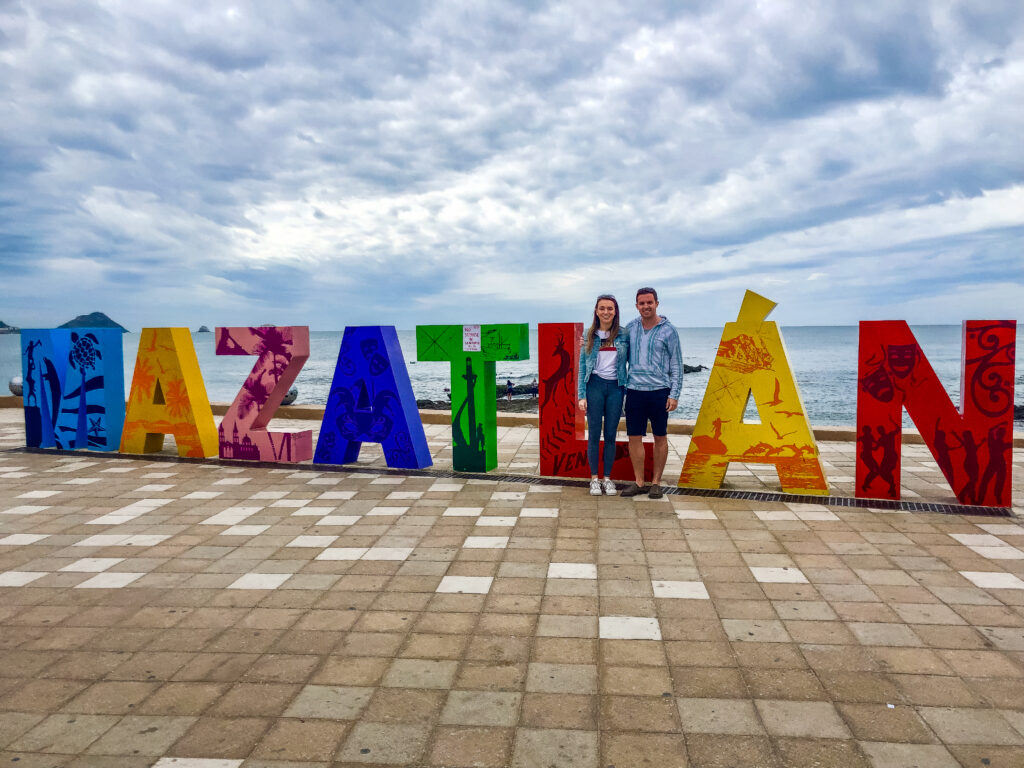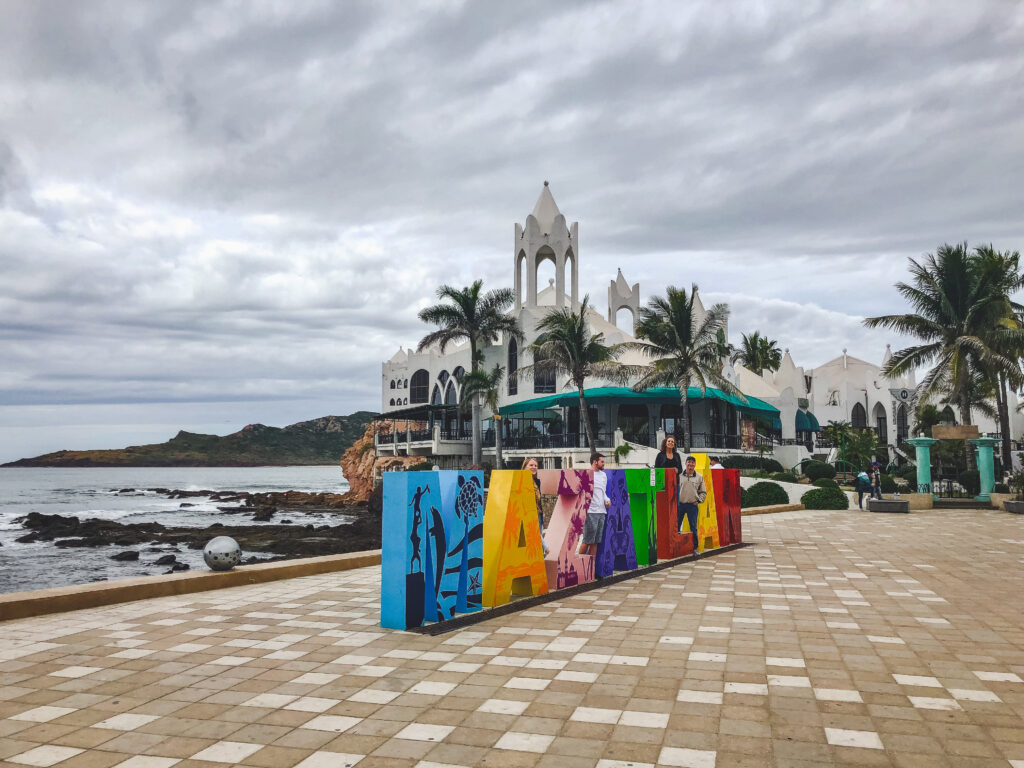 This is the main beach promenade that stretches from the old town past the Zona Dorada. Here you can take a photo in front of the iconic Mazatlán sign, go for a bike ride or a walk and get a feel for the city. You'll see lots of waterfront bars and vendors. There are also incredible sculptures and artwork displayed along the way that represents Mazatlán's history. Spend your evening here and view incredible sunsets that I imagine drew the crowds here back in the 1960s.
3. Centro Historico (Old Mazatlán)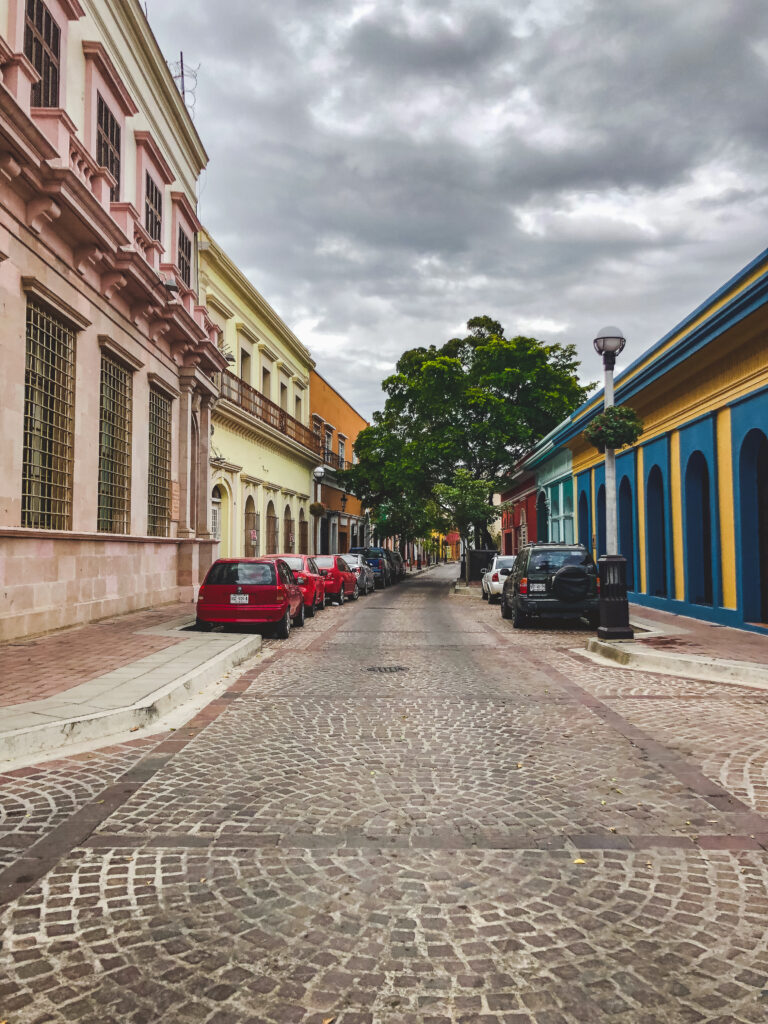 Mazatlán's restored old town is a picturesque combination of colourful 19th-century buildings, cobblestones streets, and pretty plazas. It's set back from Playa Olas Altas, a small rocky beach by the Hotel Belmar where tourism first flourished in the city. Though overlooked by ugly radio masts, the old town is delightful, with numerous galleries, restaurants and bars. The historical centre is also great for strolling the streets and snapping photos of the colourful buildings!
4. Plaza Machado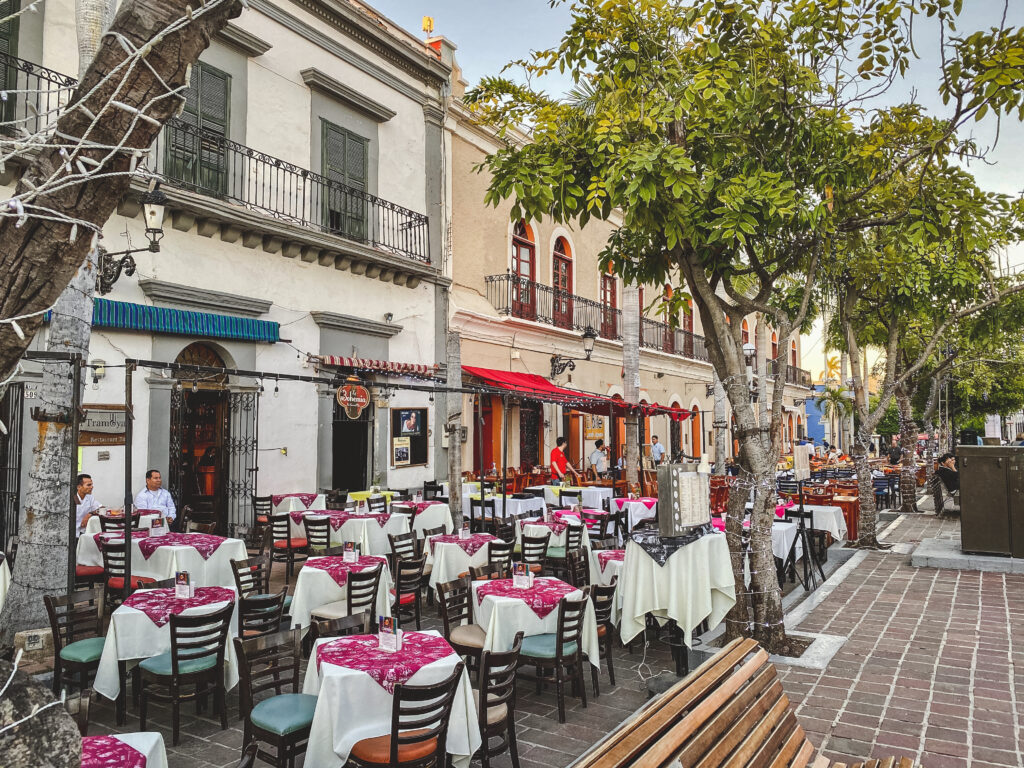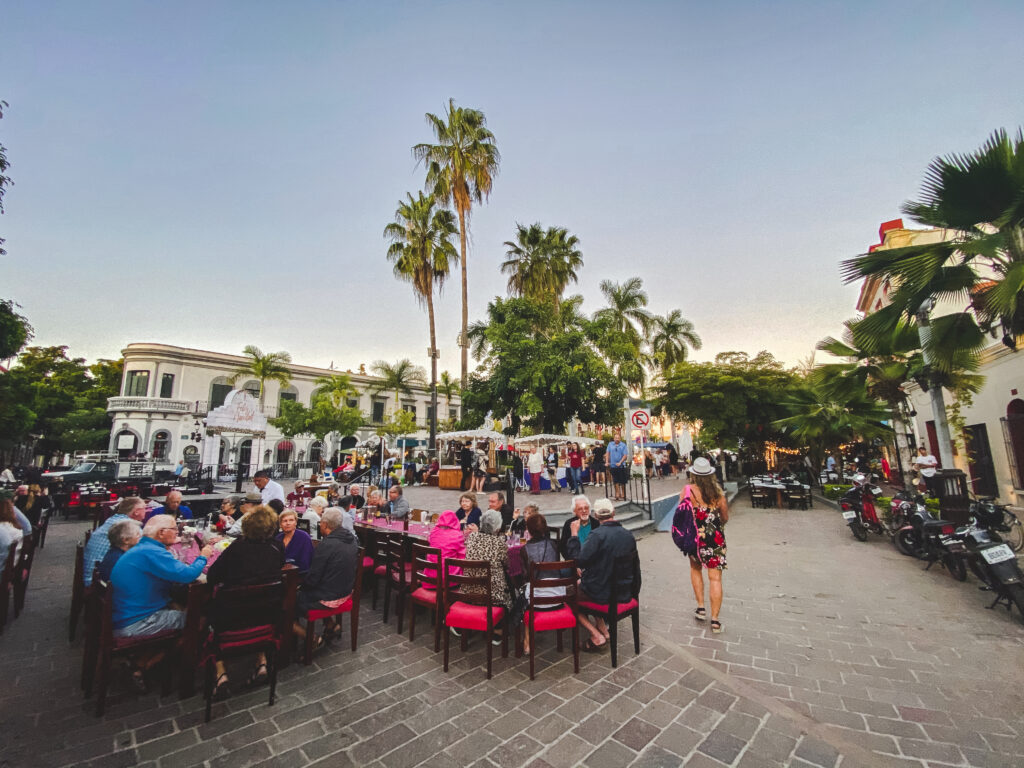 Surrounded by colourful 19th-century buildings, this gorgeous tree-lined plaza comes alive in the evening. Originally built in 1837, it's a testament to Mazatlán's colonial history. It's a romantic spot for couples to stroll past market stalls, live music and terrace restaurants. When market stalls pop up, couples stroll hand-in-hand and its numerous terrace restaurants are full of life and music. It's the historic district's main square and has a vibrant energy.
5. Catedral de la Inmaculada Concepción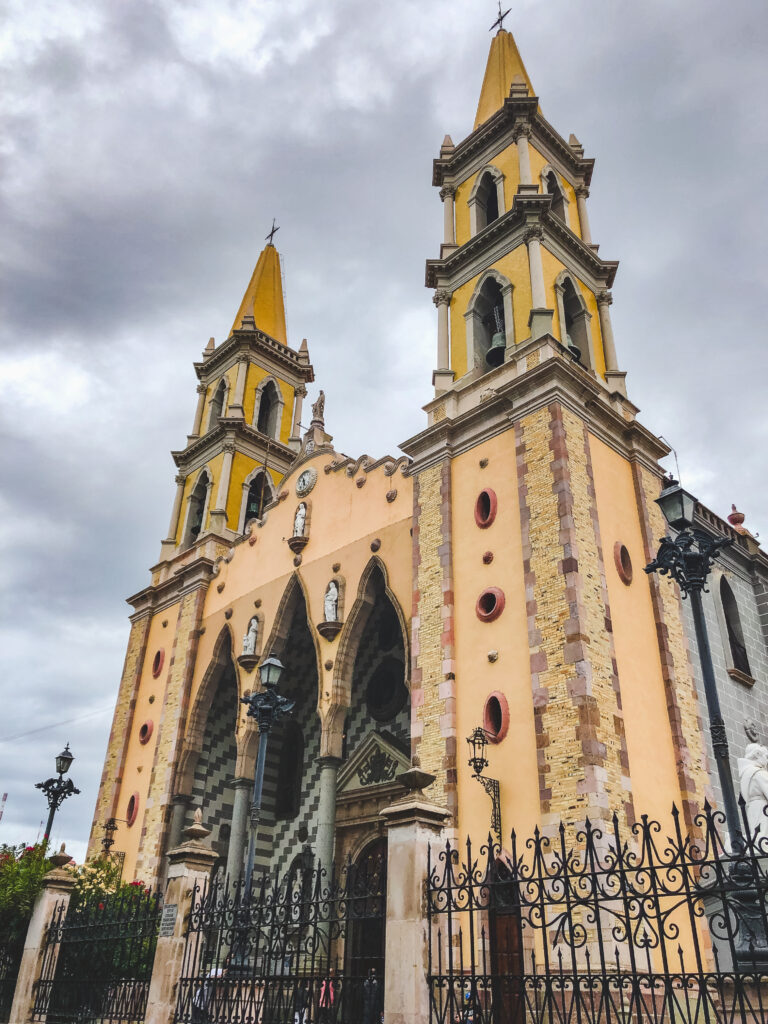 At the centre of the old town is this striking 19th-century neo-Gothic cathedral with yellow twin towers. Catedral de la Inmaculada Concepción has a dramatic interior that features beautiful colours and gold decor. It's open to the public for visits. What I found most striking to see was the similarities and differences between it and the cathedrals of Europe.
6. El Clavadista Cliff Divers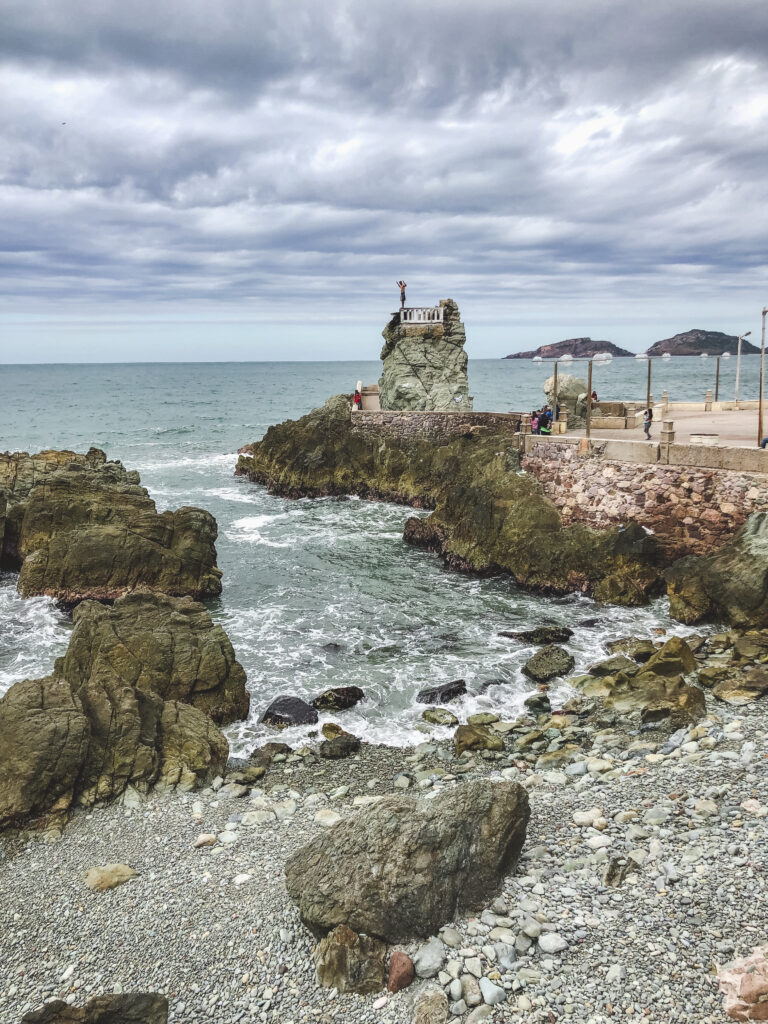 Although not as famous as other cliff divers at sites around the world, locals dive from the top of a platform at this rocky outreach. Below are big ocean swells and sharp rocks. It's incredible to watch, but you may have to wait a while as they don't jump until a crowd forms to watch.
7. El Faro

At the Mazatlán peninsula's southern end, the lighthouse sits atop the city's highest hill (135m above sea level). It's a quick and popular local hike and many like to do it early in the morning or in the evening for the beautiful view and to avoid the heat. El Faro Lighthouse is one of the highest natural lighthouses in the world, settled on what once was an island that has since been connected to the mainland. El Faro Lighthouse offers the ideal place to enjoy a 360-degree view of the city and coast. The perfect place to take photos of the nearby islands and the city!
Other Things To Do in Mazatlán, Mexico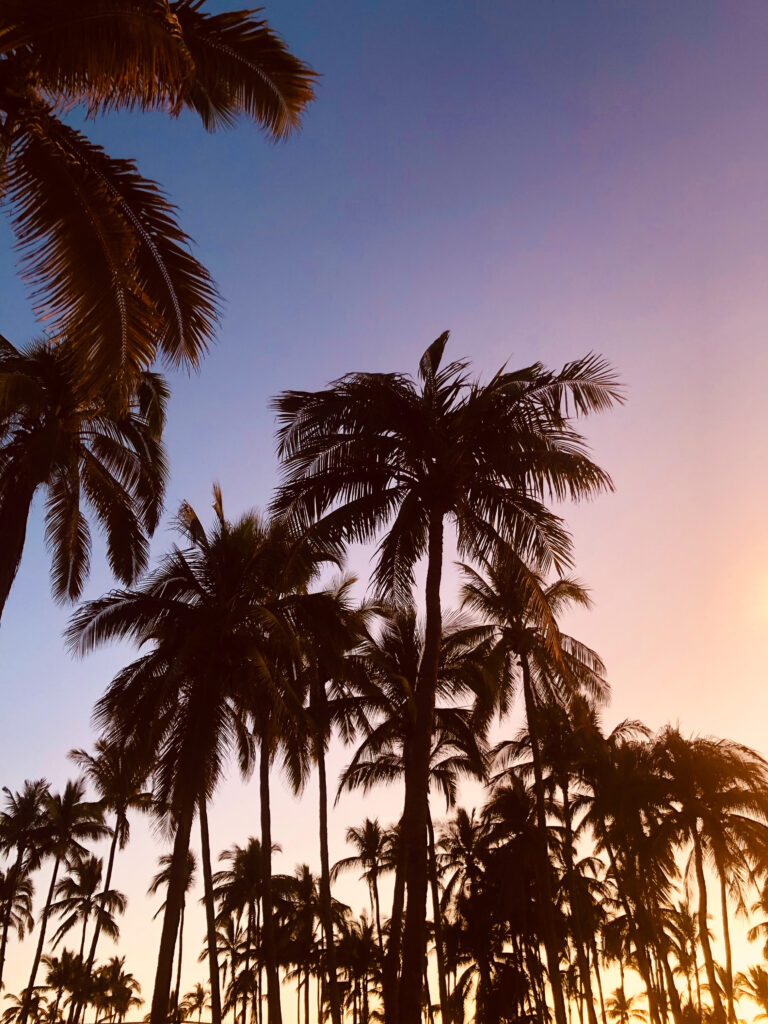 Take part in a walking or Pulmonia tour of the city! Make sure you find an English guide who is able to explain the city history for you.
Go parasailing and see Mazatlán from 300 feet in the air!
Book a ziplining or ATV tour to explore outside the city.
Spend a morning at the Mazatlán Aquarium. It is only $115 pesos for adults and features the largest seawater fish tank in Latin America.
Go kayaking at the Deer Island ecological reserve.
Watch a Mazatlán Venados baseball game!
Final Thoughts on Mazatlán, Mexico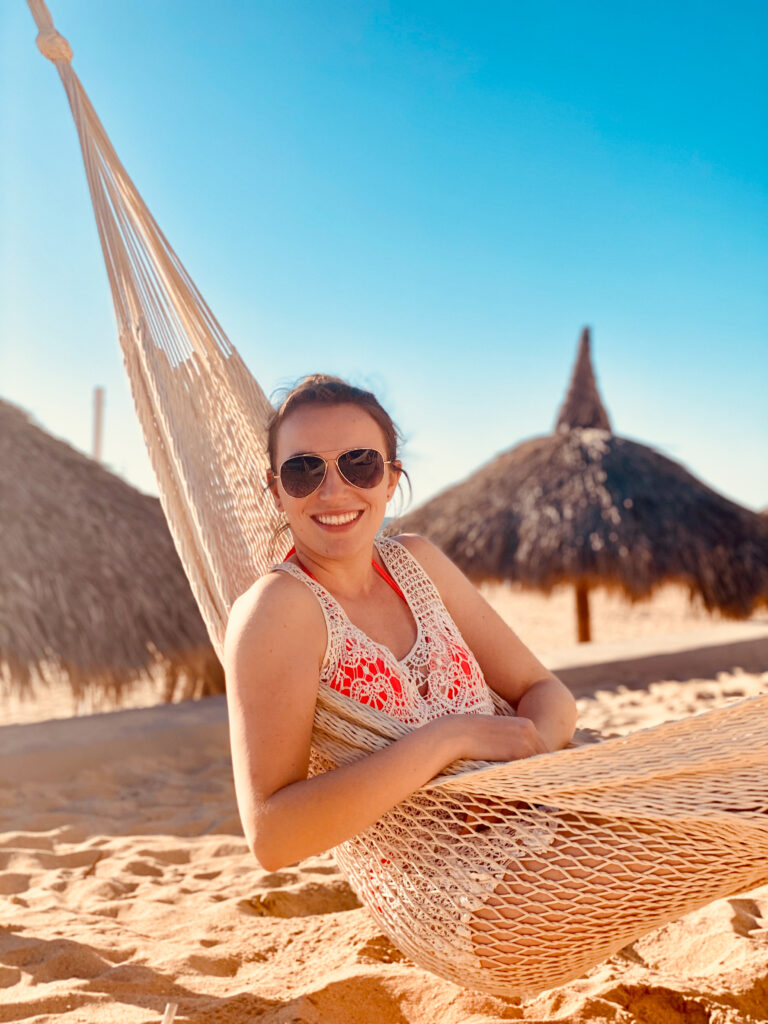 Mazatlán is what you make it! If you want a holiday by the beach then you can do just that, but if you're looking for history, culture, cuisine, and action you can find all of that here as well. After three years of visiting Mazatlán over New Years, I've found new things to explore each time!
There's always a great feeling in visiting your favourite places and seeing the locals that remember you, but you won't run out of new things to explore or see either. If you want a holiday away from the crowds of Cabo or Cancun, then Mazatlán, Mexico is the place for you!
Kelly xo
Pin it for Later!