The Top Things to Do During 1 Weekend in Mainz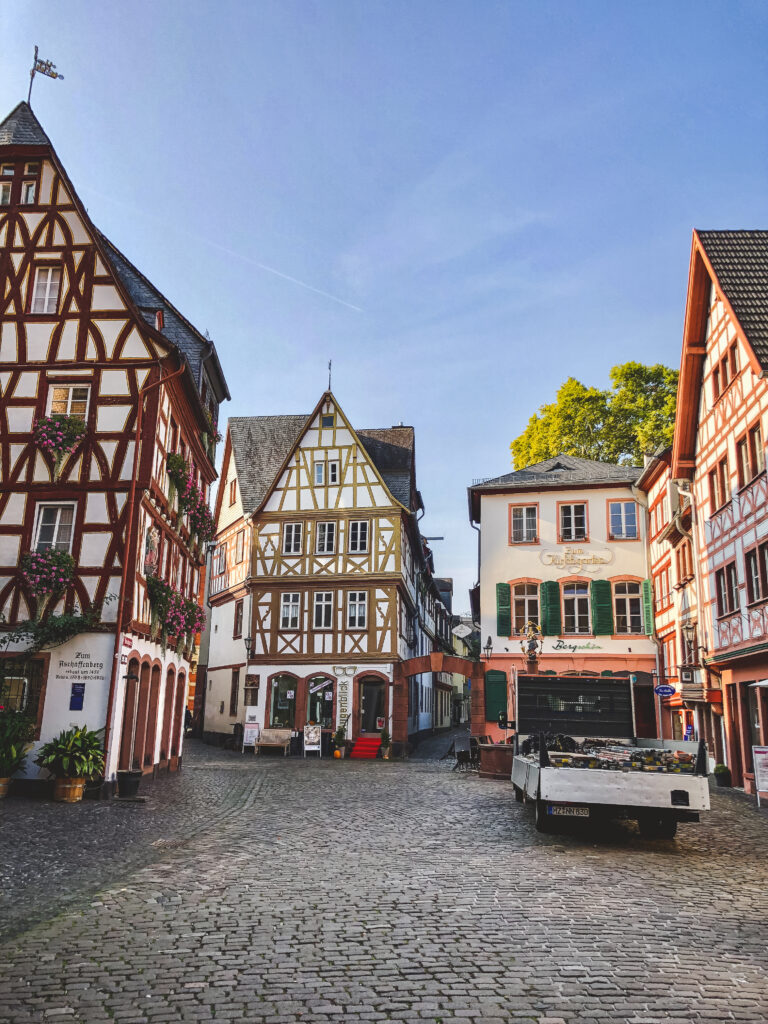 Most people travel through Frankfurt on trips at some point in their lives, yet few ever stop and take in the area. I don't blame you since downtown Frankfurt can be just like any other city, but I'm going to explain why next time you NEED to spend 1 weekend in Mainz!
Mainz, Germany is a city near Frankfurt am Main Airport, at the confluence of the Rhine and Main Rivers. Although you rarely hear about it, it's actually full of history! The city was bombed during WWII but has managed to maintain its old town, with half-timbered houses and medieval market squares.
Spending 1 weekend in Mainz is a frequent occurrence for airline crews as many stay there on their layovers in FRA. There's a reason for it! Mainz is a super charming town with a lovely riverfront promenade, cute farmers markets that are held in front of the Mainzer Dom, and GREAT shopping. What more could you want during 1 weekend in Mainz!
Where to Stay For 1 Weekend in Mainz, Germany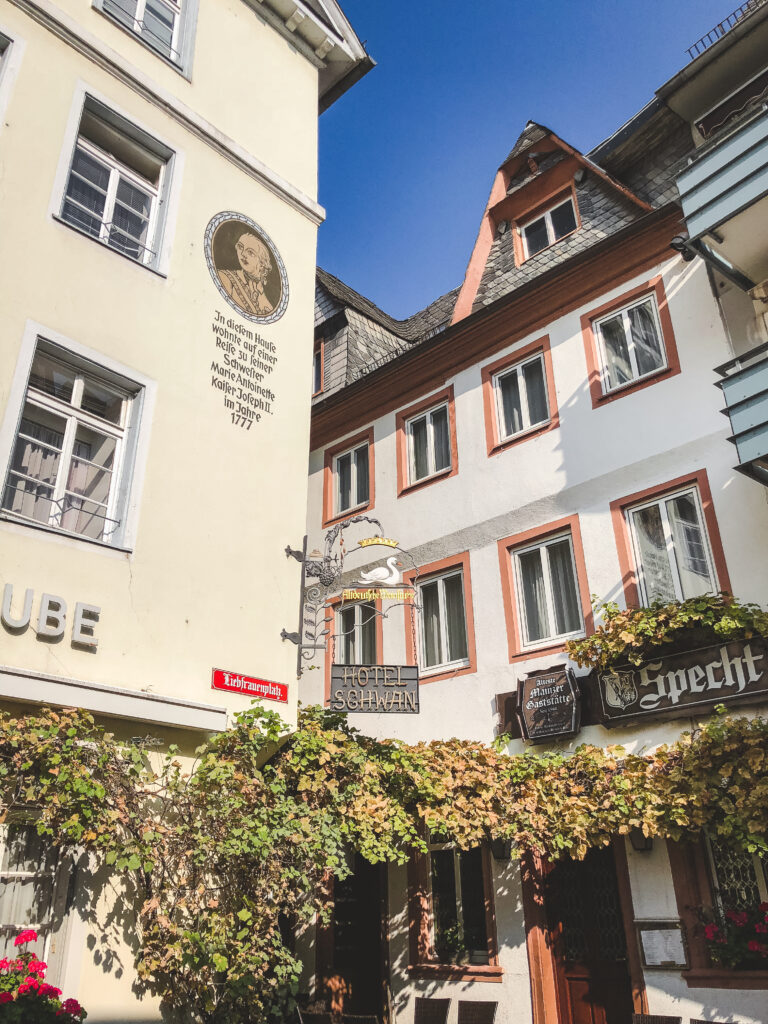 In Mainz, everything is within walking distance so all places in the city are quite convenient. However, if you're looking for a great place to stay for 1 weekend in Mainz, the most scenic place would be any of the hotels situated right along the river. We stayed at the Hilton Mainz which offers great river views! Here you can enjoy happy hour on the promenade or go for a scenic evening stroll as the river cruises float by.
If you're looking for something more historic, then there's no better place than one of the old hotels in the heart of the city. Hotel Schwan is right next to the Gutenberg Museum in a charming, historic building. In fact, right next to it is the house that Kaiser Joseph II stayed in during his 1777 visit to see his sister, Marie Antoinette. Can't get much better than having history right at your fingertips like that!
Where to Eat in Mainz, Germany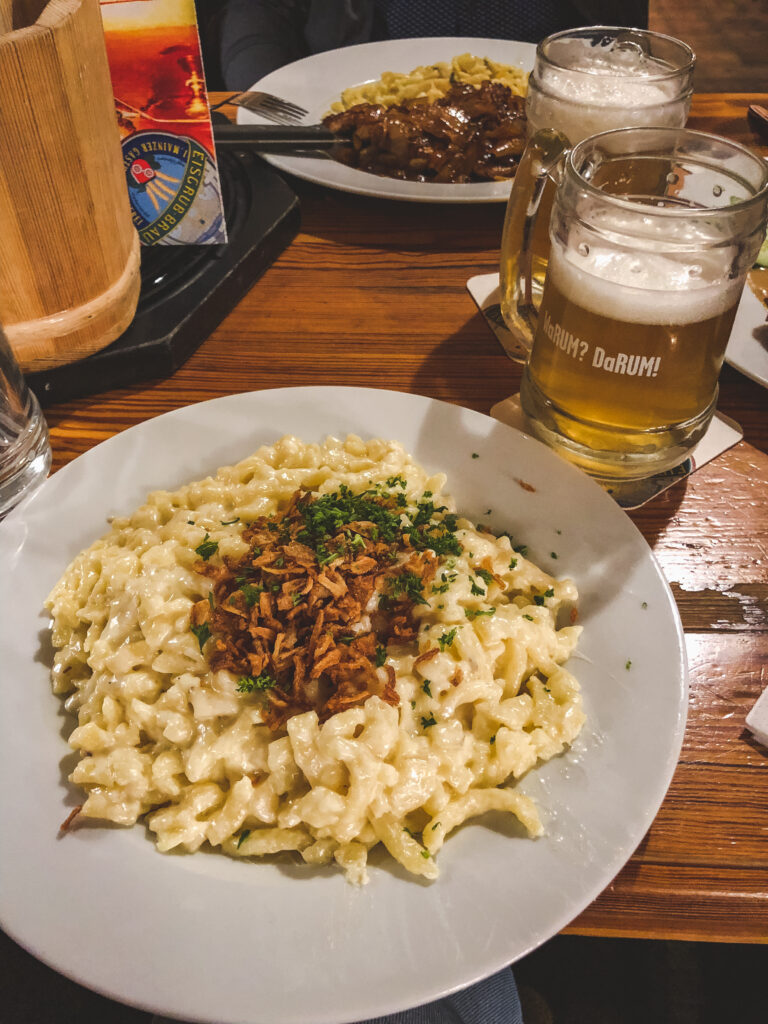 Mainz is full of charming cafes and restaurants, but when I'm in Germany there is nothing better than a traditional German brewery and pub-type food. Eisgrub-Bräu is a great restaurant that seats you in the vaulted chambers of the brewery. In fact, you can even see the brewery process through glass windows in parts of the building. Enjoy your Schnitzel or Kasespätzle with friends or family while working on a 3L or 5L Bierturm (beer tower). Prost!
What to do During 1 Weekend in Mainz, Germany
1. Mainzer Dom (Mainz Cathedral)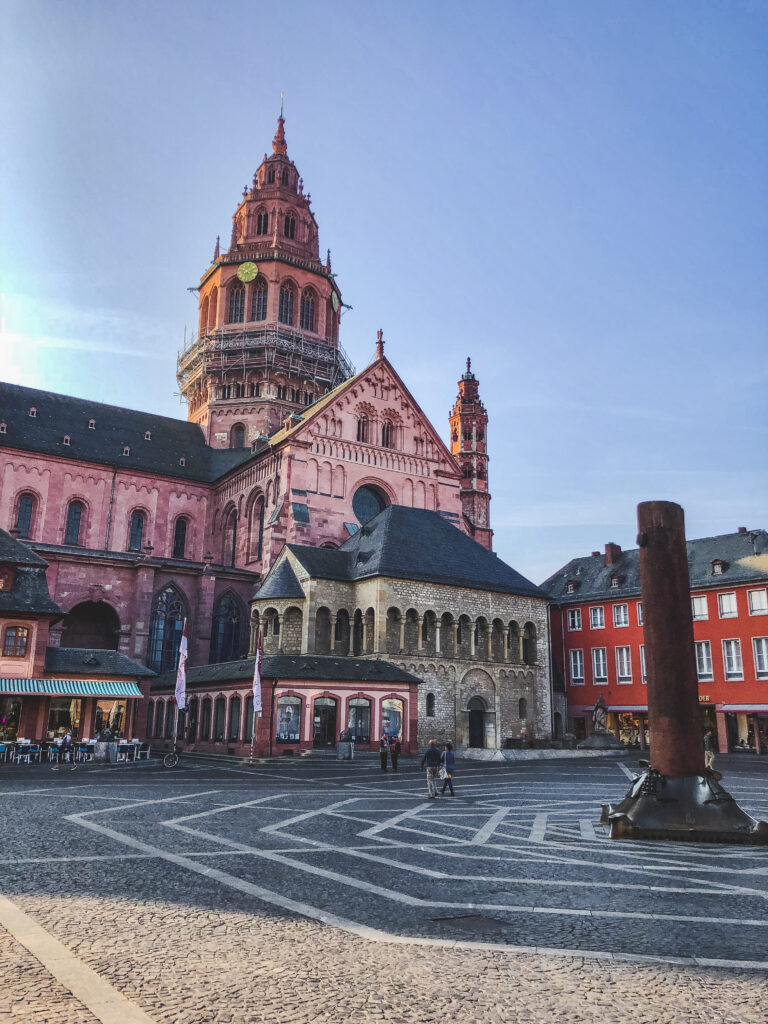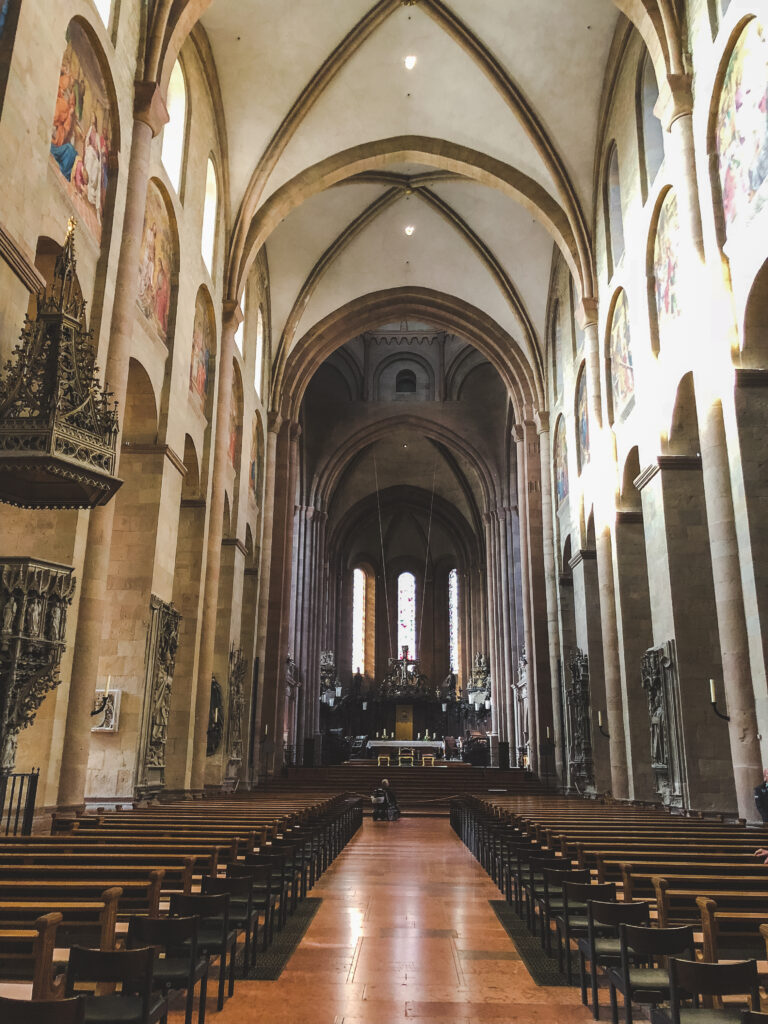 The Mainzer Dom is Mainz's immense cathedral that is in the centre of the city. It stands out with its deep red sandstone from the 12th century. It was built on the spot of its predecessor that burnt down in 1009 on the day of its consecration. Located next to the cathedral is Johanniskirche which is actually the oldest church in Germany, having been built over 1100 years ago.
As someone who has been to many cathedrals throughout Europe, I wouldn't say the inside stands out in comparison to others. What makes it really special is its unique colour and the general feeling around it in the city centre. It's free to enter and is definitely worth a look around. Although, make sure to leave enough time for the rest of your stops when you only have 1 weekend in Mainz!
2. Marktplatz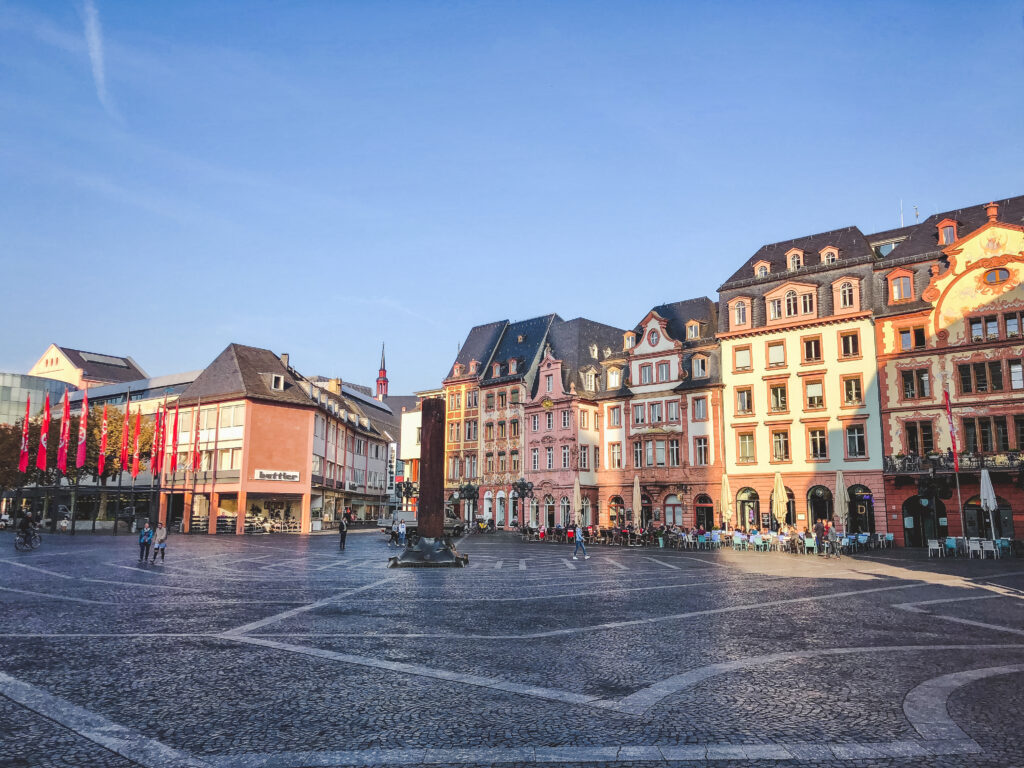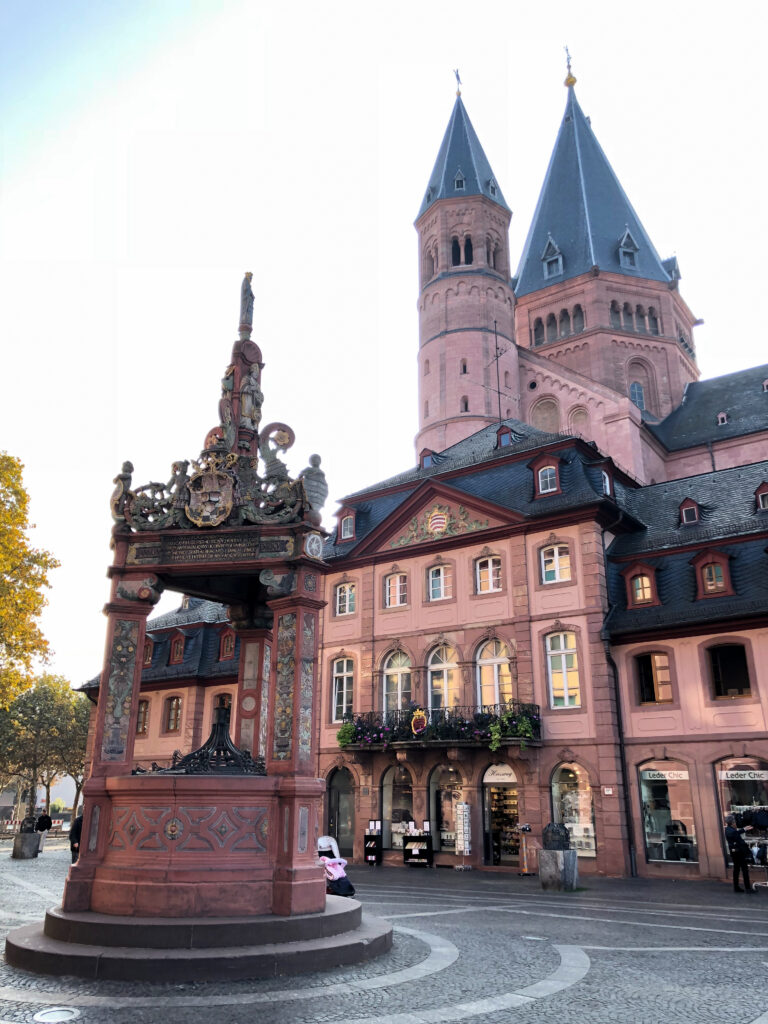 The Markt is the large, open marketplace on the north side of the Cathedral. There's a weekly market here on Tuesday, Friday, and Saturday mornings, but even on other days, it is a lovely place to stop at a cafe and do some people-watching.
There are also a couple of notable monuments in the square. The Marktbrunnen (Market Fountain) is an ornamental Renaissance fountain that was donated in 1526. It represents one of the first architecturally decorated fountains of the era. The other monument is the Heunensäule (the sandstone column) in the centre of the square. This is one of 42 columns that were carved for the reconstruction of the cathedral after the original burnt down. There are only eight of these that are known to still survive today in Germany.
3. Gutenberg Museum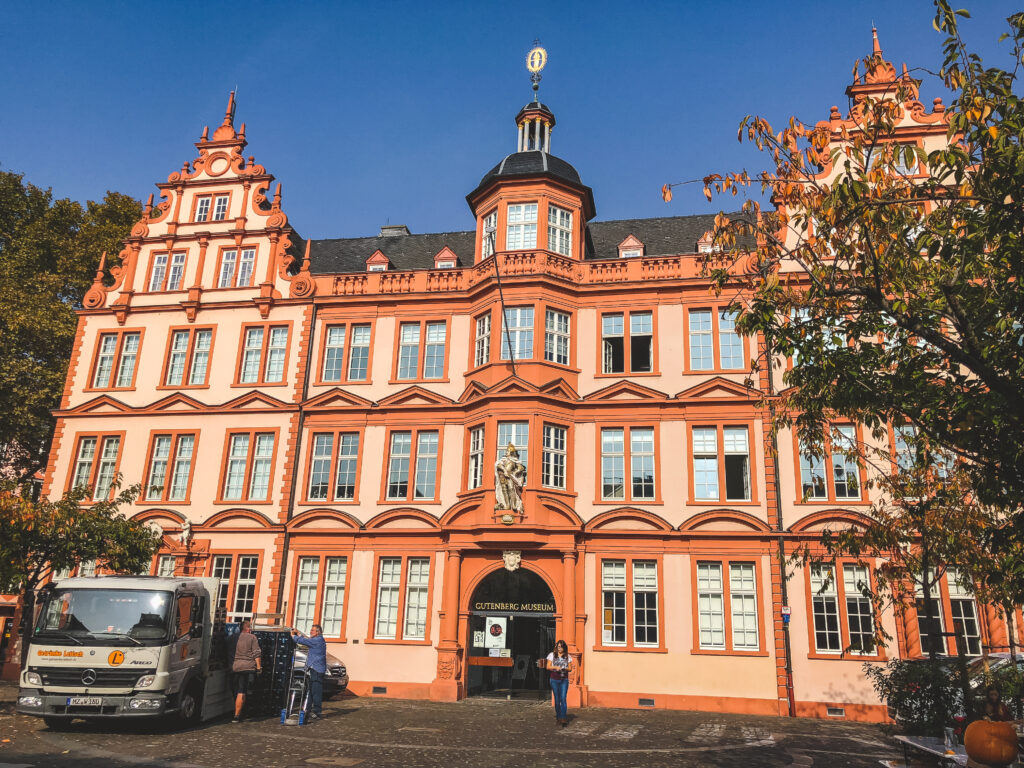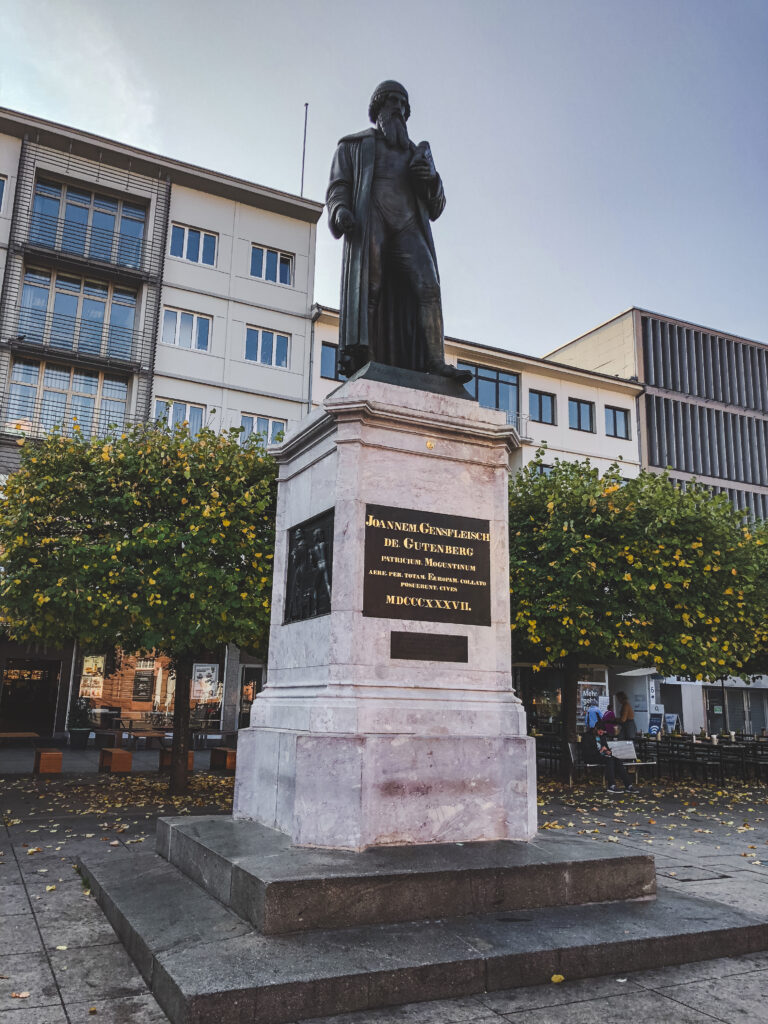 The Gutenberg Museum commemorates Johannes Gutenberg and is a necessary experience for book lovers! Few people know that Gutenberg was born in Mainz. He is famous for ushering in the information age in the 15th century by inventing the printing press! The Gutenberg Museum honours the printing press and Gutenberg itself with many displays, including two of his original 42-line bibles (kept in a fire-proof vault). Many signs are in English so don't worry if you don't speak German!
Very little is known about Gutenberg. He was born in Mainz in the late 1300's and by 1455 he had mastered his printing technology. However, throughout history, there have been many disputes about who actually was the first to invent it. This includes Laurens Janszoon Coster (from Haarlem, Netherlands), who is actually my VERY distant relative (some fun family history)!
The Gutenberg Museum was inaugurated in 1900 around the 500th anniversary of Gutenberg's birth. The museum also holds other printing achievements like the earliest example of woodblock printing (ca. 770 Japan), along with other valuable works printed in the 15th century. Make sure you plan for at least two hours here, the size of the museum is deceiving!
4. Kirschgarten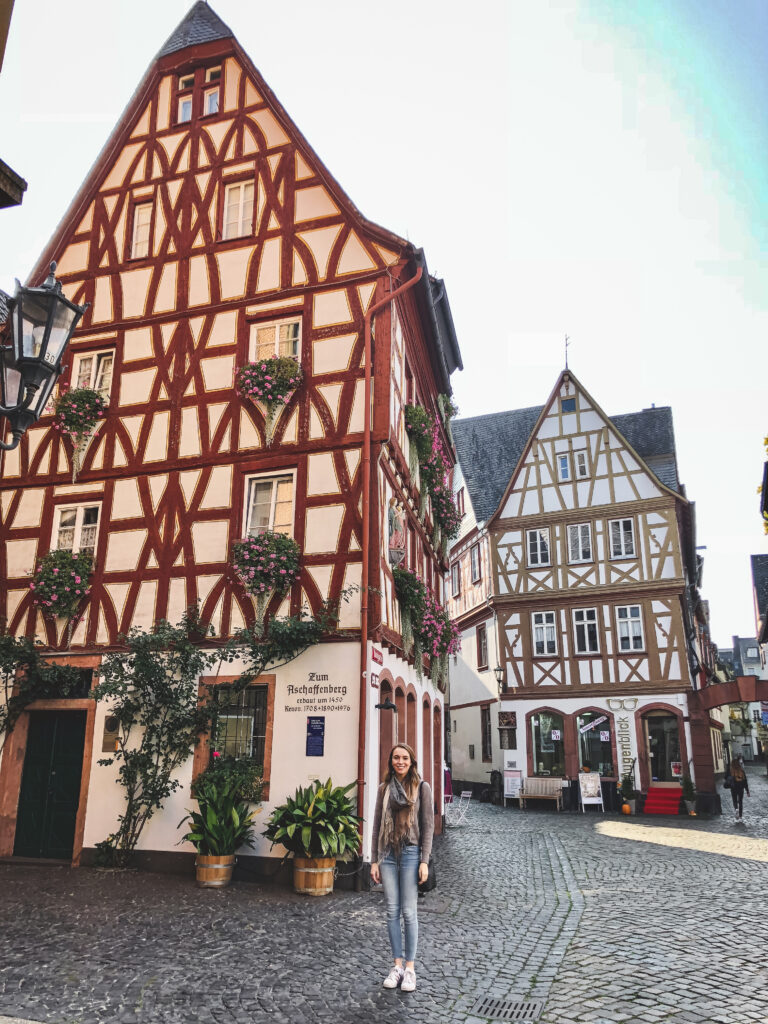 Kirschgarten is one of the prettiest places in Mainz! If you're looking for your Instagram photo, THIS is the spot. Standing in this little square with all the half-timbered houses makes you feel as if you've stepped into a fairytale. It is the perfect spot on your way to see other sites on the hill.
Kirschgarten means cherry orchard as it was said that cherry trees used to exist in the square. The square itself dates back to the 1300's, but the oldest house is the one on the left side, called Zum Aschaffenberg. It was built in 1450 and is the oldest preserved half-timbered house in Mainz.
5. Mainz – Römisches Theater (Roman Ruins)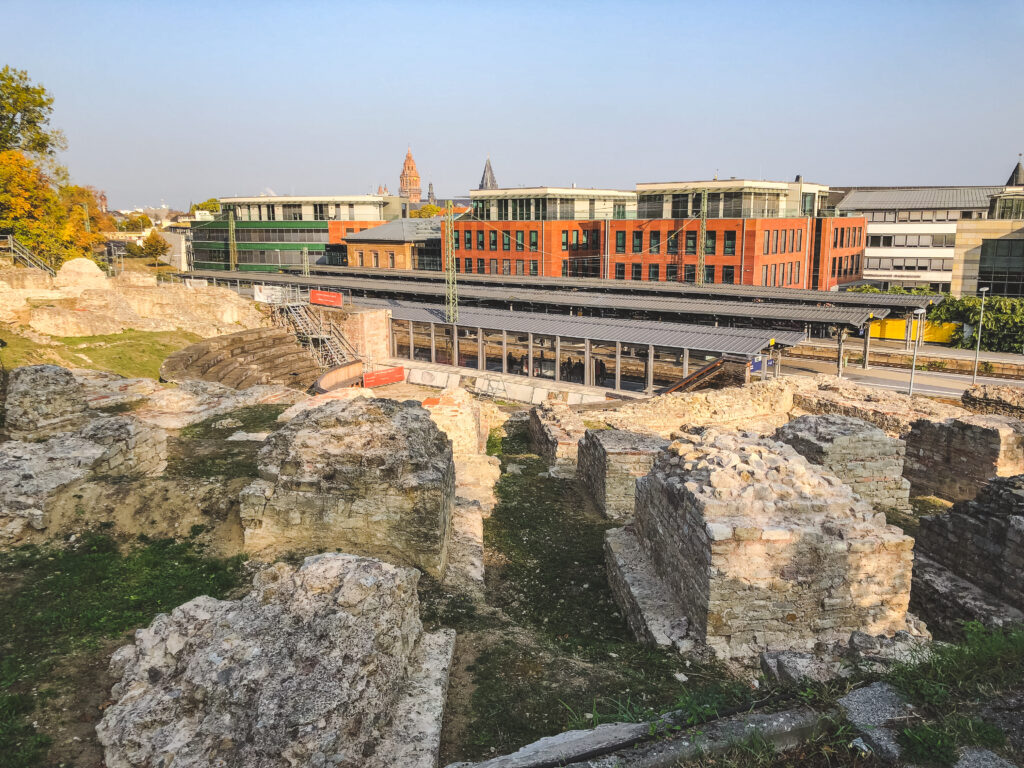 Most people don't realize just how many Roman ruins can be found in Germany. Most German city names come from the original names they held during the Roman Empire. Mainz was once known as Mogontiacum. The Roman Theatre ruins were discovered in the early 1900's when they were building the Mainz – Römisches Theater Station.
According to historians, this theatre could've originally held 10,000 people. Unfortunately, during the construction of the city wall in the 4th century, stone from the theatre was used and the rest fell into ruin. Today, you can still see the remains of the Roman theatre alongside the platform of the train station or from above by the Citadel. It's fascinating to see ruins of this scale outside of Italy and is a must-see stop on your visit to Mainz!
If you're interested in seeing more Roman ruins in Mainz, Heiligtum der Isis und Mater Magna at the Römerpassage shopping mall is another spot. The area features a glass walkway that shows many artifacts that were found during the mall's construction.
6. Zitadelle (Mainz Citadel)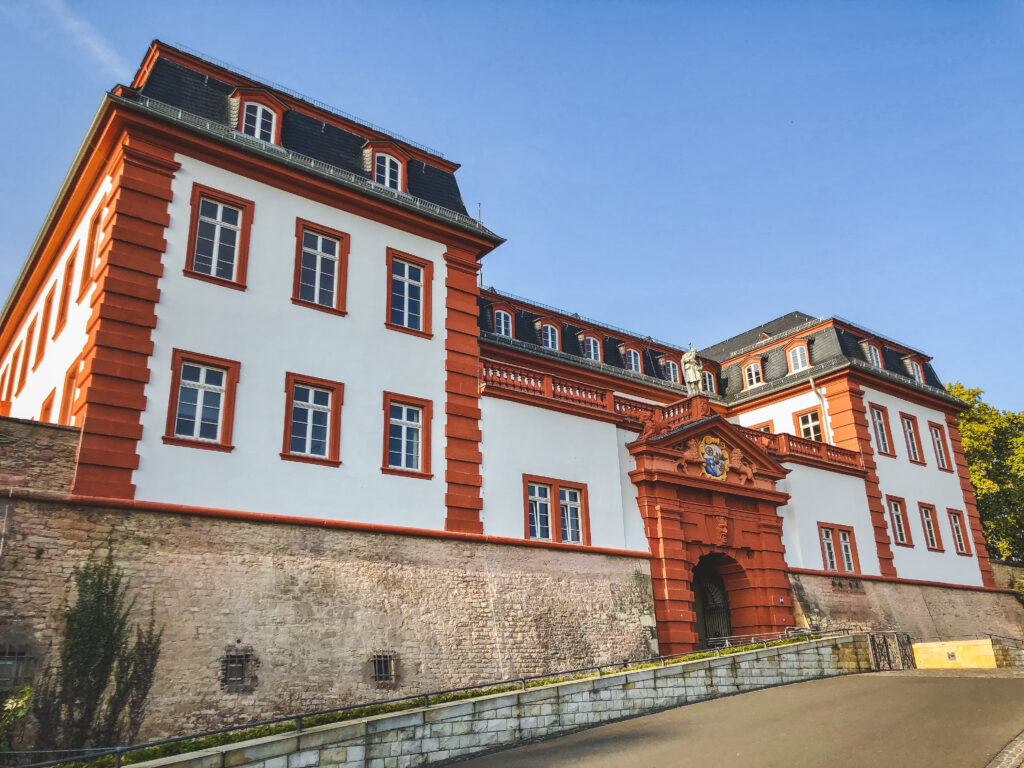 Just overlooking the ruins you'll find the Citadel, which is among the most important monuments of Mainz. It was built in 1660 on the spot of a Benedictine Abbey that once stood on Jakobsberg Hill. It was part of the fortification of Mainz and over the years survived many occupations during the wars and acted as a place of refuge for the people of Mainz. Nowadays it is a popular venue for concerts and festivals.
Unless you're interested in its specific history, you won't need to spend much time here during your 1 weekend in Mainz. I would still recommend wandering around the outside as it is on your way from the ruins to Stephanskirche anyways.
7. Stephanskirche (St. Stephan's Church)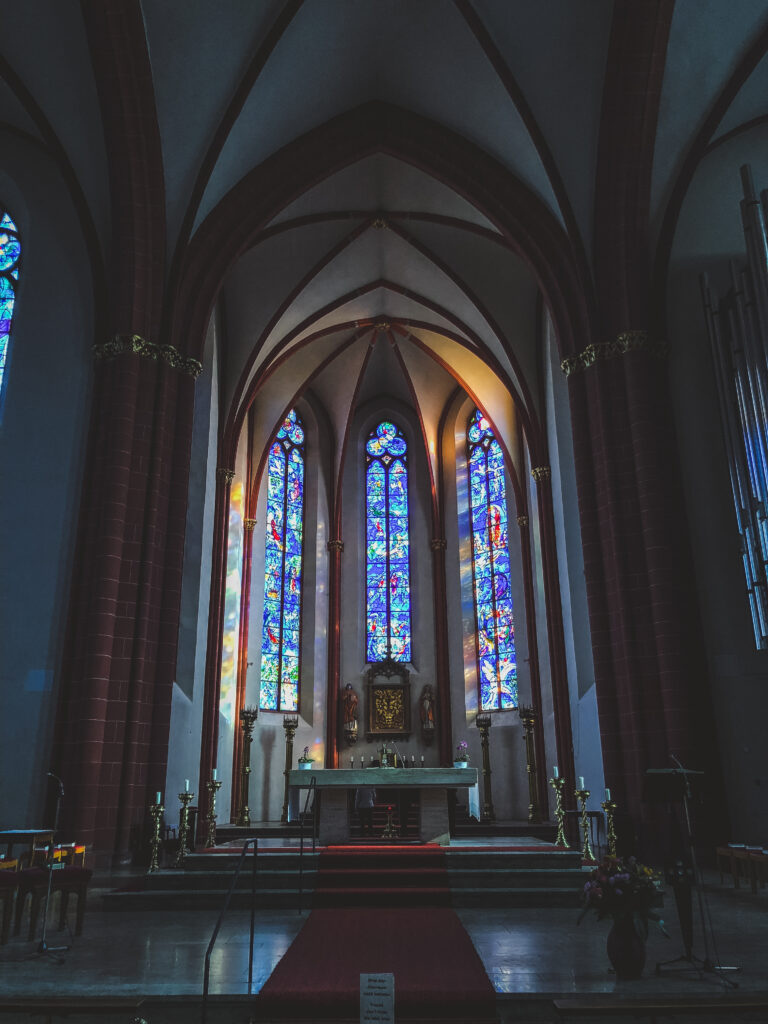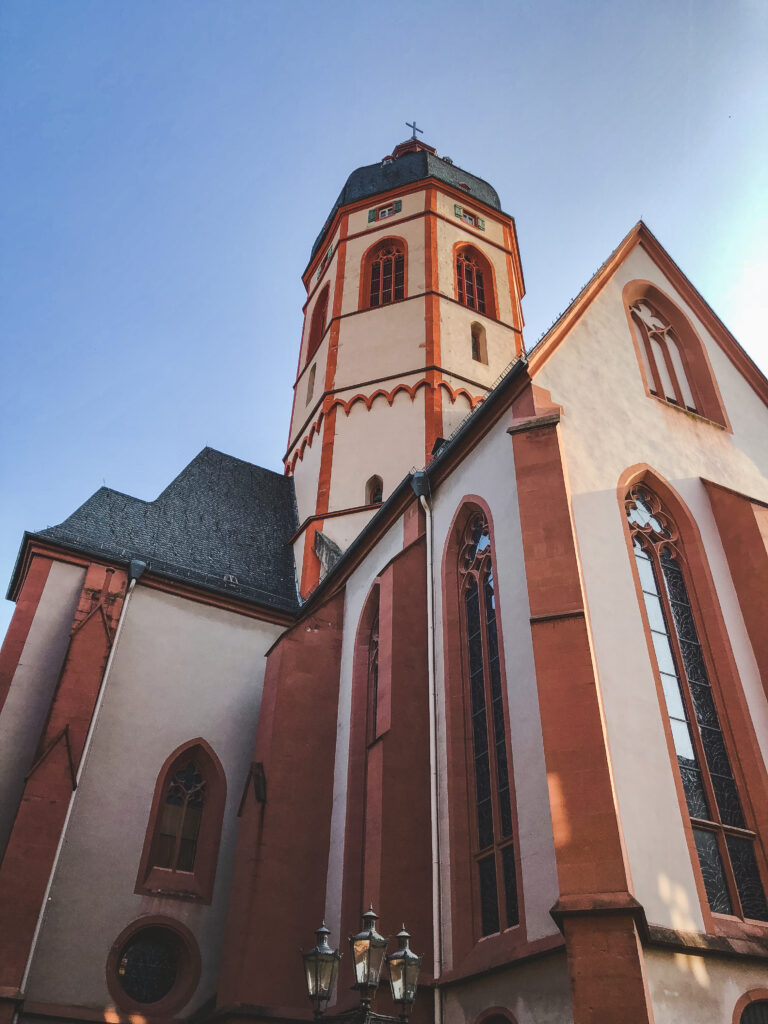 From the outside, Stephanskirche is definitely not the most impressive church in Mainz. However, inside it holds nine blue, stained-glass windows created by Russian artist Marc Chagall. It was one of the last projects he completed before his death in 1985. He created these windows for Stephanskirche to serve as a symbol of Jewish–Christian reconciliation. His windows are a work of art and can be seen in churches throughout Europe. However, this is the only church in Mainz to feature his work!
Stephanskirche was originally built in 990 at the order of the same Archbishop who had initiated the building of the Mainzer Dom. The current building dates from the late medieval era (constructed 1267-1340), but it was heavily damaged in WWII, so part had to be reconstructed post-war.
8. Augustinerkirche (St. Augustine's Church)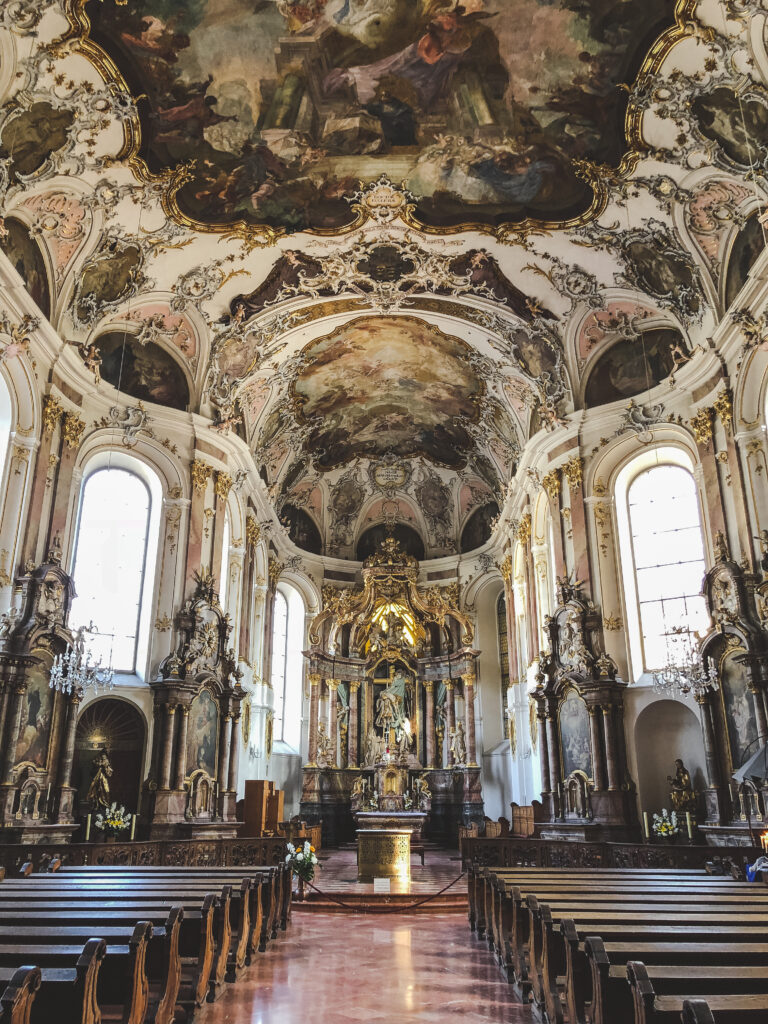 On your way back down from the hill into the old town, your next stop should be the beautiful baroque Augustinerkirche (constructed 1768-1772). From the outside it seems unimpressive, just built up against the other buildings, but inside is full of elaborate gold decor. Augustinerkirche features a beautiful ceiling fresco, organ loft, and the original interior that was left untouched during the war.
9. Peterskirche (St. Peter's Church)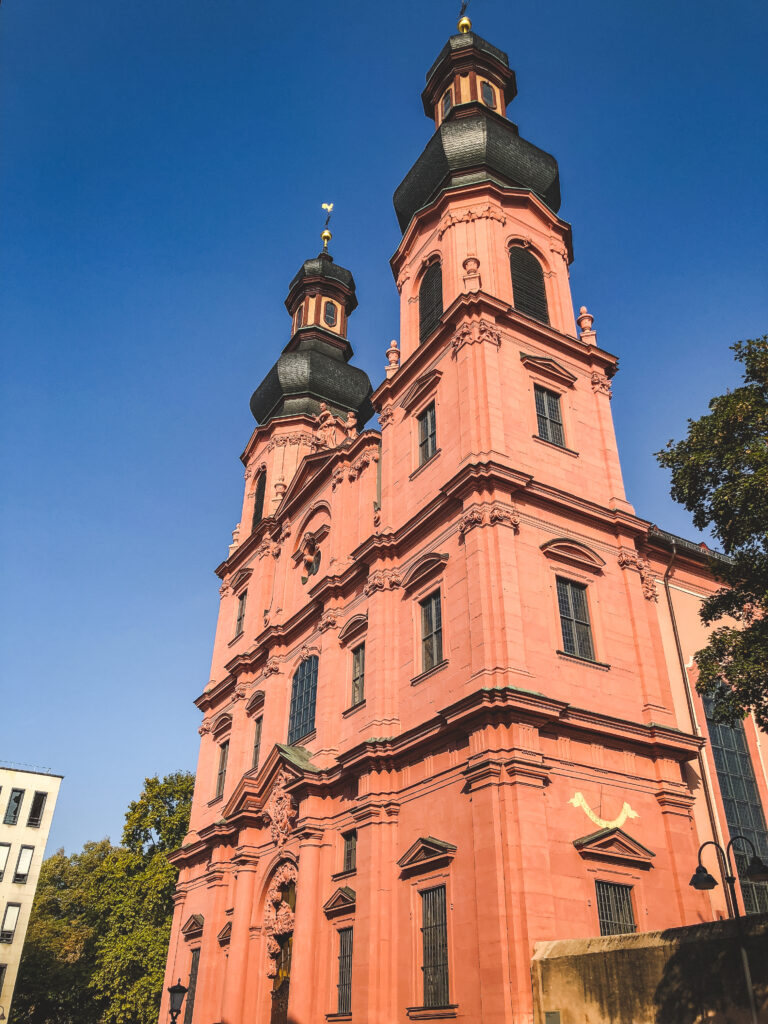 St. Peter's Church was completed in 1762 and is one of the most important rococo-style buildings in Mainz. It's exterior already stands out with its flamboyant pink colour, but inside is just as ornate with its pink and gold colours and carvings. It's only a short walk from the Dom, but much quieter as it gets less attention than the area around the main square.
10. St. Christoph zu Mainz (St. Christopher's Church)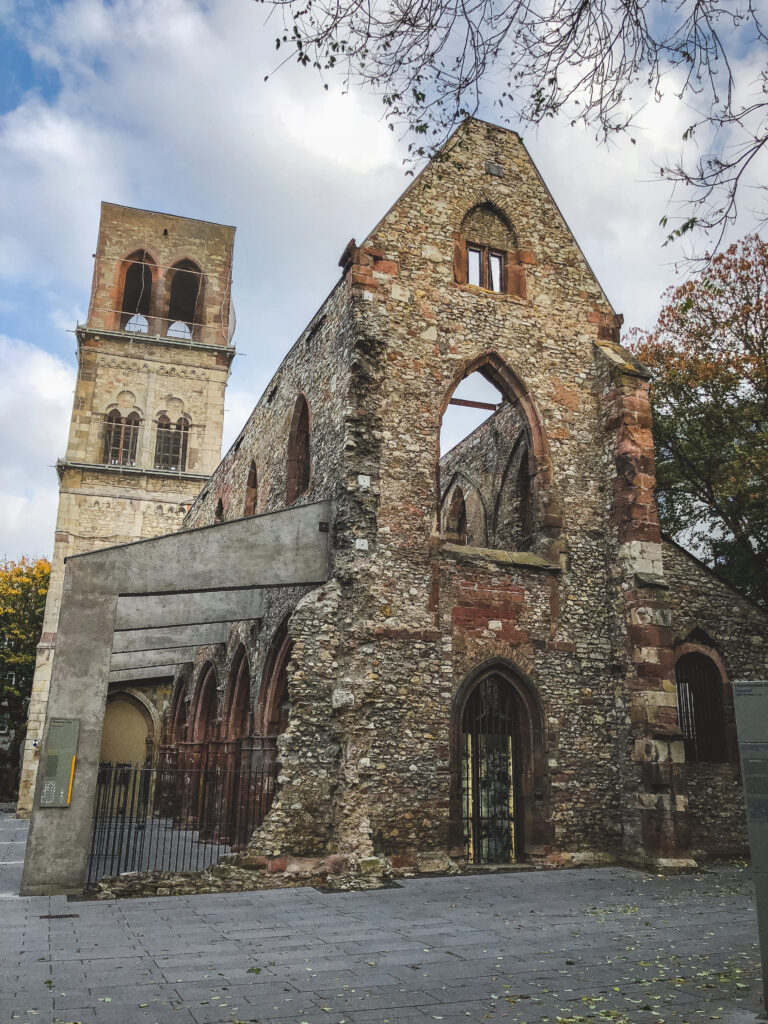 Tucked away from the lavish Peterskirche, is this hidden gem! St. Christoph zu Mainz (constructed 1292-1325) was virtually destroyed during the bombing of Mainz in WWII. So in 2010, a well-known patron of the city decided that something should finally be done about the ruins. He founded a group that worked towards restoring the site and the project was successfully completed before the 70th anniversary of the bombardment of Mainz.
Today, the ruins of the church are accessible to all and an exhibition has been set up inside the church explaining the memorial and its significance to Mainz. Colourful panels illustrate the history of St. Christopher's both prior to and through WWII. St. Christopher's also features a Gothic baptismal font that is believed to be the font in which Gutenberg was baptized.
While it is not a big area, I would plan to spend more time here than any of the previous churches mentioned. It's so unique and a fascinating way to see the history of the church and what has happened there through time, without it losing meaning in its restoration.
11. Holzturm & Eisenturm (Wooden Tower & Iron Tower)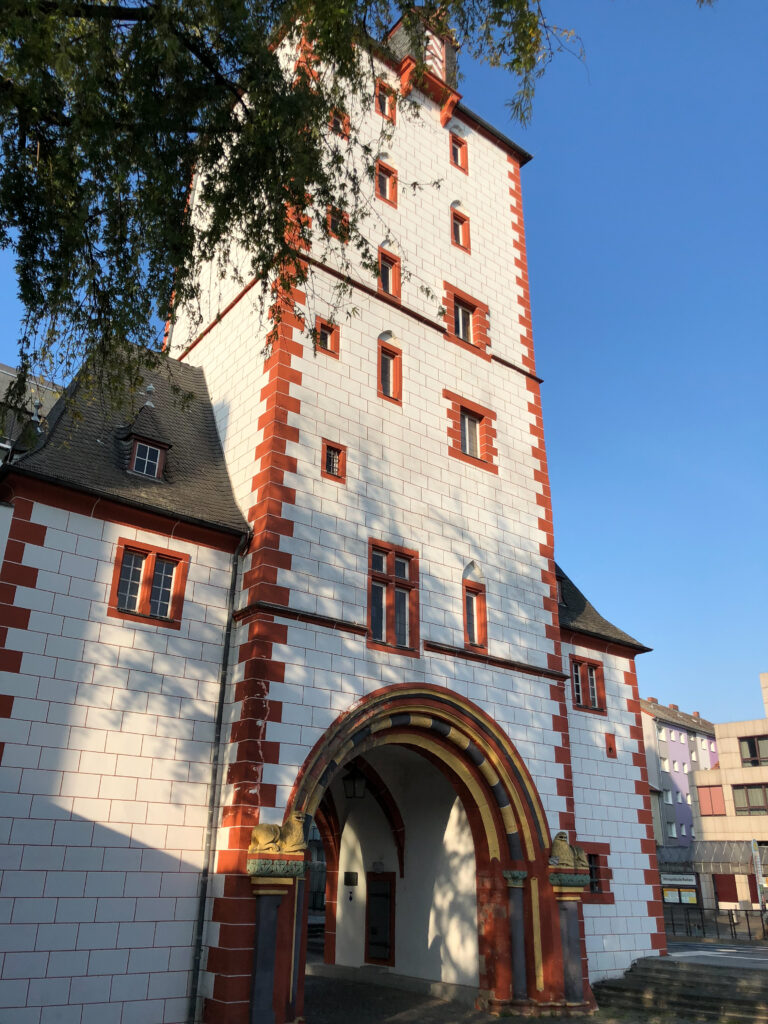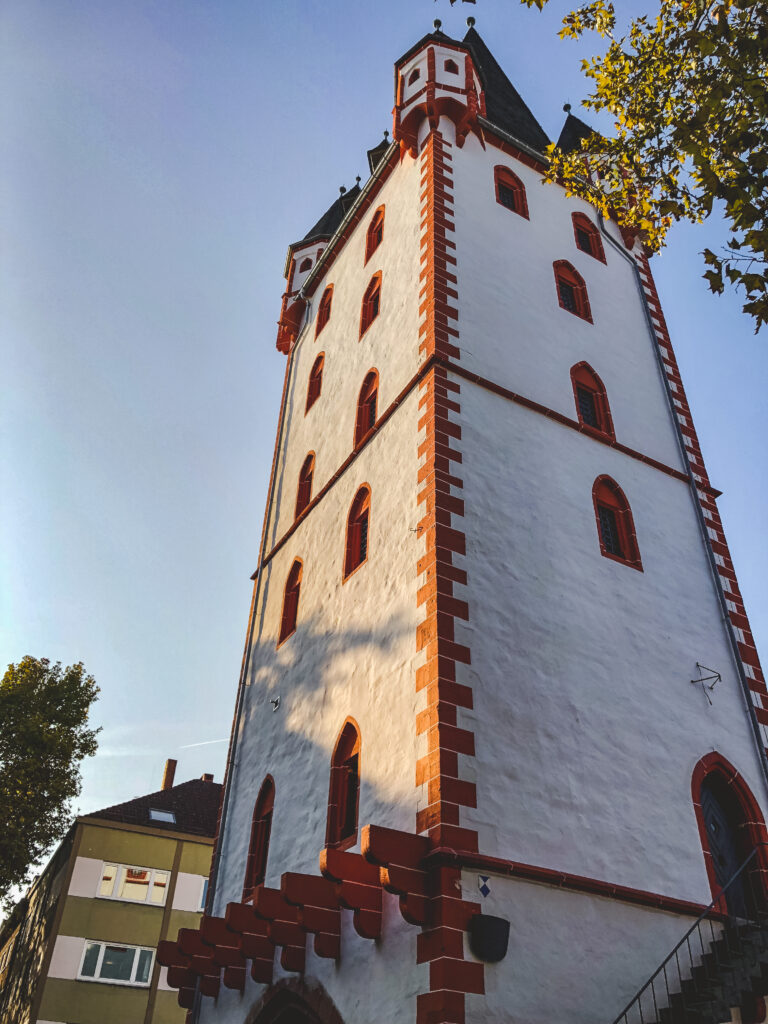 The last stop on your walking tour of Mainz (other than a stroll by the river) is the two towers. The Wooden Tower and Iron Tower were two main vestiges of Mainz's defensive wall that stand a few hundred metres apart on the Rheinstraße.
Both towers were raised in the 1200's and have a long history in Mainz, having been used over the years as gatehouses, watchtowers, and prisons. They were damaged in the war but were restored to celebrate Mainz's 2000th anniversary. Today the towers house various organizations and exhibitions.
Final Thoughts on Mainz, Germany
Mainz is the PERFECT city in Germany to experience history, religion, culture, and shopping in a short period of time. It is such a walkable city and ideal for a day-trip or weekend visit no matter the time of year. Whether you have a layover at FRA or want to add Mainz as a stop on your itinerary, I can't recommend it enough. Go enjoy a Radler or Bratwürst for me and have a great time during your 1 weekend in Mainz. Don't forget to let me know what your favourite spot in Mainz is!
Kelly xo
Pin it for later!