The Ultimate Guide to a Weekend in Saskatoon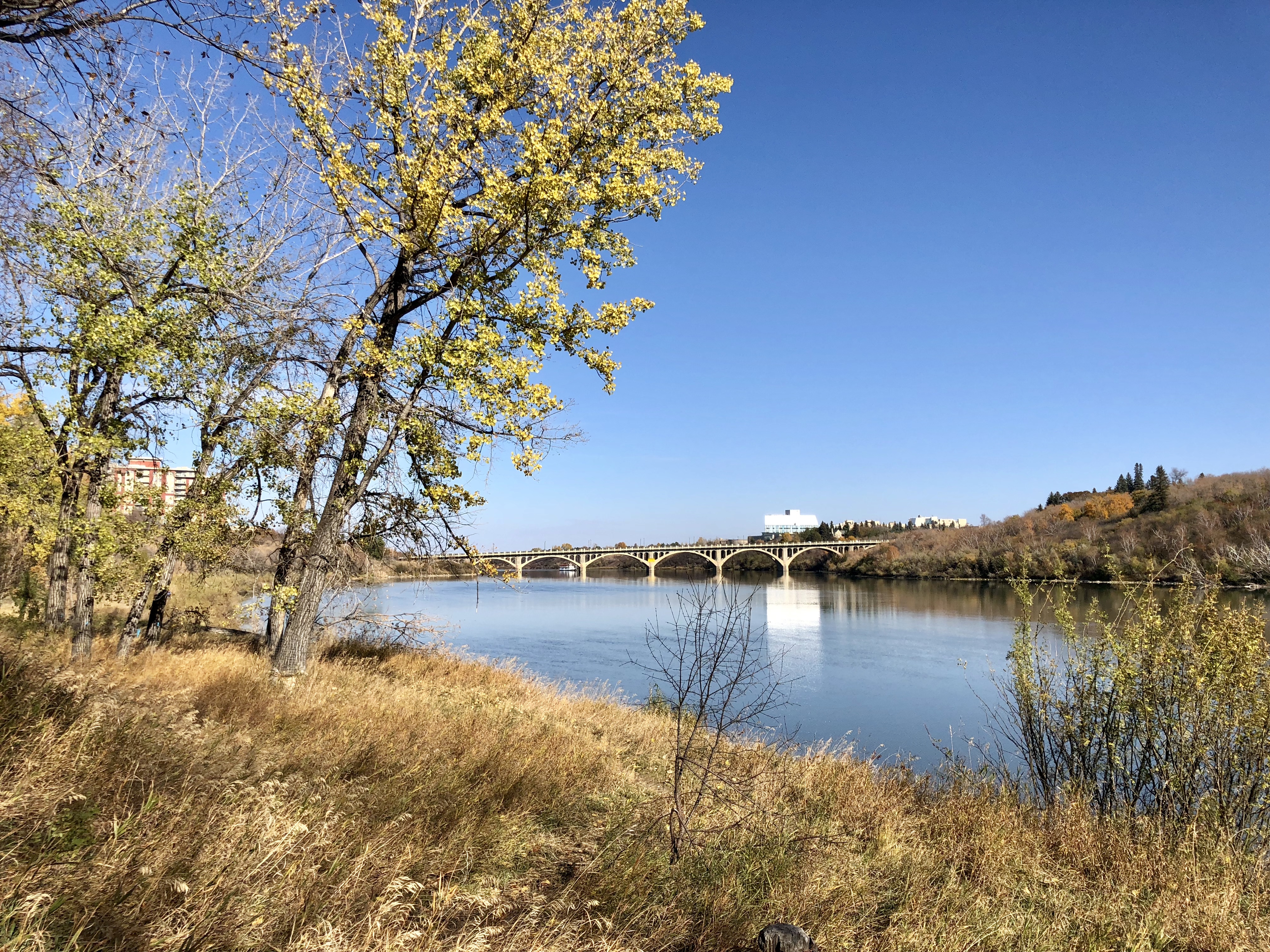 What's in Saskatoon? Unless you're Canadian you may not have heard of Saskatchewan's "City of Bridges" in the prairies. Even with living in BC my whole life, I'd never made the trek two provinces over until a few years ago. However, my fiancé has a lot of family there and over the last couple of years I've been able to get to know the city quite well!
I knew almost nothing about Saskatoon before visiting there my first time, other than it's very flat. The flat part is true, but the city is full of hidden gems and great places I didn't expect. The "downtown" core doesn't have a city feel the way other, larger cities do. However, it's full of historic buildings that surround the beautiful Bessborough Hotel, which sits right on the banks of the South Saskatchewan River.
Saskatoon is slowly expanding, but still has the ease of a smaller city. Circle Drive encompasses the whole city meaning you can get anywhere in town in twenty minutes. Also, you don't have to go very far to escape the city lights and experience the true prairie feeling. Unfortunately, in the winter it gets VERY cold so ideal times to visit would be between May-September (unless you want to see what -40ºC feels like of course)!
That being said, I have thoroughly enjoyed exploring the city and am so excited to share my favourite parts of it. Here's what you should do when you have 48 hours in Saskatoon!
Where to Stay in Saskatoon
In Canada, our "old" buildings aren't really "old" by European standards, but I have long been a fan of the elegance and architecture of the old Railway Hotels. Built by the Canadian National Railway (CN), the Bessborough Hotel was among the last railway hotels to be started before the Great Depression brought these famed Canadian railway hotels to a close.
The Bessborough opened in 1935 and lives up to the chateau-style precedent set by the others. It's an architectural standpoint on the Saskatoon skyline and one of the most beautiful buildings in the city. The interior has been refurbished over the years and remains one of the classiest places to stay in Sask!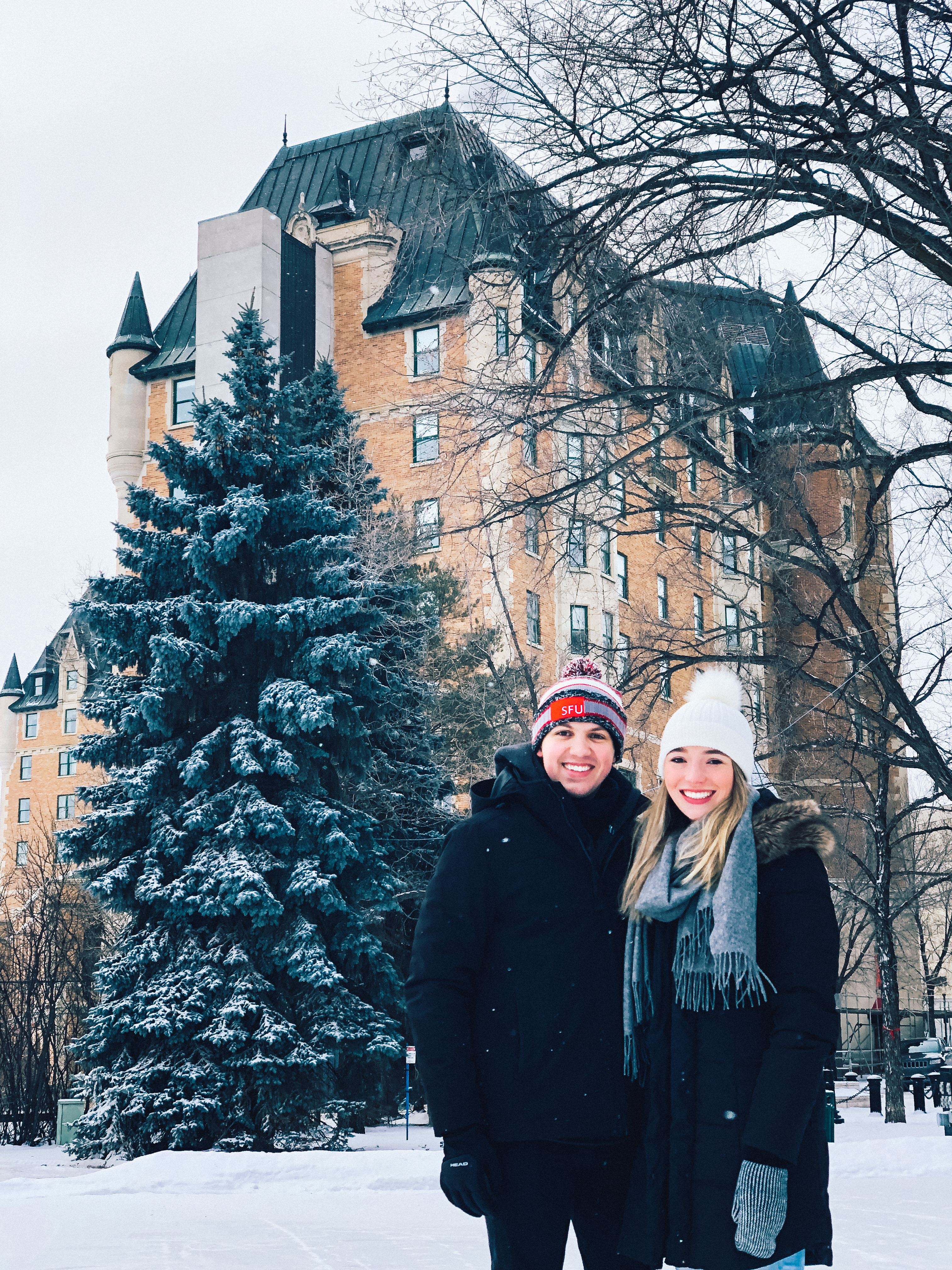 One of my favourite activities in Saskatoon over the last couple of winters has been skating at the Meewasin Skating Rink next to the Bessborough Hotel and the South Saskatchewan River. It's in Kiwanis Memorial Park and is open free to the public.
The Meewasin Skating Rink is the perfect place to spend a winter day! It features a warm-up shelter (much needed when it's in the -30ºC's), free washrooms, and skate rentals by donation. It isn't too busy if you go after Christmas and it's so beautiful skating around with the hotel in the background!
Where to Eat in Saskatoon
1. The Berry Barn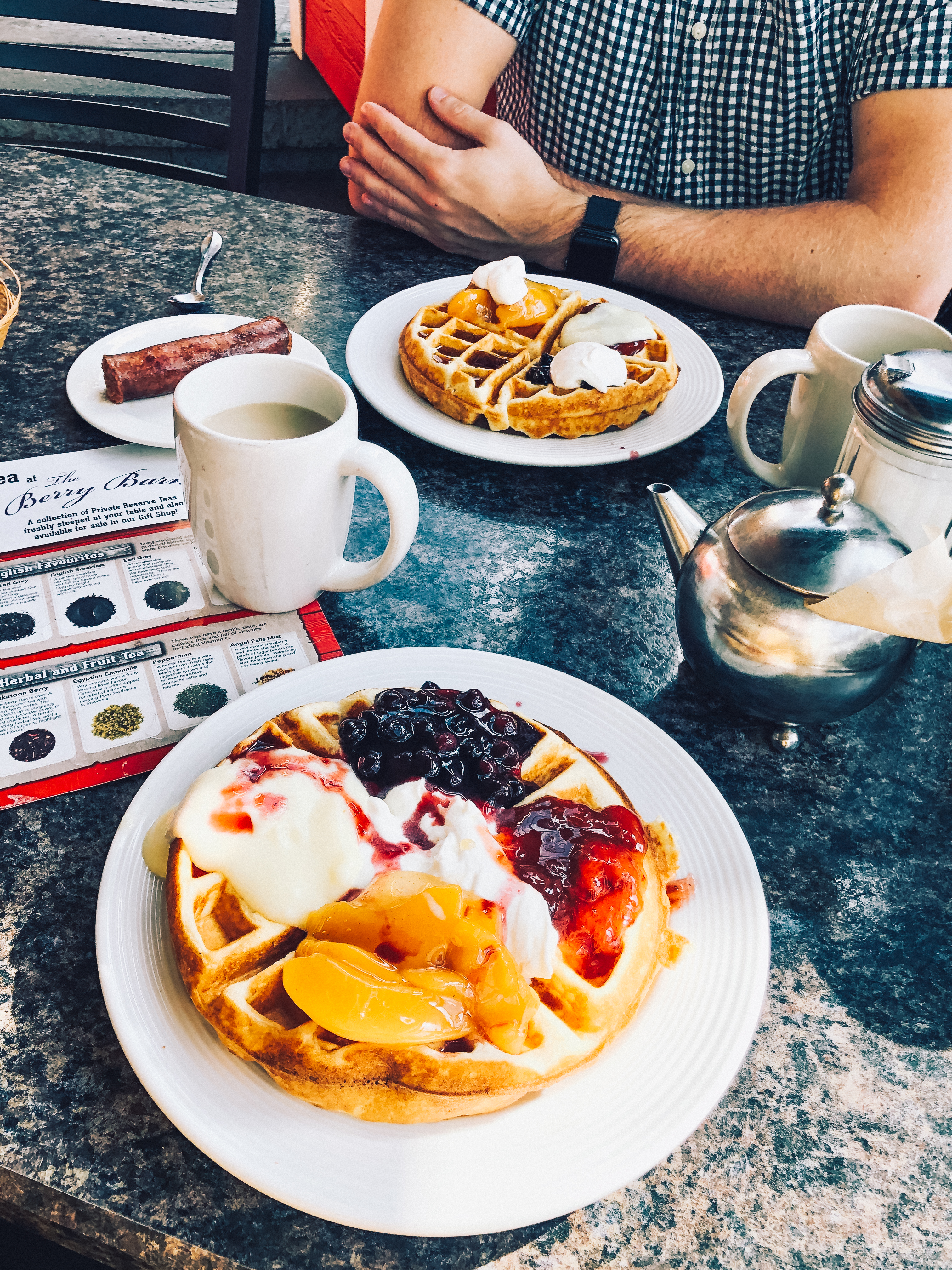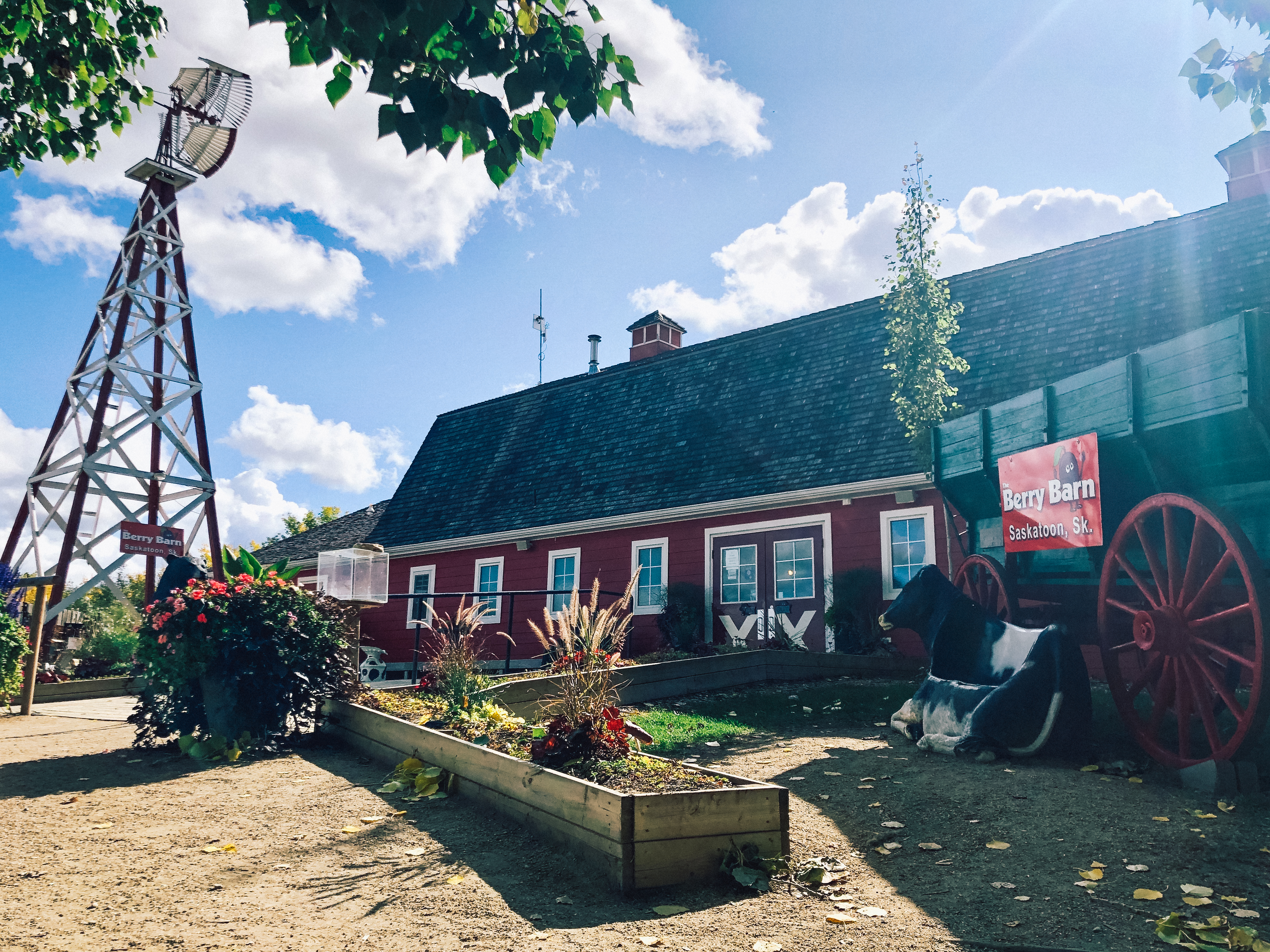 The very popular Berry Barn (about 15km south of the city), sits right on the banks of the South Saskatchewan River and is a must-visit! While enjoying the lovely country setting, you can pick up some Saskatoon berry treats from the gift shop and enjoy delicious waffles for breakfast with the fully-stocked topping bar! I can't wait to go back one day and am getting hungry just thinking about it!
2. Saskatoon German Cultural Centre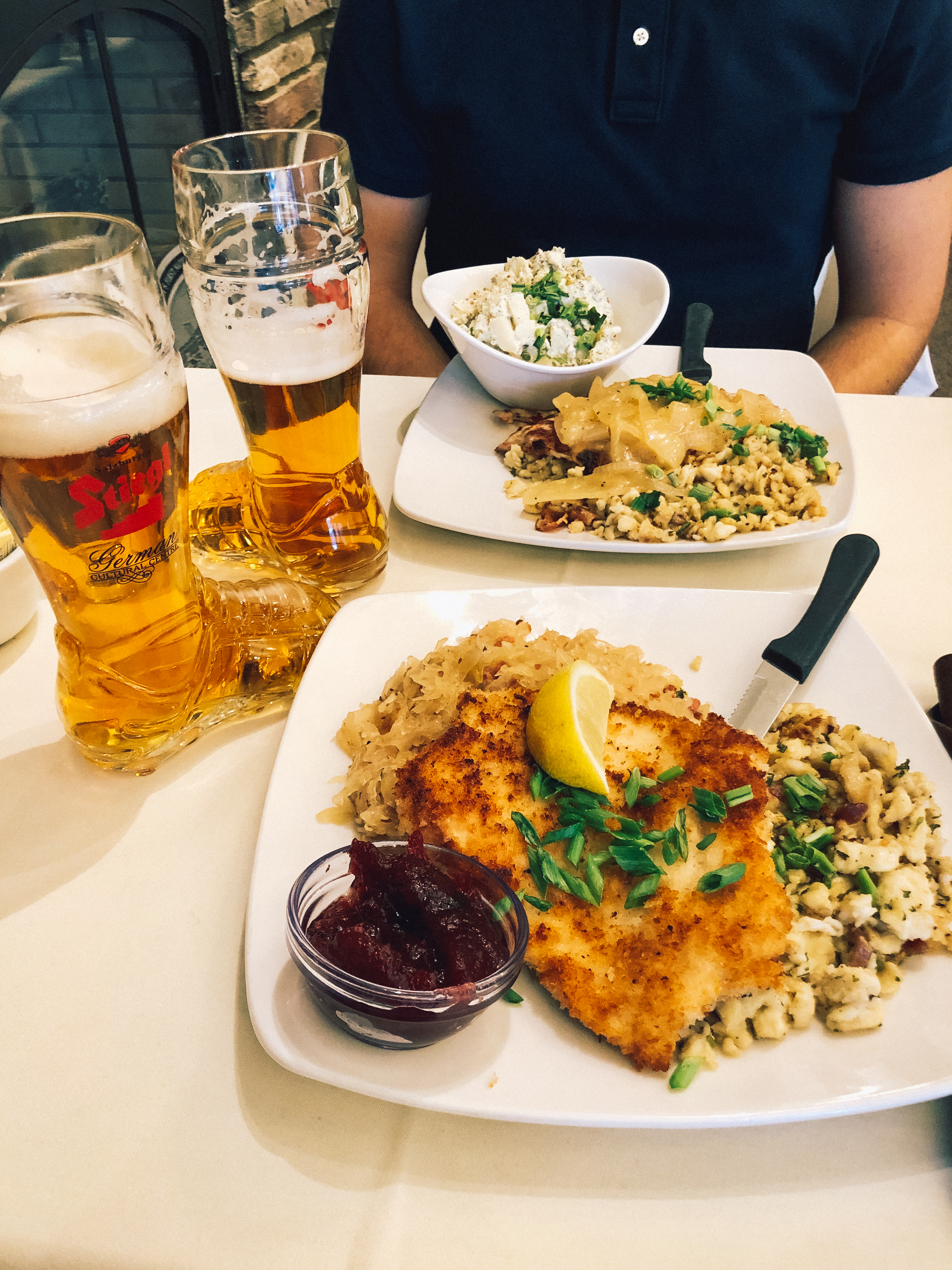 The German Cultural Centre of Saskatoon aims to promote an understanding and appreciation of German culture and heritage. It's open: Tuesday-Thursday from 11-9, Friday-Saturday from 11-10, and brunch on Sunday from 10-2. You get really good sized portions for a great price. This is the ultimate place to eat in Saskatoon if you're looking for some authentic Schnitzel and Spätzle!
3. Prairie Ink (at McNally Robinson)
A bookstore that's an experience in itself! Right at the corner of 8th Street and Circle Drive, the McNally Robinson book store is an independent shop with a variety of books that will rival any major chain store. I could spend hours browsing the shelves and would come home with so many books if it wasn't for the fact I only travel with carry-ons! Inside is the attached Prairie Ink restaurant that offers delicious breakfasts and tasty pastries. This is a must-visit if you find yourself in Saskatoon!
4. Good Earth Coffeehouse
Good Earth Coffeehouse is a small local coffeehouse chain that offers delicious drinks and healthy snacks. On more than one occasion, we've loved stopping in at one of their locations and warming up with tea and coffee! A perfect alternative instead of just stopping at yet another Tim Hortons or Starbucks!
5. Drift Sidewalk Cafe & Vista Lounge
The Drift Sidewalk Cafe is a hip Riversdale spot, just a short walk from the new River Landing area by the Remai Modern. The cafe serves crepes, sandwiches, and a long list of snacks, while also offering a large variety of coffee, tea, or kombucha! Sit and relax at a table inside with the beachy, laid back atmosphere. You'll definitely want to come back again.
6. Living Sky Cafe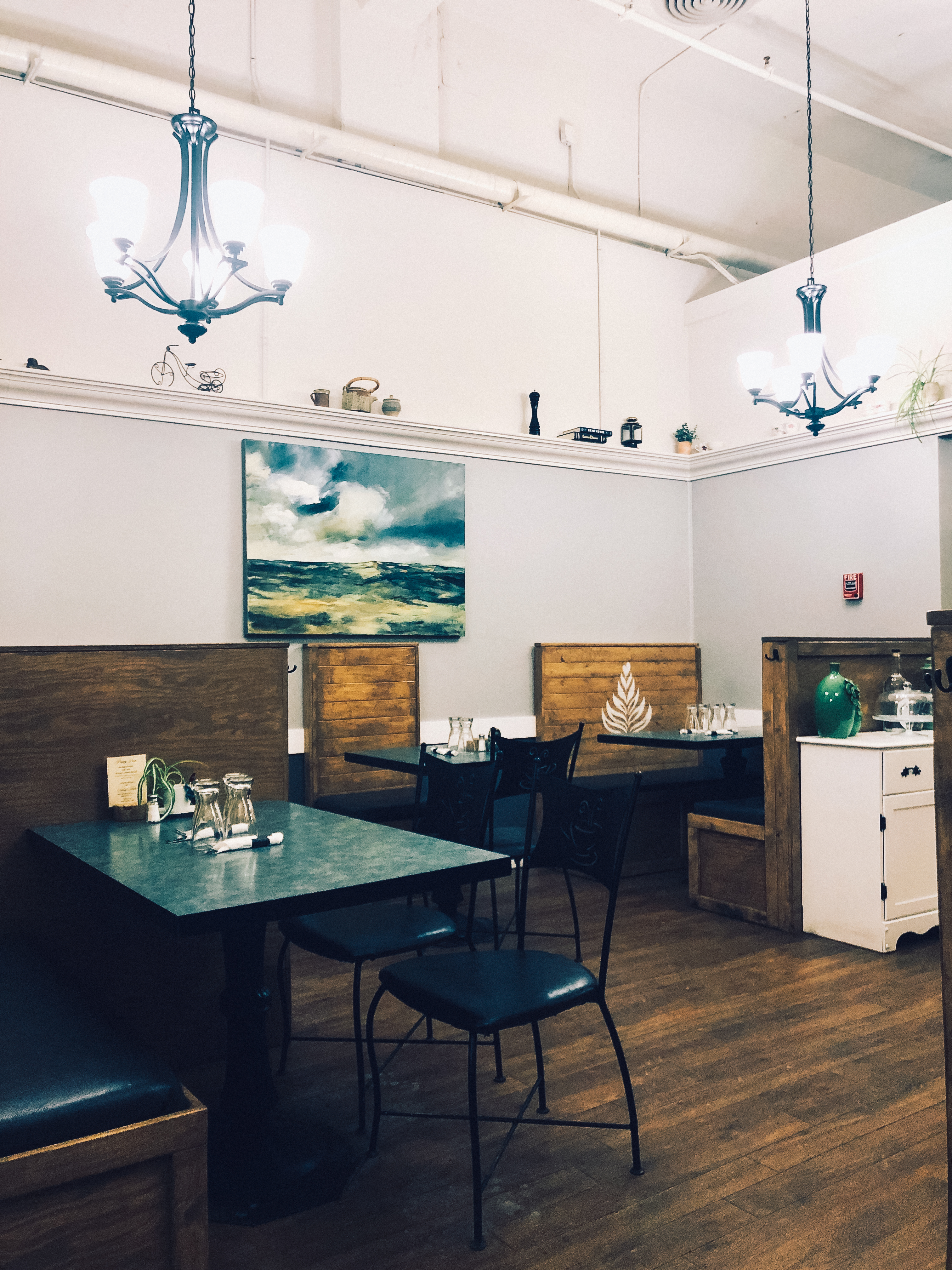 The Living Sky Cafe is located right in the heart of downtown Saskatoon! It has a very modern and elegant interior and is perfect for those looking for breakfast, lunch, a freshly baked treat, or a hot cup of tea or coffee. I have yet to try the food here, but if it's as good as the matcha latte, then I'm sure it'll be outstanding!
7. Las Palapas
If you're craving a taste of authentic Mexican food in the prairies, then Las Palapas is the place to go! The interior is very colourful and done up in true Mexican style. Enjoy a bucket of Corona and pretend you are back on the beach instead of surrounded by snow. My personal favourite was the tortilla soup, with its large and varied soup bar. You can add different cheeses, chips, veggies, and more and make the perfect soup!
8. D'Lish By Tish
D'Lish By Tish is one of those places you'd likely not find unless you already knew about it as it's in the middle of an older residential area. It's a true neighbourhood cafe that gives you a warm and welcome feeling as you step inside. No matter what you choose, everything off the menu is freshly made and delicious!
9. Broadway Roastery
If you're a coffee connoisseur then Broadway Roastery is the place to be in YXE. They offer a variety of coffee from around the world and you can even buy beans that they import. As a tea drinker, I'll say their London Fog was also fantastic!
10. Grainfields
If you're in the mood for a true family restaurant, Grainfields offers a large menu and friendly atmosphere. I've only tried their breakfast, but portions were large and there were many options. It's very similar in style to Denny's or IHOP, but local to Saskatchewan!
11. Winston's English Pub & Grill (At the Hotel Senator)
Dating back to 1908, this well-maintained hotel is very cool and one of the oldest in the city. Inside is Winston's English Pub right in the centre of downtown Saskatoon. Whether you're looking for some true pub food or stopping for a drink, the history and decor inside are sure to please!
What to do in Saskatoon
1. Meewasin Valley Trail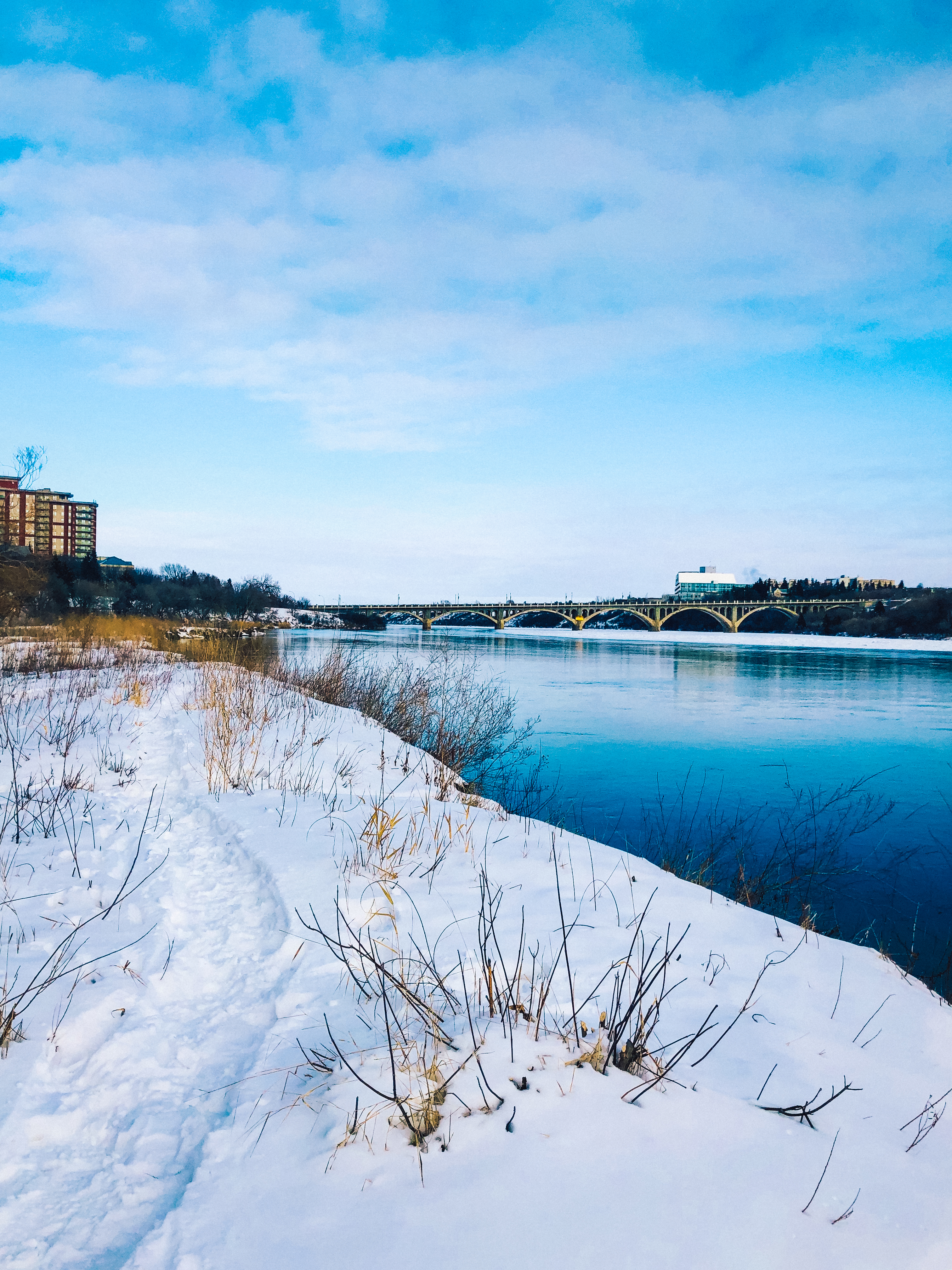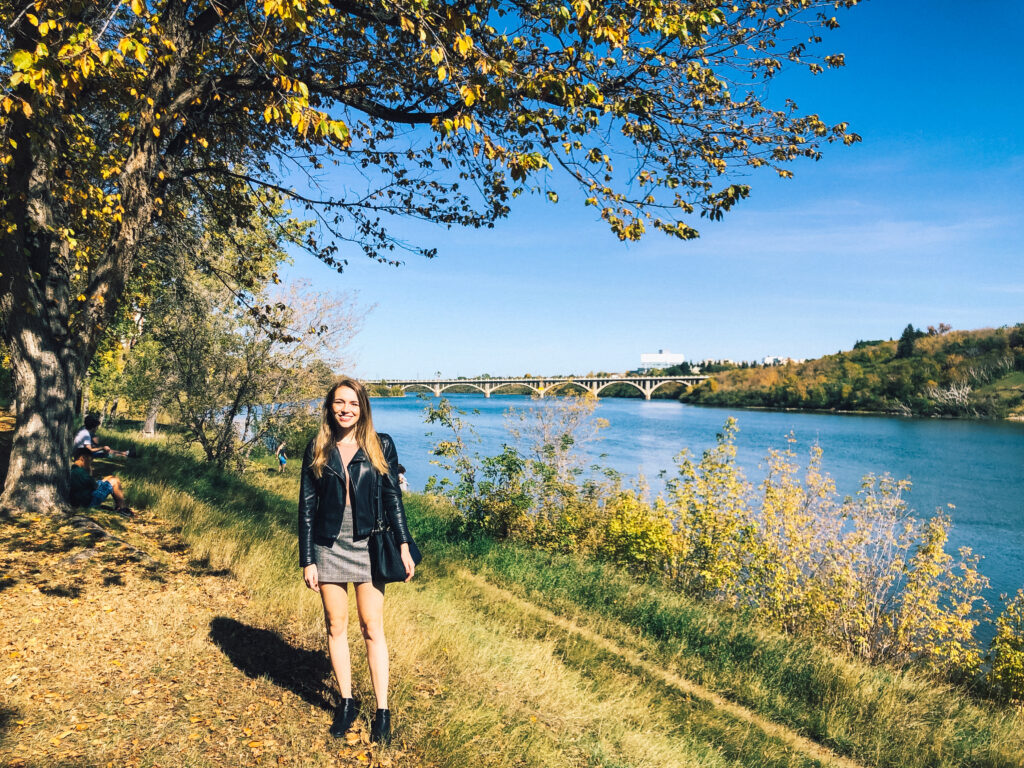 The Meewasin Valley, formed by the South Saskatchewan's wide swath through the centre of town, is named for the Cree word for 'beautiful'. The Meewasin Trail runs over 60 km through Saskatoon along both sides of the river, winding under the bridges, through beautifully landscaped parks and natural areas. Mature trees populate the riverbanks that look beautiful as the leaves change colour in the fall, making the trail very popular with walkers, runners, and cyclists. Residents and visitors alike flock to the trail for a stroll while admiring the scenery along the river.
2. Prairie Lily Riverboat Cruise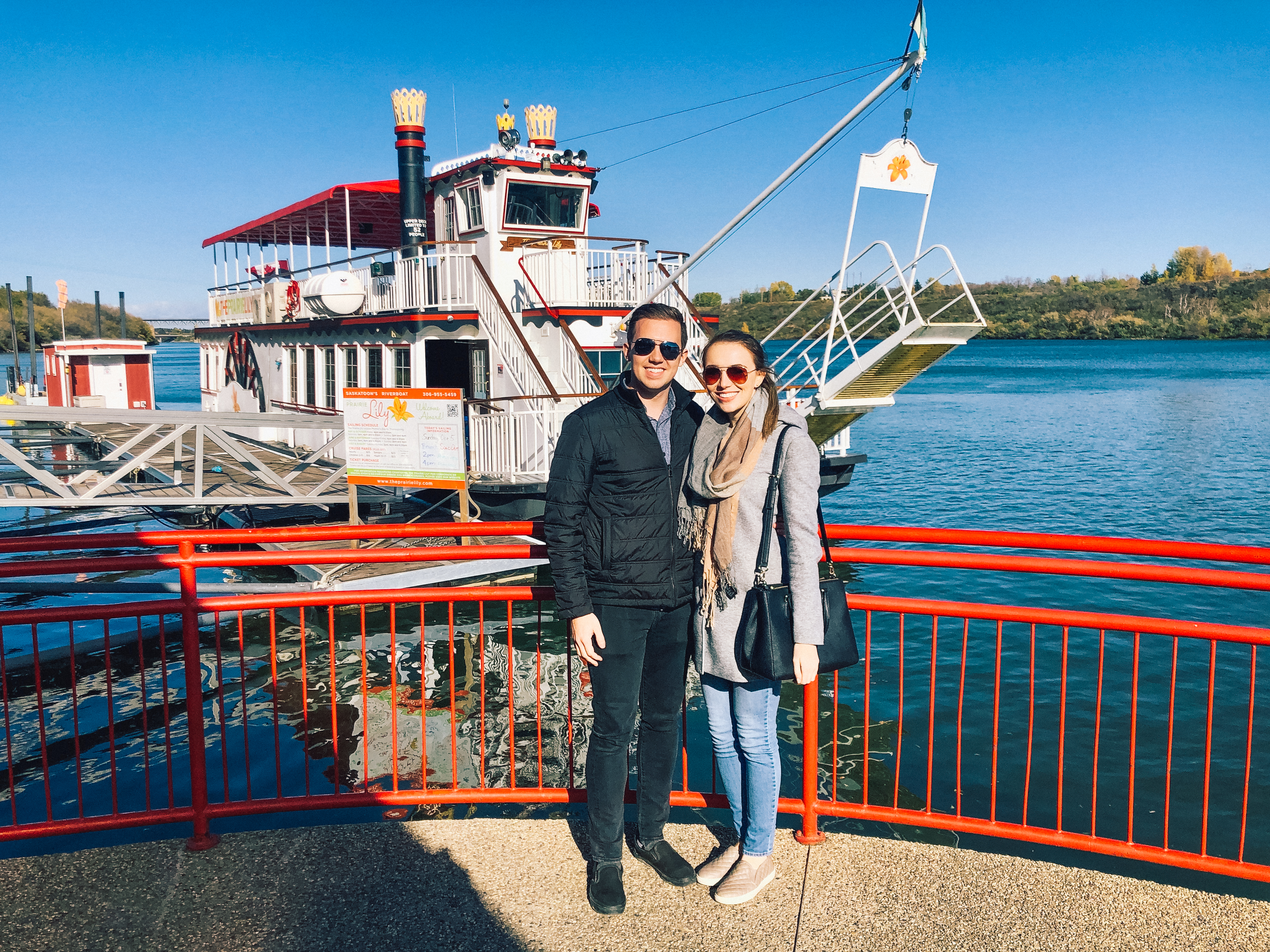 Prairie Lily Riverboat offers sightseeing tours of the Meewasin Valley and city of Saskatoon from the comfort of a one hour cruise on the South Saskatchewan River. During the cruise, you'll learn all about the history of Saskatoon and different areas of the city. The cruises are offered at various times between May and October each year (the river is frozen during the winter). Sunset and dinner cruises are also offered during the summer. It departs from a dock on Spadina Crescent across from Playland Park. This is one of the best ways to experience Saskatoon and enjoy time outside in the city!
3. Remai Modern
The Remai Modern Museum of Modern and Contemporary Art is a huge new attraction that anchors the River Landing area of downtown Saskatoon. It has 11 gallery spaces over three floors, studios, a theatre, a restaurant, and an art store. There are permanent and changing exhibitions, so make sure to check the website for what's coming up! During my last two visits, I've been fortunate to see collections from Picasso and Warhol.
Remai Modern is a true thought leader that collects, presents and interprets the art of our time. It offers so much to the local art community and anyone wanting to see famous pieces that don't have the opportunities to travel far.
4. University of Saskatchewan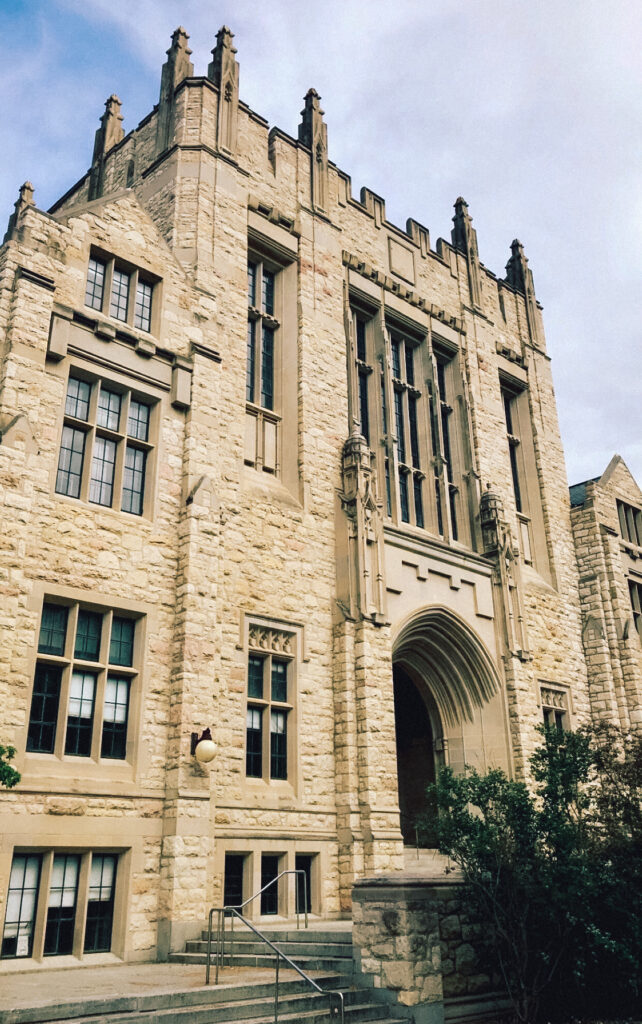 The University of Saskatchewan is a central part of Saskatoon. Much of the city is built around the campus and many of the services it offers. Even if you're not planning on studying there, it can be fun to tour the beautiful campus where many of its older buildings still stand. The University is also home to a large hospital, Western Canada's only vet school, and the oldest law school in Western Canada.
5. Midtown Plaza
Midtown Plaza is the city's main shopping mall! Browse over 150 stores at this newly renovated downtown mall that's situated on what used to be Saskatoon's main train station. The mall was built on the site as part of a major inner-city redevelopment project in the 1960s. Today there are many maps and pictures of the development of Saskatoon through the early 1900s in the mall itself.
6. Cranberry Flats Conservation Area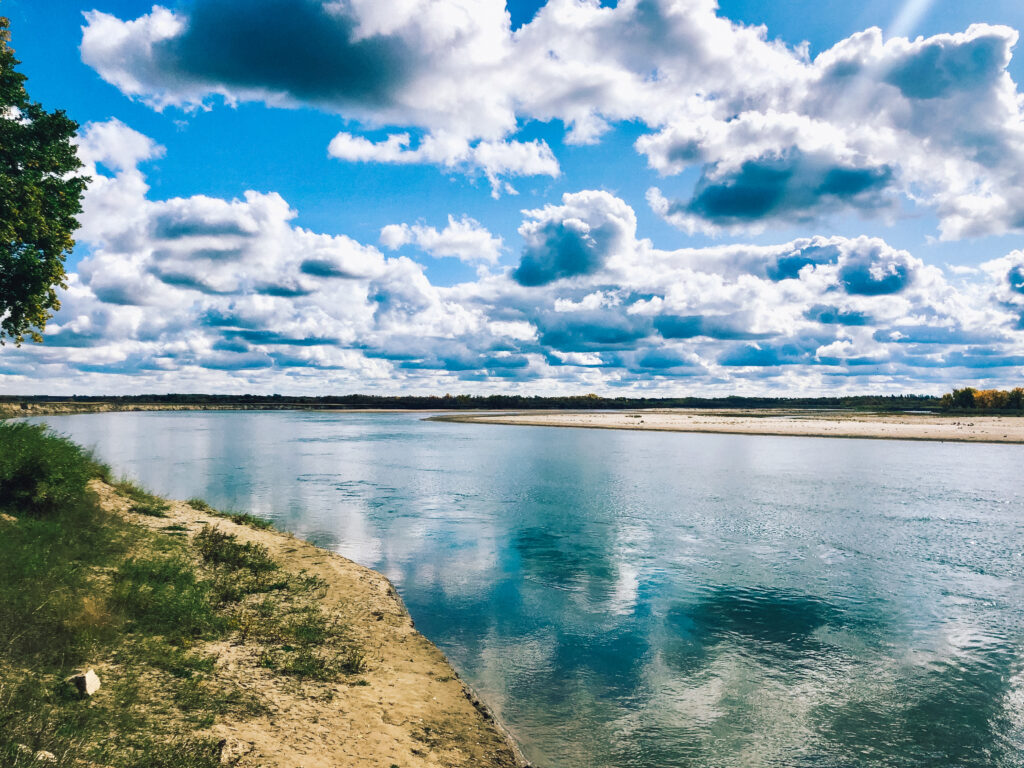 If you're looking for a spot to enjoy the nature of the prairies outside the city, then you must visit Cranberry Flats. This is a scenic conservation area with large sandy beaches, native species, and a trail leading to a valley lookout. This is a popular spot for families and dogs to spend a sunny day!
7. Western Development Museum
Perfect for a cold or snowy day, the Western Development Museum is a faithful re-creation of Saskatoon as a boomtown in the early 1900s. Inside Canada's longest indoor street, you can roam through the town's many buildings with tons of vintage momentoes, as well as old trains, tractors and buggies. I've not yet been here, but this would be perfect for a history-buff looking to escape the cold weather!
8. Horse Racing at Marquis Downs
Marquis Downs is home to Saskatoon's horse racing industry! It would be very unlike me to mention a city's must-sees without a horse-related activity. As the racing season runs late Spring to early Fall, I, unfortunately, haven't had the chance to enjoy a day at the races here. The current track opened in 1969 and has been a staple of the industry ever since. The prestigious Saskatchewan Derby has been run here every year since 1989.
Final Thoughts on Saskatoon, Saskatchewan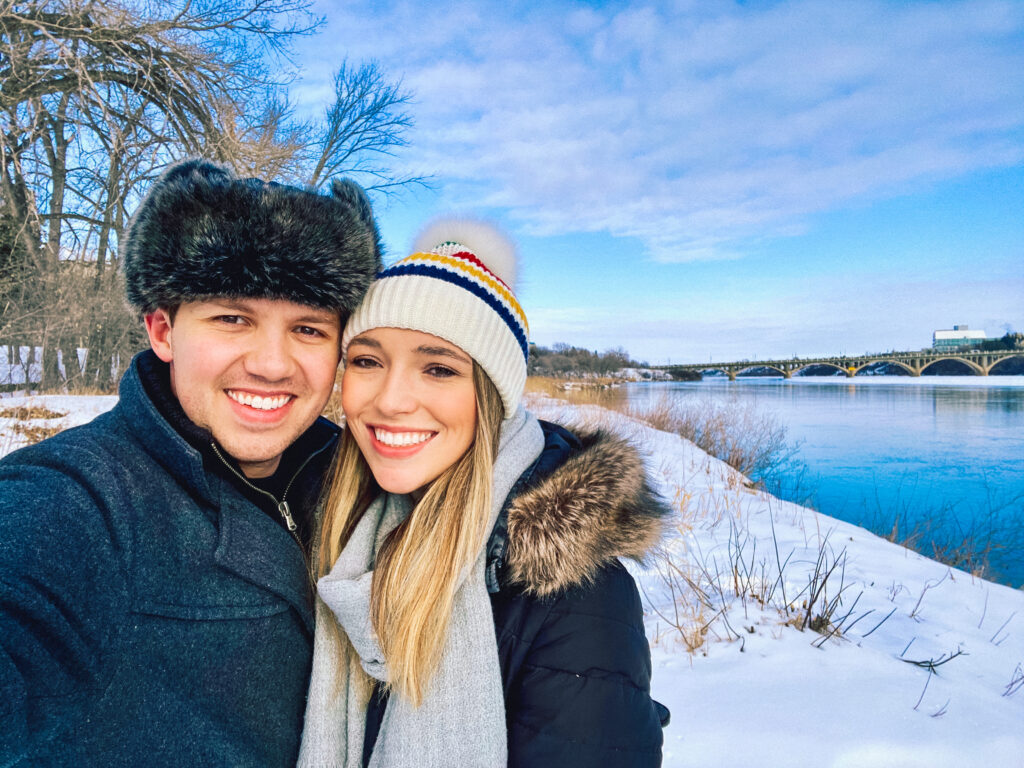 While Saskatoon is not a huge tourist destination and likely won't be to the extent of other Canadian cities, it definitely has its memorable and beautiful spots! The cold is something that this West Coaster is not used to, but on a sunny day with everything covered in fresh snow, Saskatoon has its own special charm. Whether it's for a day, a weekend, or even a stop on a road trip, Saskatoon has something to offer for everyone. I've made many wonderful memories during my trips here and now have many favourite spots to return to in the future!
If you are looking for somewhere warmer to visit, check out my guide to Mazatlan, Mexico!
Kelly xo
Pin it for Later!